BlizzCon 2019 returns to the Anaheim Convention Center on November 1-2. Tickets will be on sale in two waves: Saturday, May 4th; and Wednesday, May 8th at AXS.
Replacing the goody bag of previous years, every ticket purchase comes with a choice of premium BlizzCon Commemorative Collectible statue—either a human footman or orc grunt, celebrating the 25th anniversary of Warcraft.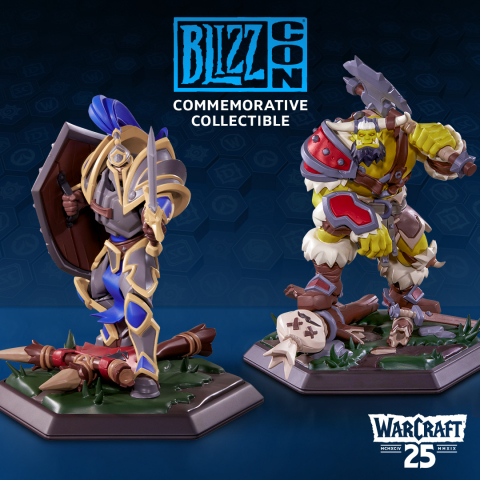 Tickets on sale May 4 and 8 for Blizzard Entertainment's epic community celebration, returning to the Anaheim Convention Center November 1 and 2. Show experience upgraded with Pregame Festivities on eve of BlizzCon, new ticket option, and more hall space for activities; ticket purchase comes with choice of collectible statue commemorating Warcraft® 25th anniversary.
IRVINE, Calif.—April 25, 2019—Blizzard community members everywhere are invited to rally together for a weekend full of gaming, esports, cosplay, camaraderie, and the latest Blizzard Entertainment news at BlizzCon® 2019, taking place at the Anaheim Convention Center on November 1 and 2. Tickets to the show go on sale soon in two waves: Saturday, May 4, and Wednesday, May 8.
BlizzCon 2019 will feature a wide range of attractions and activities for attendees, including in-depth developer panels, world-class esports competition, and opportunities for community creativity to shine in the spotlight. In addition, BlizzCon is expanding to include more active hall space at the convention center as well as the new "BlizzCon Pregame Festivities"—a fun and casual get-together running outside of the convention center on the day before the show.
"BlizzCon has served as a home away from home for the Blizzard community, a place where online friends can meet up in real life and new friendships are formed," said J. Allen Brack, president of Blizzard Entertainment. "We're looking forward to welcoming everyone to the show this year, reconnecting, celebrating, and sharing some of our latest developments."
Some of the greatest Blizzard esports moments of all time have taken place at BlizzCon, and this year's show is sure to continue that tradition. Esports highlights for BlizzCon 2019 include the Hearthstone® Global Finals, capping off the inaugural year of Hearthstone Grandmasters; the Overwatch® World Cup; the epic global finals for the StarCraft® II World Championship Series; the World of Warcraft® Arena World Championship Finals; and the inaugural global finals of the World of Warcraft Mythic Dungeon International.
Three BlizzCon Pass Options
Also new this year is the "BlizzCon Portal Pass," a separate ticket option that offers an array of perks to enhance the BlizzCon experience, including access to Darkmoon Faire during a new "Night at the Faire" event on the eve of BlizzCon. The Portal Pass also includes several convenience-related extras, such as an option to be among the first to enter the show on Friday and Saturday, preferred parking, separate registration and security lines, a dedicated lounge for taking a load off during BlizzCon and mingling with Blizzard employees, and more.
In addition to the Portal Pass, the core BlizzCon Pass will be available, offering the same full general-admission access as in previous years—along with access to the new BlizzCon Pregame Festivities. The BlizzCon Benefit Dinner will also be available again this year, offering a chance to meet and chat with developers, artists, and other folks from Blizzard the night before the show at a laid-back charity dinner—as well as full general-admission access to the show and all of the perks provided with the Portal Pass. As in past years, net proceeds from the BlizzCon Benefit Dinner go to benefit CHOC Children's, whose mission is to nurture, advance, and protect the health and well-being of children.
Quantities of all three ticket types will be available in both waves—unlike previous years, there will not be a separate wave for the BlizzCon Benefit Dinner. The first sale will take place Saturday, May 4, at 10:00 a.m. PDT, and the second will take place Wednesday, May 8, at 7:00 p.m. PDT. The sale is being conducted by online ticketing vendor AXS (details on the AXS waiting room system and helpful tips for the purchase process can be found at www.blizzcon.com). In addition to applicable taxes and fees, pricing is $229 for the BlizzCon Pass, $550 for the BlizzCon Portal Pass, and $750 for the BlizzCon Benefit Dinner.
Choice of BlizzCon Commemorative Collectible Statue
All three purchase options will include the BlizzCon in-game goodies (to be announced), along with a choice of BlizzCon Commemorative Collectible statue—either a mighty Orc Grunt or bold Human Footman—in celebration of the 25th anniversary of Warcraft®. Note that the statue selection must be made and will be locked during the ticket-purchase process. Created in the style of the popular Blizzard Legends series, the statues will take the place of the Goody Bag from previous years. The statues will also be sold separately during a limited window, starting May 4, for attendees who would prefer to have both and for anyone else who would like to purchase them.
Further details on this year's BlizzCon as well as the different ticketing options, attendee perks, the collectible statues, and more can be found at www.blizzcon.com.
Prospective attendees can make advance hotel reservations now and receive special BlizzCon rates by booking through the BlizzCon hotel website.
More information about the show, including ways to watch BlizzCon online and get this year's in-game goodies, will be provided in the months ahead.