Blizzard Entertainment (Versailles) invited me, other fansites and influencers to attend the World of Warcraft: Legion Launch Party held in Paris. I met Mamytwink and other folks at the hotel, and traveled in taxi to the Petit Bain (Port de la Gare).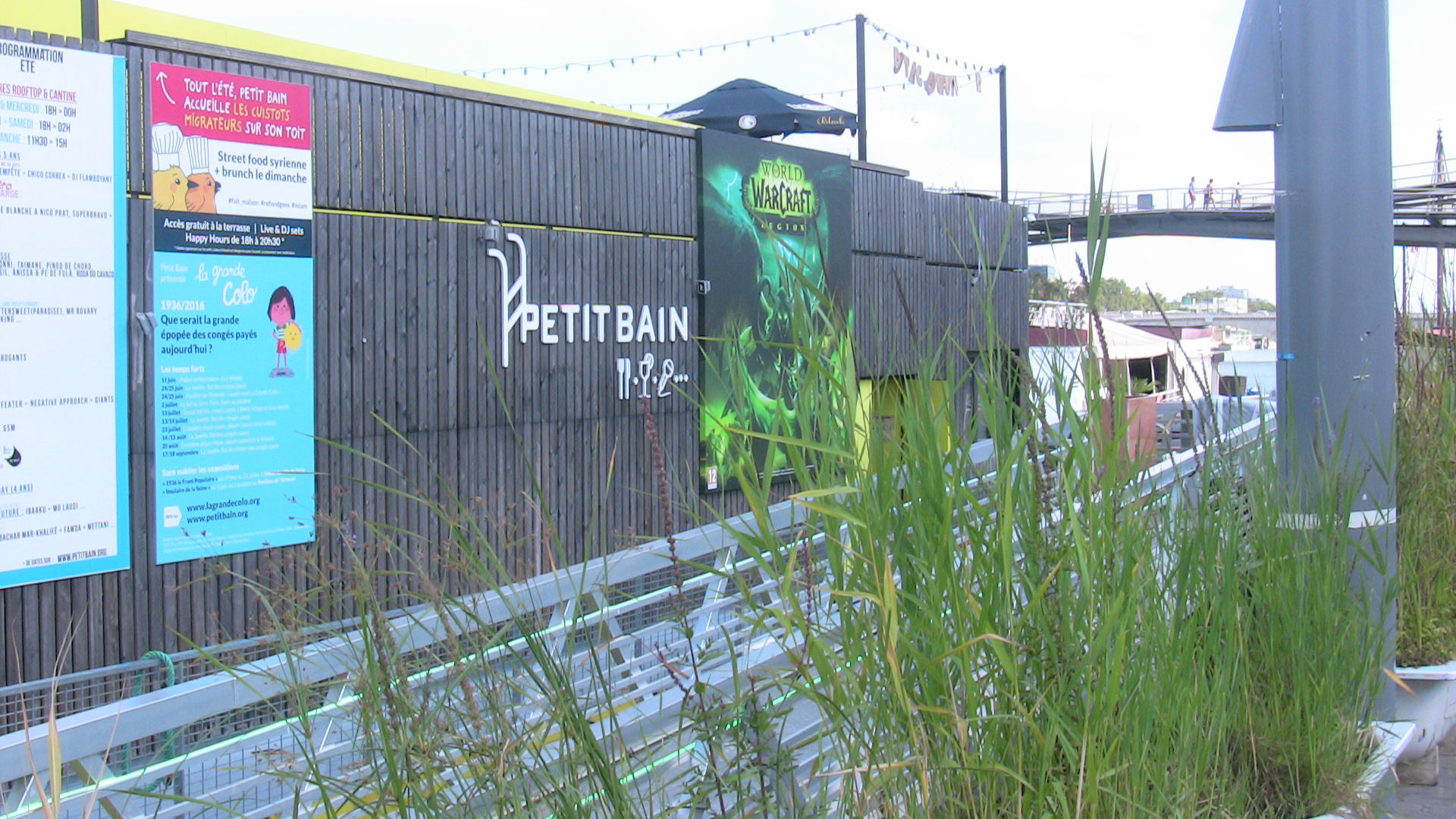 As we approached the Petit Bain, the first thing that impressed me was a gigantic mural of Illidan covering the top of the National Library of France.
The Petite Bain floats by the docks offering an impressive view of the river and the nearby bridges. The Blizzard Team customized the Petit Bain for maximum Legion vibe with large posters of Illidan, two Demon Hunter pillars at the entrance, a meeting stone, and large TV screens playing the animated short Harbingers: Illidan, Harbingers: Story of Khadgar, and Harbingers: Story of Gul'dan.
Mamytwink and I arrived early around 4:30pm and were welcomed by Blizzard France, and two World of Warcraft: Legion developers for a one-on-one interview with Michael Bybee (Senior Game Producer) and Ian Lang (Senior 3D Animator) — mostly about the Demon Hunters, Class Hall missions and followers, and mythic dungeons.
The launch party started later at 7:30pm, and in a short time the place was packed. Invitees were welcomed by cosplayers. The eerie atmosphere was filled with Legion music playing in the background through Surround Sound Speakers, giant posters of Illidan, a mist maker, and two hologram lasers flickering through the mist. Plenty of food, champagne, and a open bar for anyone venturing into this dungeon.
I wish to thank the Blizzard (France) team for bringing me to Paris for the interview, and to enjoy the Launch party. Below you can watch a few video clips I personally recorded at the World of Warcraft: Legion Launch Party in Paris (with my NVIDIA Shield Tablet).
Next day, I sadly said good bye to Paris. I couldn't wait to get back home to tell our followers how amazing the experience was, and hoping to come back someday to a legendary land of humble and friendly people. Glad to be back home to start leveling up my Demon Hunter, and to tackle all the Broken Isles has to offer — bringing with me all the knowledge learned through Legion Alpha, and Beta.