Blizzard Entertainment and Dark Horse have partnered to launch a multi-book series collecting the history of the Warcraft universe. The new book series is titled World of Warcraft: Chronicle (Vol. 1) and pre-orders
have already begun.
World of Warcraft: Chronicle is shipping to bookstores on November 17, 2015. (Source: Matt Burns)
World of Warcraft: Chronicle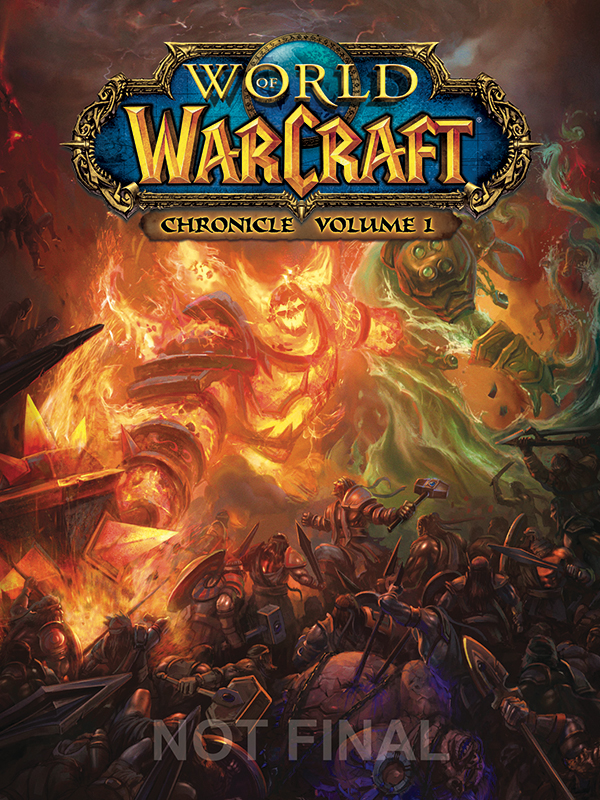 New Series to Detail World of Warcraft's Mythology
Hot on the heels of Blizzard Entertainment's eighth BlizzCon® gaming convention, Dark Horse Comics is proud to announce a multi-volume series detailing the history of the Warcraft® universe: World of Warcraft®: Chronicle.
World of Warcraft: Chronicle Volume 1 is a journey through an age of myth and legend, a time long before the Horde and the Alliance came to be. This definitive tome of Warcraft history reveals untold stories about the birth of the cosmos, the rise of ancient empires, and the forces that shaped the world of Azeroth and its people.
"We often get questions from players who want to know more about the origins of the Warcraft universe, and the rise and fall of their favorite characters" said Paul Sams, chief operating officer of Blizzard Entertainment. "This new series digs deeply into all of that—we can't wait for players to read it."
This beautiful hardcover book features over twenty full-page illustrations by World of Warcraft artist Peter Lee and marks the first in a multipart series exploring the Warcraft universe; from the distant past to the modern era.
"This is an amazing project that will be absolutely irresistible to the legion of Warcraft fans. The people at Blizzard have been great to work with and we are extremely happy and proud to be working with them," added Dark Horse President Mike Richardson.
World of Warcraft: Chronicle Volume 1 is on sale November 4, 2015 in comic shops and November 17 in bookstores! Preorder your copy today
!

Series: World of Warcraft
Hardcover
Publisher: Dark Horse Books (November 17, 2015)
Language: English
ISBN-10: 1616558458
ISBN-13: 978-1616558451