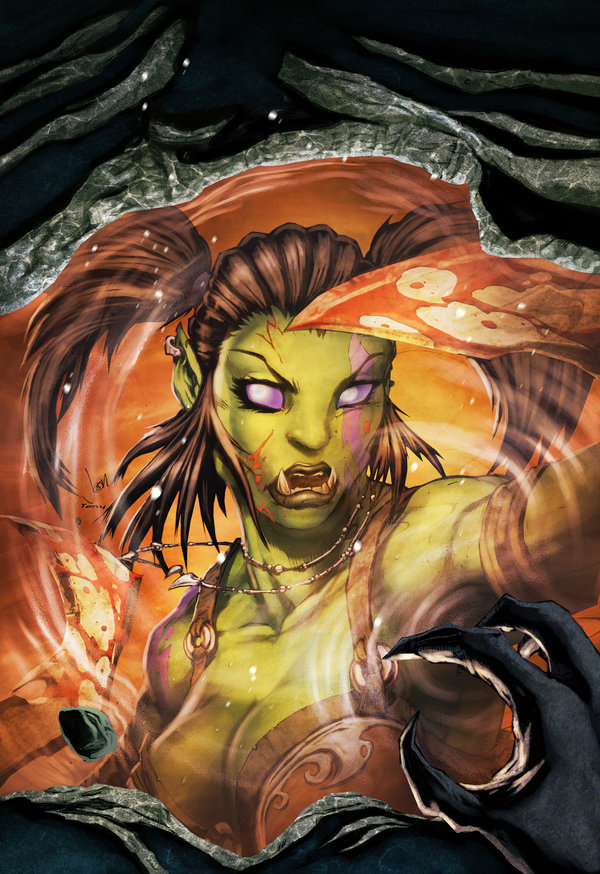 Originally, the Warcraft: Orcs and Humans Game Manual back in 1994 stated that Garona was half-orc and half-human. The timeline and common-sense however dictated that fact couldn't be possible.
Theoretically, it could have been explained if Sargeras-Medivh somehow had used magic to teleport to Draenor long before the Dark Portal was created, and had shed some of his blood in a ritual with Gul'dan to magically create a orc/human hybrid that Gul'dan could use later as a decoy to secure the downfall of Stormwind. Creatively, that could have worked; but it would be creepy considering Me'dan is the offspring of Medivh and Garona.
Another thing that could creatively work would require a paradox in time where the first time the Horde crossed over to Azeroth Garona didn't exist. We know there are other alternate timeline/realities. An example is Warlords of Draenor, which came to exist when Garrosh and Kairoz altered the past; but that was already an alternate reality before Garrosh arrived there. Kairoz picked an alternate timeline where Garrosh was never born as their destination.
In World of Warcraft: The Shattering, we also got to see a world where Blackmoor was triumphant, and very likely Rhonin and Krasus changed the past slightly in War of the Ancients creating an alternate timeline. In that novel, it was revealed that Nozdormu is in contact with other alternate Nozdormus from alternate Azeroths.
World of Warcraft: Legion gives us another creative story that further opens our mind to alternate timelines and alternate realities. Turalyon and Alleria have been lost for about 30 years in Warcraft time, but they have lived a thousand years.
I assume some of their followers were with them when they were lost in time, so it is possible that the human, high elven and human/high elven hybrid races may have flourished elsewhere in time in other worlds. If Turalyon and his people learned the way of traveling through time and space, it's likely possible that somehow one of these humans might have been stranded or captured in the past of Draenor — where then Garona could make sense to be half-human before the orcs created the Dark Portal.
Certainly a paradox, but alternate timelines are canon in the lore. Rhonin and Krasus did it. Garrosh and Kairoz did it. Thrall did it in "The Shattering."
Of course, we'll have to learn more on how Turalyon and Alleria's story pans out to draw better theorycraft.