The Production Weekly Magazine issue #873 has listed new auditions for the Warcraft movie. The listing still mentions the codename "Conflagration", but it added a new one along with that which says: "Lost in Gastown".
Gastown is a small town with a train station terminal located in Vancouver. "Lost in Gastown" is sort of a joke because it will get flooded pretty soon with actors from other states coming to the audition.
Director Duncan Jones moved to Vancouver on September 13th, and sported a Vancouver t-shirt at the BlizzCon 2013 Warcraft Movie Panel.
Updates soon. Investigating. =)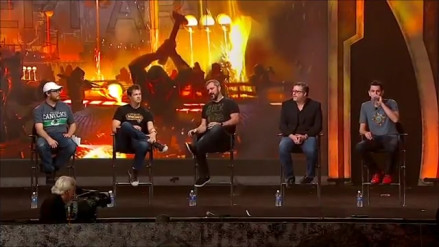 Update
I had the opportunity to take a look at the Production Weekly issue #583. I am not able to post an image because of copyright/trademark matters. It is a paid subscription magazine.
What I can confirm is that the audition listing mentions January 13 as the date to begin recording scenes. It is to be filmed at Vancouver.
The credits section mentions:
Producers: Charles Roven, Alex Gartner, Thomas Tull, Jon Jashni, Stuart Fenegan, Chris Metzen and Jillian Share.
Writer: Charles Leavitt
Director: Duncan Jones
Executive Producer: Brent O'Connor
PM: Cecil O'Connor
The interesting part is that at the end of all those credits is CAST: Travis Fimmel. That pretty much sounds like the rumor is no longer a rumor. Travis Fimmel is part of the cast now.
What I find strange is that the film description continues to mention Arthas Menethil before he became the Lich King.
At the end of the audition listing it says: Paula Patton is in advanced negotiations and Colin Farrell has been offered one of the leads.
Next to that it says these dates: January 13 – May 21.
Release Date: December 18, 2015.
So there you go. The filming will be ongoing for five months, and Travis Fimmel (Vikings TV Series, 2013) is listed in the credits as a Cast Member.
I'll attempt to double-check if that's accurate.