With Warlords of Draenor Patch 6.1 in the horizon, Blizzard Entertainment community managers teased via the official World of Warcraft Twitter a new mount is coming soon. Just they don't say what it is from.
Usually, previous new mounts teased in the past end up being either a Store mount ($25), some even for charity; or a Collector's Edition mount. In this case, the shape of this feline mount, and its purple color-scheme might hint at a Heroes of the Storm-themed mount similar to the Hearthstone launch's cross-promotion where a Hearthsteed mount was given to World of Warcraft players.
In order to acquire the Hearthsteed mount, players had to WIN three games in either Arena or Play Mode in Hearthstone. Logout. Then login into World of Warcraft and visit the mail inbox to receive the Hearthsteed mount. (read the original Hearthsteed cross-promotion page)
We might not know for a while, but there are a few clues that might be of interest to get the rumor mill churning:
1. Heroes of the Storm closed beta started on January 15th.
2. The color-scheme of this new mount resembles that of the Heroes of the Storm lobby.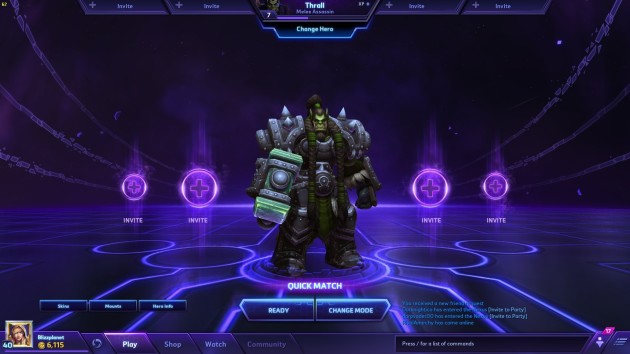 3. Mike Morhaime is set to talk about Blizzard Entertainment status quo and (possibly) upcoming plans during the Activision Blizzard Q4 2014 Financial Results conference call on Thursday, February 5, 2015 at 1:30 p.m. Pacific Time ( 4:30 p.m. Eastern Time ).
So let us know what you think. Is the mount related to Heroes of the Storm? Will the Heroes of the Storm official launch date be revealed on February 5 (an thus the teaser is churning toward the unveiling of that info)?
Warlords of Draenor Patch 6.1 New Mount Teaser