Blizzard Entertainment trademarked "Overwatch" back in April.
The trademark shook us because it was filed on April 1 (April Fool's), and PAX East was coming up on April 11, 2014. However, there was no mention of Overwatch at PAX East.
A few days ago there was a third Overwatch trademark by Blizzard Entertainment filed on October 24. Kinda amusing considering BlizzCon is on November 7th. It could have been coincidence like with PAX East, but maybe it isn't? Hard to tell.
The new trademark focuses on the following goods and services:
Goods and Services
IC 016. US 002 005 022 023 029 037 038 050. G & S: Printed matter, namely, strategy guides, comic books, graphic novels, novels, framed art prints, art books, calendars, posters, notebooks, and stickers
IC 025. US 022 039. G & S: Clothing, footwear, and headgear, namely, caps, overcoats, costumes, Halloween costumes, hats, hooded sweatshirts, jackets, pajamas, socks, sweaters, and T-shirts
IC 028. US 022 023 038 050. G & S: Toys, games, and playthings, namely, action figures, collectible figures, board games, dolls, plush toys, statues, toy guns, and vinyl figures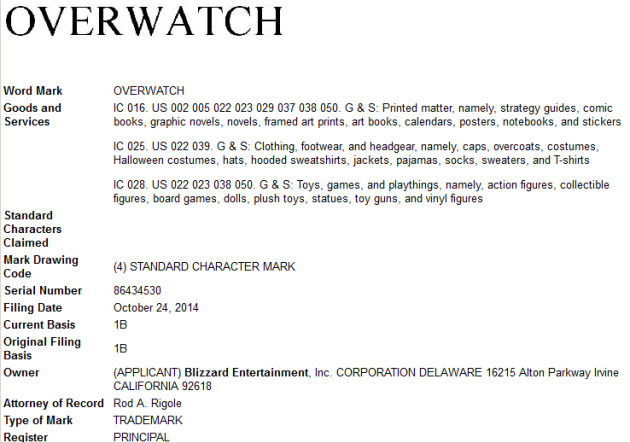 This might not mean much… just that Blizzard and the lawyer want to cover all bases for the term "Overwatch".
It is unknown at this point in time what this Overwatch trademark is for, and it has been around for the past 7 months. We know the next StarCraft II expansion is titled "Legacy of the Void". So that's discarded. The only potential targets are Diablo III: Overwatch, Hearthstone: Overwatch, World of Warcraft: Overwatch, Heroes of the Storm: Overwatch … or the still unannounced video game.
What? You didn't know? Yea, of course, the Next-Gen MMO Titan was cancelled — but there is still another unannounced game out there. The image below was taken today, but the unannounced game job openings have been public for over a year.
Did you notice the subtlety? Unannounced Game(s)/Project(s) (plural).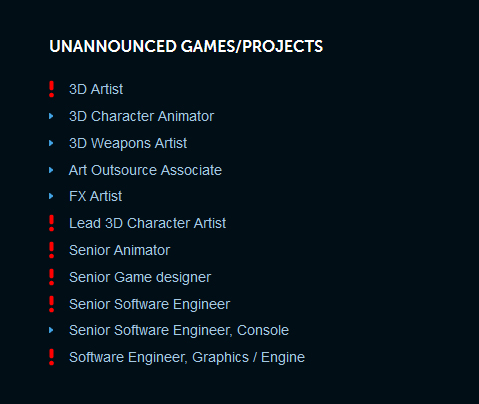 According to Wikipedia Overwatch stands for:
In modern warfare, overwatch is the state of one small unit or military vehicle supporting another unit, while they are executing fire and movement tactics. An overwatching, or supporting unit has taken a position where it can observe the terrain ahead, especially likely enemy positions. This allows it to provide effective covering fire for advancing friendly units. The term overwatch originates in U.S. military doctrine.
An ideal overwatch position provides cover for the unit, and unobstructed lines of fire. It may be on a height of ground or at the top of a ridge, where a vehicle may be able to adopt a hull-down position. If the overwatching unit is in a position to fire over advancing friendly units, great care must be taken not to let fire fall short. The friendly units should be within tracer burnout (the range at which tracer rounds are visible).
Overwatch can be performed by platoons during company fire and movement, by individual armoured fighting vehicles (especially tanks) or infantry sections, in platoon fire and movement, or even by fireteams or individual soldiers, in the final stages of an assault.
Overwatch tactics and firing at the short halt were especially important in armoured warfare before modern tank gun stabilizers were developed, since moving tanks were unlikely to hit any target. Even in modern tanks, however, it is much easier to spot enemies at a halt.
Unannounced Game
Whatever Overwatch is, or whatever the unannounced game is (if that's not Overwatch) it is sure to knock us out of our socks. Just take a look at some of the job opening quotes:
3D Weapons Artist
Weapons in gaming are a tricky thing to get right. A constant companion, we grow attached to our instruments of combat, and rightfully so. However, no matter how fantastic the design or how big the 'BOOM' is, it's the details which truly define a weapon's character and bring it to life. The way the light catches every nick and battle scar on a well-worn assault rifle or the mysterious, intricate engraving on an ancient sword pommel, each subtle nuance helps to create a truly rich and inviting world.
As a weapon artist you will lovingly hand craft each little detail found in the weapons and equipment for Blizzard's next epic game title. (source)
FX Artist
Is your portfolio full of crazy explosions, blasts of energy, and a whole bunch of blood splatter? Do you believe that playing with fire is a good thing? If so, Blizzard Entertainment, the developer of the most epic games in the world, is seeking a VFX artist to help develop Blizzard's next hit game!
Work alongside a team of the best artists, engineers and designers on the planet and enjoy the support of a company whose culture is centered on collaborative game development. We are gamers at heart at Blizzard – across all levels – and it shows in our craft.
The ideal candidate has extensive experience working with 3D packages, in-game FX systems to create a wide range of VFX (fire, smoke, magic, electricity, explosions, etc.), as well as a general understanding of good game play communication. A solid grasp of the principles of motion, anticipation, dynamics, follow-through, lighting, and other facets of animation is essential. The VFX Artist must have skill in creating textures and geometry needed for stylized VFX. (source)
The following job opening flavor text rises eyebrows.
Lead 3D Character Artist
Kerrigan, Raynor, Tyrael, Diablo, Arthas, Thrall…these are just a few of the epic characters that inhabit our worlds. Each one is as iconic and unforgettable as the last, and each one was brought to life by the hand of a talented artist.
And now it's your turn…
As lead character artist for Blizzard's next amazing game, you will lead the team that brings future legends to life. (source)
This flavor text hints a few possible things:
1. The unannounced game might be a new IP with new epic characters.
2. The unannounced game might be Diablo IV or a Diablo III expansion, set a few years in the future with new heroes. After all, Jay Wilson mentioned there was a lot of lore beyond Diablo; and Reaper of Souls revealed the Hero you played will be the new host of Diablo in the future. New heroes might have to come forth to battle your character.
3. The unannounced game might be Warcraft IV … Warcraft III introduced a lot of lore and content including Kalimdor, the Night Elves, the Naga, Arthas, the Lich King, and many other characters, and locations. Ingredients that fueled the development of World of Warcraft, which was in production parallel with Warcraft III back in 2003. Maybe the next chapter of World of Warcraft could be introduced through Warcraft IV? "Drools", indeed.
4. During 2008 D.I.C.E., Mike Morhaime revealed a list of Blizzard cancelled games. StarCraft: Ghost was not in that list, because it was postponed (never officially cancelled). Could the unannounced game be related somewhat to StarCraft: Ghost? Overwatch has a ring to something we could find in a First-Person Shooter like Half-Life 2, Call of Duty, and other similar games.
There is still much more to ponder with the job openings. For example, some of them require the applicant to have an extensive knowledge of the Warcraft universe.
Senior Game designer
Blizzard Entertainment is looking for a talented and experienced game designer to help us make our next epic game! This position will involve the creative design and technical implementation of game systems. The ideal candidate will have proven experience in game design, a strong aptitude for critical thinking and analysis, outstanding people skills, boundless creativity, a strong visual aesthetic, extensive knowledge of the Warcraft universe, and a longstanding passion for playing games. (source)
Another job posting that hints the unannounced game has ties with Warcraft.
3D Artist
Understanding of the Warcraft visual style, and a passion to push it to the next level. (source)
Will Overwatch be announced at BlizzCon 2014? Is Overwatch and the unannounced game one and the same? Is Overwatch an expansion or a new IP? Get the BlizzCon Virtual Ticket to find out.