The SONGHAMMER metal rock band has launched their new Album which includes "Death is on the Way", song that will be among the BlizzCon 2013 Songwriting Competition submissions.
To learn more about SONGHAMMER, read their recent Q&A. The song will be featured in the upcoming BlizzCon 2013 Songwriting Contest. Get the BlizzCon Virtual Ticket to watch the event via DirecTV or the livestream on your PC.
There are some good news for those who have followed SONGHAMMER these past years. Stay tuned.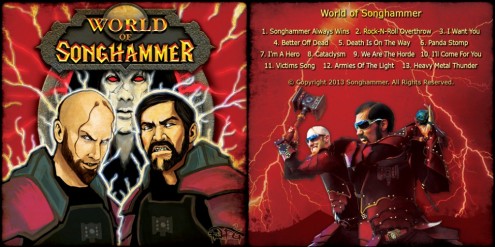 Los Angeles (Tuesday, October 22, 2013) – Epic Level TV and fantasy metal rock band SONGHAMMER have joined forces to release the epic music video for "Death is on the Way," launching the band's new album, World of SONGHAMMER. The album includes the song "We are the Horde," SONGHAMMER's winning entry from the International Songwriting Competition at 2011's BlizzCon, where they will also be featured next month. With its unique combination of fantasy archetypes, hard rock music and spaghetti western visuals, this first video showcases an incredibly promising range and an engaging sense of humor.
"If you like fighting, fantasy, and rock, this is the album for you," says Cindi Rice, producer of the video. "SONGHAMMER plays epic music for epic people, so it's a perfect fit for our channel!"
Video Link: http://bit.ly/1b97Vij
World of SONGHAMMER infuses new energy into retro-style chords, containing 12 head-banging epics. Each song offers a unique rock style from classic metal to booty-shaking pop to plucky Asian strings, reflective of the band's fantasy presentation reminiscent of classic and current fantasy comics and video gaming.
"Sit back, relax, and enjoy the ride. SONGHAMMER will take care of the dragons, orcs, murlocs, and any other villains that may arise!!!" chanted ShredHammer & CroonHammer, leaders of the band.
Shot in the foothills of the Los Angeles mountains, "Death is on the Way" features horse and riders from Jeffrie's Heartland Stables and spotlights Michele Boyd (The Guild and Team Unicorn) as the Mage. The video was produced by Epic Level Entertainment, directed by John Leonetti (Kill the Irishman, The Punisher), and shot by Luc Nicknair (Russell Peters Versus the World, Dark Planet, and music videos for Snoop Dogg &Tupac Shakur, among others). Like the music, the video's style harkens back to classic 1970s westerns or late 1960s epic sci-fi films such as Westworld.
ABOUT EPIC LEVEL TV
Epic Level TV is a growing all-things-nerd-and-geek website and YouTube channel, catering to niche audiences in the fantasy, comic, gaming, and sci-fi worlds. Home to beloved shows like "Dungeon Bastard" and "XOMBIE: Dead on Arrival," ELTV releases new content weekly and will be launching a slate of new series this winter. For more information, go to www.epicleveltv.com or www.youtube.com/epicleveltv. For current news, go to www.facebook.com/epicleveltv.
ABOUT SONGHAMMER
SONGHAMMER is the creative brainchild of Ben Stewart (ShredHammer) and Dustin Miller (CroonHammer). These titans of rock have combined forces to create a style of music that is a perfect soundtrack for the PVP and PVE gaming community, the ComicCon community, live-action roleplayers, and cosplayers around the globe. For more information, check out their website www.songhammer.com or get current updates at www.facebook.com/Songhammer.
Digital download of album available to press upon request.
"World of Songhammer" is available for purchase on the following sites: