Young Hearts
Gog'rak: My nephew never pays attention to his surroundings. In his eagerness to prove himself, he has strayed from the pack — again.
He reminds me of myself when I was a youngling.
If you see Orac, tell him to return home. We need to finish preparing for tomorrows hunt.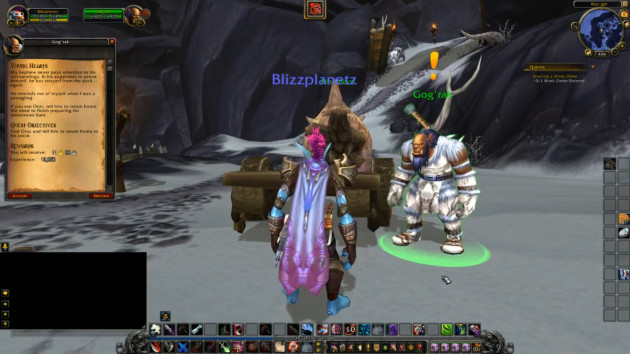 Quest Objectives
Find Orac and tell him to return home to his uncle.
Progression
Gog'rak: The last time I saw Orac, he was chasing Icepaw out the southern gates of Wor'gol.
Note: In the video below, you will see Worgen. This is a placeholder model. They are named Saberon — the saber-like men.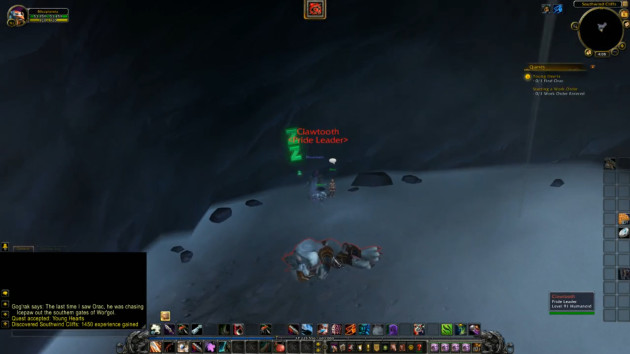 Orac: is he dead? I think he was saving me for later. Come on Icepaw, let's get out of here.
Completion
Gog'rak: Thank you, (name). I'm sure Orac will think twice before he strays from the pack again.
Orac: You should have seen it uncle! I had that filthy Saberon right where I wanted him.
Gog'rak: Is that right? Good job, Orac. You will make a fine hunter one day.
Return to the main hub for Frostfire Ridge (Horde Quests) in Warlords of Draenor, or continue below the Story Achievement: Defense of Wor'gol.