Activision Blizzard Q4 2014 financial report conference call was held today at 1:30pm PST. Blizzard Entertainment CEO Mike Morhaime reported the latest updates on all current and upcoming games. Overwatch and StarCraft: Legacy of the Void beta testing have no ETA, but he confirmed these will start in 2015.
In addition, Team 5 is working on more Hearthstone content. So far 9 million players have signed up for Heroes of the Storm beta.
Highlights
At BlizzCon® on November 7, 2014, Blizzard Entertainment announced a new intellectual property, Overwatch™ — a highly accessible multi‐player game featuring an amazing cast of heroes and set in an all‐new Blizzard game universe.

On November 13, 2014, Blizzard Entertainment launched Warlords of Draenor™, the fifth expansion for the #1 subscription‐based MMORPG in the world, World of Warcraft®. The expansion sold‐through more than 3.3 million copies as of the first 24 hours of its availability and helped drive World of Warcraft to more than 10 million global subscribers at the end of 2014.

On December 8, 2014, Blizzard Entertainment launched Goblins vs Gnomes™, the first expansion for Hearthstone: Heroes of Warcraft. The release of Hearthstone: Heroes of Warcraft on Android tablets followed on December 15, 2014.

On January 13, 2015, Blizzard Entertainment began the closed beta test for Heroes of the Storm™, its upcoming free‐to‐play online team brawler featuring iconic heroes from more than 20 years of Blizzard gaming history. To date, more than nine million players have signed up to beta test the game.

In January 2015, Blizzard Entertainment's Hearthstone: Heroes of Warcraft reached more than 25 million registered players.

Additionally, in 2015, Blizzard Entertainment expects to begin beta testing Overwatch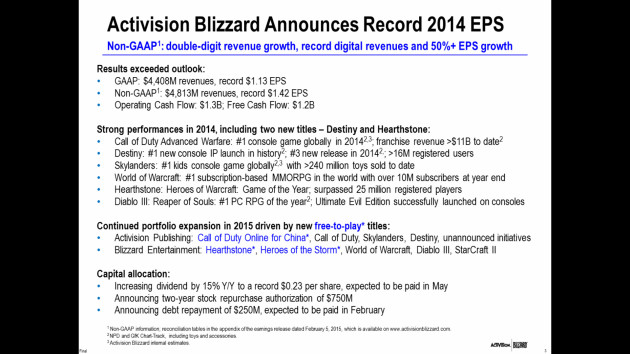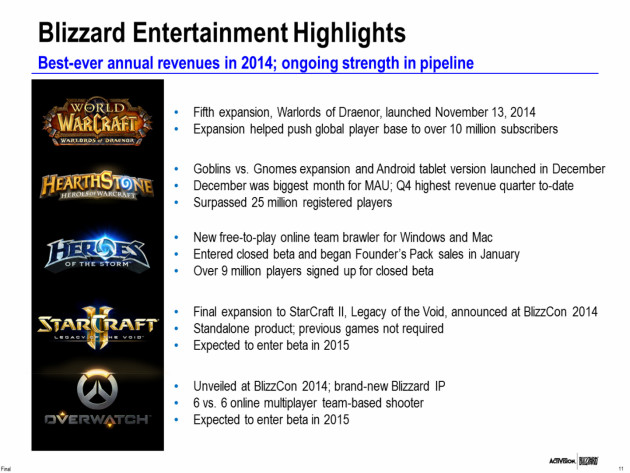 Overwatch going to beta soon this year. No ETA.
Blizzard working on new Hearthstone content
Activision Blizzard Q4 2014 Transcript
Dennis Durkin: In 2014, Blizzard generated record avenues and near-record operating income. The year was driven by Diablo III: Reaper of Souls and World of Warcraft: Warlords of Draenor, both of which generated significant revenues and income that will not have comparable releases this year.
In addition, we expect WoW subs to decline as we have seen historically in the year following the release of a large-scale expansion.
In terms of new releases, in January, Heroes of the Storm Blizzard second free-to-play game entered closed beta. While we expect it will take time to ramp in monetization as it builds its audience, we are very excited about the opportunity we have in front of us with this game.
In addition, this year, Blizzard will continue to release new content for Hearthstone as well as bringing the game to mobile devices later in the year.
Lastly, Overwatch, which was just announced in November, is expected to go into closed beta later this year. While we are very excited about this new franchise, it has not been factored into our outlook.
Finally, Blizzard will continue to invest in our own distribution platform, Battle.net, which will need to support a significantly larger audience and commercial capabilities going forward.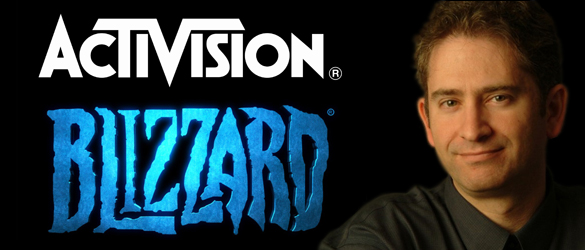 Mike Morhaime: Thanks to the efforts of our dedicated and talented employees around the world, Blizzard Entertainment delivered one of our most successful years ever.
In 2014, we released award-winning expansions: World of Warcraft: Warlords of Draenor (on Windows and Mac), and Diablo III: Reaper of Souls (on Windows, Mac and Consoles).
We also launched our first free-to-play game, Hearthstone, which has collected Game of the Year awards, and nominations as well.
Hearthstone was released first on Windows and Mac; and later on iPad and Android tablets, bringing Blizzard into the mobile space for the first time.
Additionally, we supported Hearthstone with two major content releases: the Curse of Naxxramas Adventure and Goblins vs. Gnomes, our first expansion. Our success across multiple game genres and platforms in 2014 drove Blizzard's best-ever annual revenue, and more importantly, helped us continue expanding our global community of gamers.
On the World of Warcraft side, we ended the year with the release of Warlords of Draenor in November. As we previously announced, the expansion was a great success in all regions, pushing the global player-base above 10 million. The introduction of the character boost as well as design updates to the game made it much easier for lapsed players to return to World of Warcraft, and quickly reintegrate themselves into the community.
Looking ahead, we're already preparing new content and features to support the game in the coming months. As with previous expansions, we do anticipate a decline in subscribership in the coming months, particularly out of Asia, where the subscriber-base has been more fluid.
Moving on to Hearthstone, the game continued to excite and attract players around the world. After announcing the Goblins vs Gnomes expansion at BlizzCon in November, we launched it a few weeks later in December. This was followed shortly after with the Android tablet version of the game. All this activity helped drive Hearthstone's highest monthly active players ever in December, as well as our highest revenue quarter-to-date for Hearthstone.
Registered players for the game have now reached over 25 million, capping off a spectacular start for Hearthstone. It's gratifying for us to see how the global Blizzard community has responded to our first foray into a new genre; as well as the free-to-play market and gaming on tablets. We will keep working hard to build on last year's momentum with more content in 2015, as well as the upcoming Android phone and iPhone versions of the game.
We do have another free-to-play game in the pipeline with Heroes of the Storm (our Online Team-Brawler). This is a genre that has proven to be very popular in the online space in recent years. We are excited to put our unique spin on this genre, in a game that stands out from the rest, with highly accessible play and iconic Blizzard characters from the Warcraft, StarCraft and Diablo universes.
Heroes of the Storm has recently hit some major development milestones including the start of closed beta in January, along with sales of the Founder's Pack (a digital bundle for $39.99) that gives player an array of heroes, skins and other content; as well as instant access to the beta test.
We are continuing to ramp up our infrastructure and game service capabilities, allowing us to open up the game to more of the 9 million players who have signed up for beta testing. Excitement around Heroes of the Storm continues to build as we are seeing more grass-root tournaments pop up and major eSports entities are already creating professional teams for the game.
Looking further ahead, we gave the world a glimpse of what's next for Blizzard at BlizzCon.
We kicked off the show by unveiling Overwatch, a team-based first-person shooter featuring an amazing cast of characters of heroes; and set in an all-new Blizzard game universe. The announcement trailer for Overwatch was a viral sensation on the Internet, while attendees and press alike raved about the gameplay after trying an early build on the BlizzCon show floor.
In addition to Overwatch, we also showcased the final chapter in the StarCraft II trilogy: Legacy of the Void. This will be a stand-alone expansion, meaning anyone can jump right into the StarCraft II experience without needing to own the previous games. We expect beta testing for both Overwatch and Legacy of the Void to start later this year.
For a while now, we have been discussing the strong pipeline of Blizzard games. Gamers have long known us for World of Warcraft, StarCraft and Diablo. Now with Hearthstone added to the mix, and Heroes of the Storm and Overwatch soon to follow, we will have more games in more genres and on more platforms than ever before.
As busy and successful as 2014 was, we're looking to build on that momentum this year and deliver even more excitement to players in 2015.
Past Activision Blizzard financial conference calls for trend research in our archive.