Nexus: Varian
Jason Hill: Oh my God, thank you so much for coming out of the most beautiful audience that we have here at BlizzCon. As Terran said, my name is Jason Hill, and I am one of the directors for story and franchise development, but to make it simple, one of the directors for cinematics.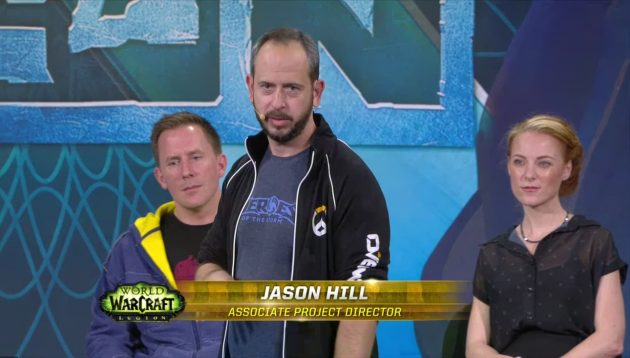 What I will like to talk to you today about is a little piece that you saw yesterday hopefully: Ragnaros versus Varian. Normally, when the game team approaches us with a new character for Hereos of the Storm, the first question we tend to ask ourselves is how would this hero respond to the Nexus? Would they be confused? Amused? Horrified? How would a Protoss even respond to something like Azmodan?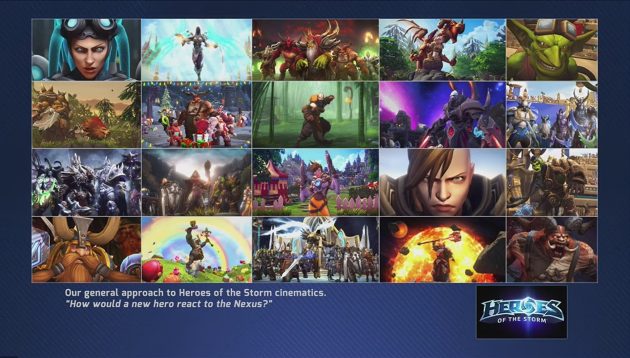 Well, for Tracer it was an amusement park, and for Gul'dan… he wanted unlimited power, and for Stitches… he just wanted some friends.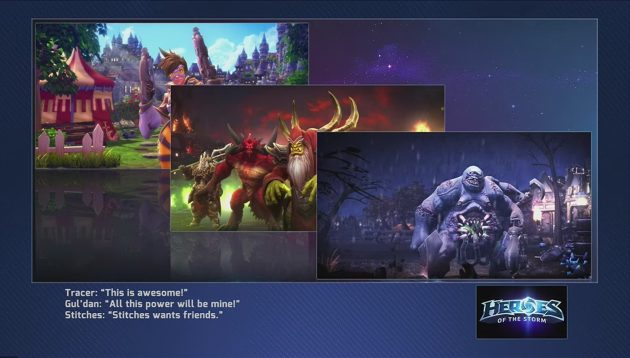 Recently, when the game team came to us and said hey we want to do Varian and Ragnaros for BlizzCon. We are like okay let's do that, that sounds awesome. So the first question we naturally asked ourselves was: What is Varian's reaction to the Nexus? How would Varian respond to say Alarak, or Tracer? What would he say to Butcher, of all people?
Well, Terran and I actually share an office, and for quite a while actually watched the evolution of the Broken Shore cinematics before even starting on the Varian piece, and in that cinematic realize that we had his friend, his ally Greymane. We also had a character who he believed may have actually betrayed him: Sylvanas, and we actually had his executioner: Gul'dan. That's a spoiler.
But it did bring up some interesting questions for us though. What would Varian and Gul'dan do together? What would their adventures be? How would they go about doing anything; and we shot around a bunch of ideas and none of these actually worked out.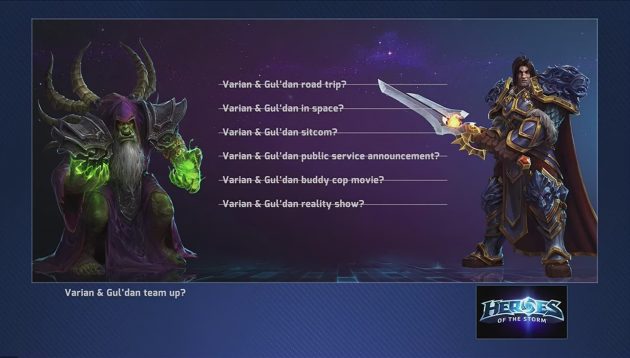 But what we did find out, and what we did realize is that we didn't actually want to dilute Varian as the hero of this piece. We give him a large supporting cast. It would take some of the attention away from him, and so soon after Legion's launch, we needed tight focus on Varian, and we really needed to honor his Warcraft story arc, and then introduce him into the Nexus.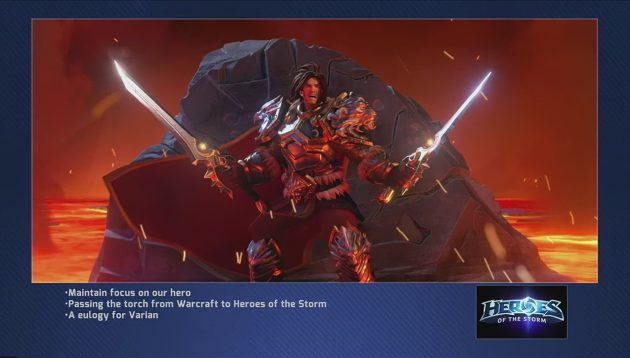 The idea of actually doing an eulogy for Varian got us on the right track. Now for the eulogy, we actually realize it was actually a great bridge between the two games. When we find Varian, he is in this beautiful forest. it is serene and peaceful, and nobody, none of us would ever want to leave there. None of us would ever want to leave there, but we need Varian to have a sacrifice.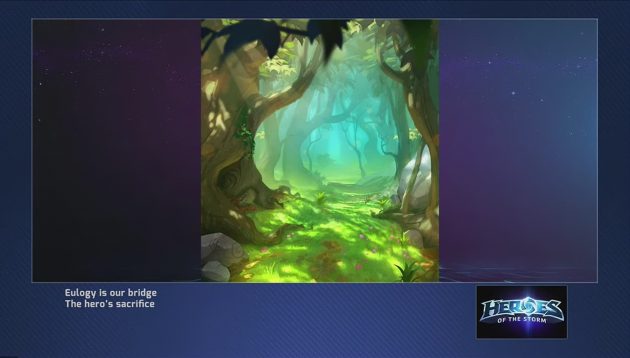 Terran mentioned sacrifice earlier. He needed a reason to leave, he needed a reason to move on. We need to introduce what was typically known as the Hero's Call. In this case, the Hero's Call is the burning leaf. It is one element. It is one thing that does not fit in this forest.
Everything else is beautiful and green. Here comes this orange leaf that is on fire. It tells Varian and the viewers that something is wrong; but Varian being the hero is compelled to find the answer.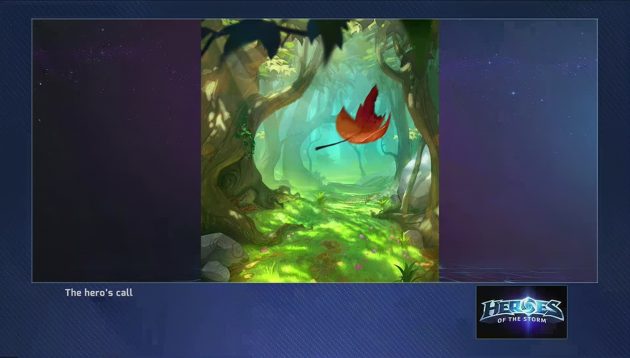 Now from the minute we see the burning leaf, every shot following is full of danger and foreboding. There is this smoke and fire in the distance. The damaged bridge. The trees that are burned to husk. The lot of cooled off field, and finally Varian arrives at the lake of lava where he encounters Ragnaros. This bad boy.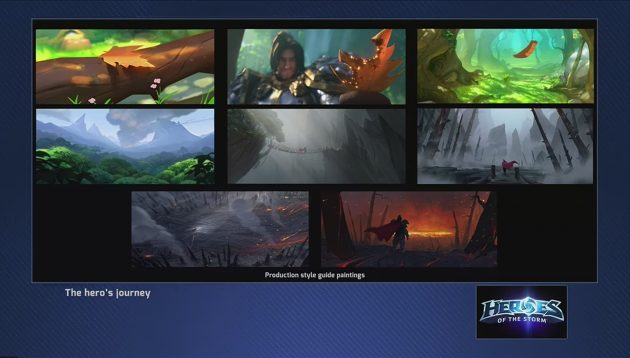 Something else we realized very early in production is Ragnaros has never been portrayed in a cinematic before. So we think about what we really want this giant monster movie feel. He should feel like a total force of nature. He should not be able to be stopped in any way.
So if you watched the piece again, Ragnaros actually keeps Varian on the defensive for almost the entire time. But again, Varian being the hero, he is not going to give up, and Varian's final actions hopefully convince the viewer that he has a plan to defeat the Fire Lord.
Look at these images up there, those top two images should be desktop wallpaper. I ever saw him, it should be desktop wallpaper. If anybody wants that, we should figure out how to make that happen. I will talk to the game team. We will see what we can do.
So while this project was actually birthed in our in-game cinematics pipeline, we — the game team — realized they wanted something really special for you guys here at BlizzCon. Can we give them something else? Can we give it a little bit more, and so we realized we can also take advantage of using the outstanding artist that we have in our pre-rendered cinematics team, as well as leveraging the tools that they have done for the Overwatch episodes for this piece.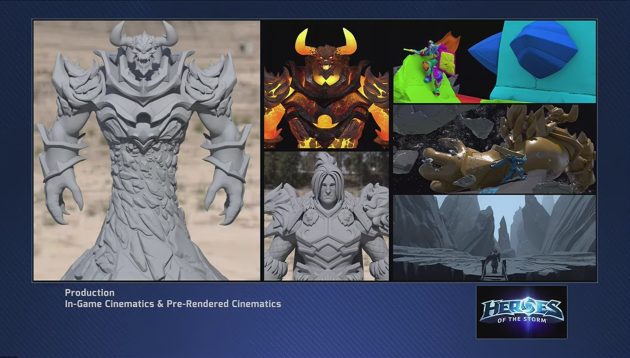 It was able to increase both shot complexity and image fidelity by leaps and bounds. The added plus, I got to ask Jessica to model Varian once again.
Finally, before I hand this back over to Terran, soon to be in the Blizz Con store, not really…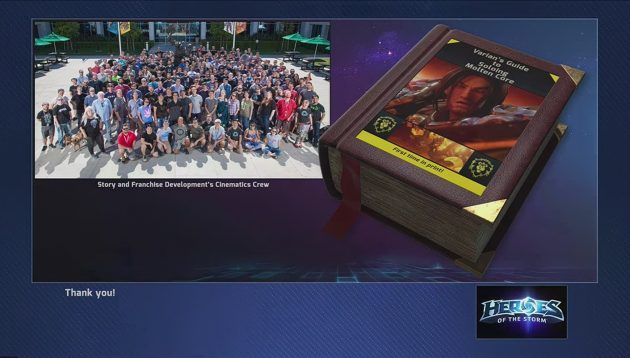 But I want to thank all of you, our extended Blizzard family, for supporting stories within our games. We are huge fans of these characters. We are so glad you are too. And we hope to bring you a lot more cool stuff in the very near future. Thank you.
Terran: And so, our panel comes to a close today, thank you all so much for coming out. A quick shoutout to Stephanie for helping us put this together, the World of Warcraft team for continuing to let us play in their sandbox, and having a great time, and all of you for showing up, or tuning in at home. We really appreciate it. There is nothing quite like being here with you at BlizzCon. Thank you so much. Enjoy the rest of your convention.
Transcriber: Iluv2proofread
Editor: Medievaldragon