Mobile App
Renata: Hey, guys! Hello, BlizzCon! I always wanted to say that. My name is Renata Ponte. I'm a program manager with the Mobile Team, and I'm super psyched to be here to talk to you about something I think you guys have been wanting for a very long time.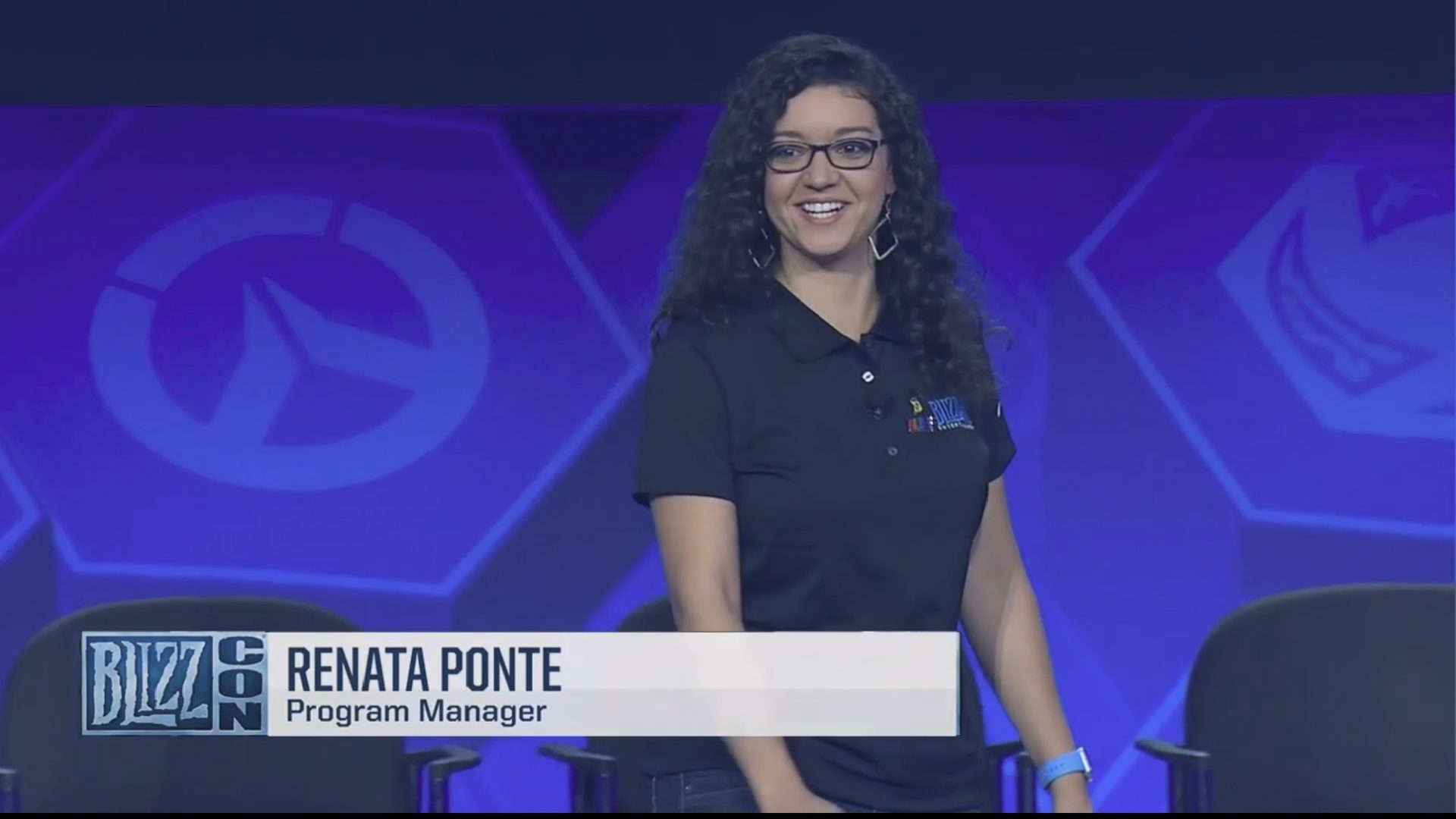 I know that as part of the mobile team, something I get asked for all the time and something I want for myself is a way to be able to chat with my Blizzard friends when I'm on the go. I'm usually running around between meetings all day as a PM, and I normally don't get enough time in front of the PC to organize my games before I actually want to sit down to play.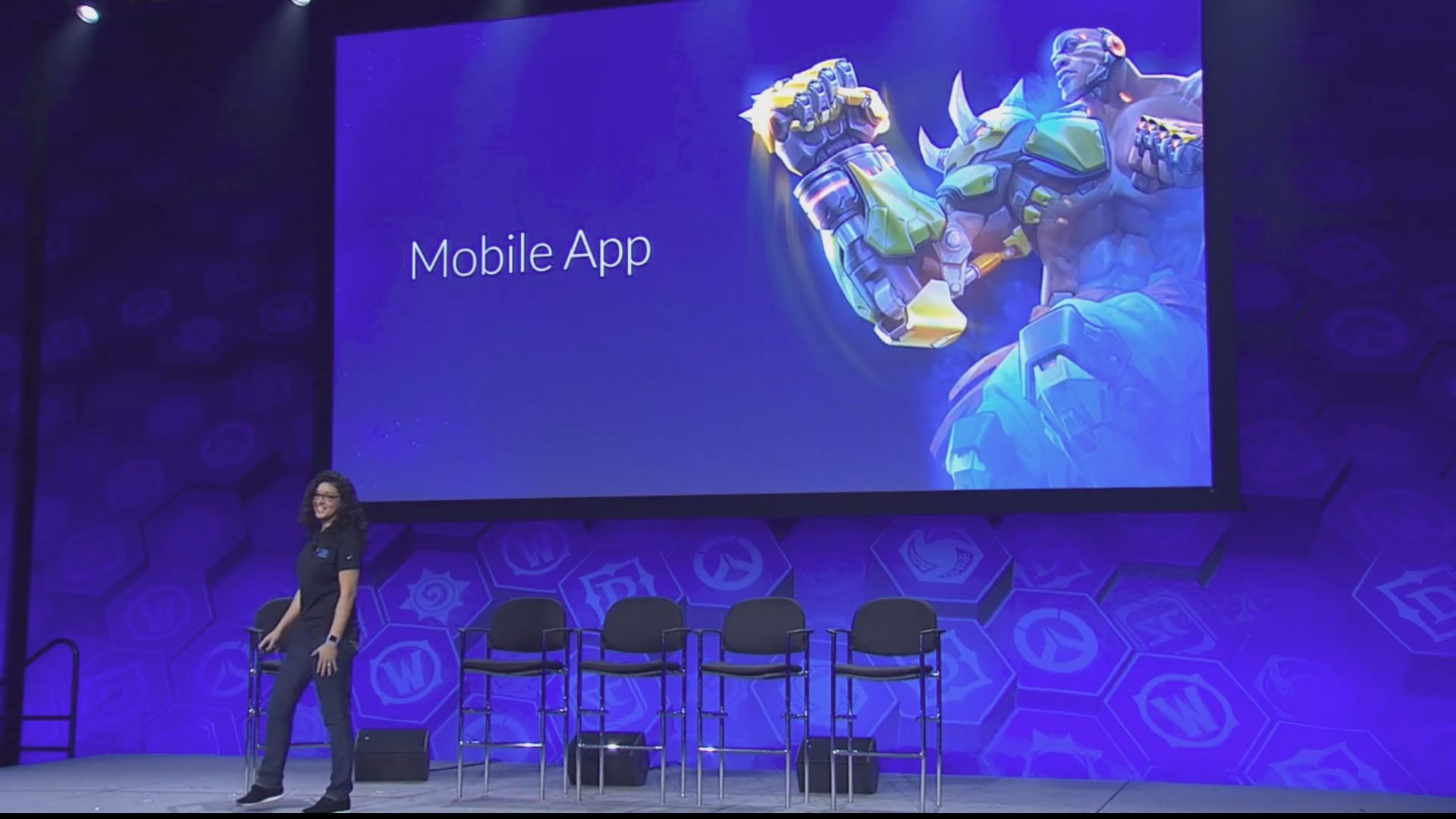 So what did we do? We brought you your Blizzard friends and chat to your mobile phones. Finally, right? I think we can all say it's been a long time coming. So let me tell you about some of my favourite features, and hopefully you'll love the app as much as I do.
First things first. Who doesn't love seeing what their friends are doing all the time? I know I do. Now I can pull up my app, I see all of my favorite people at the very top and what they're doing. Are they in WOW? Are they running a raid? Or are they in a Heroes match? More importantly, can I hop in and play with someone right now?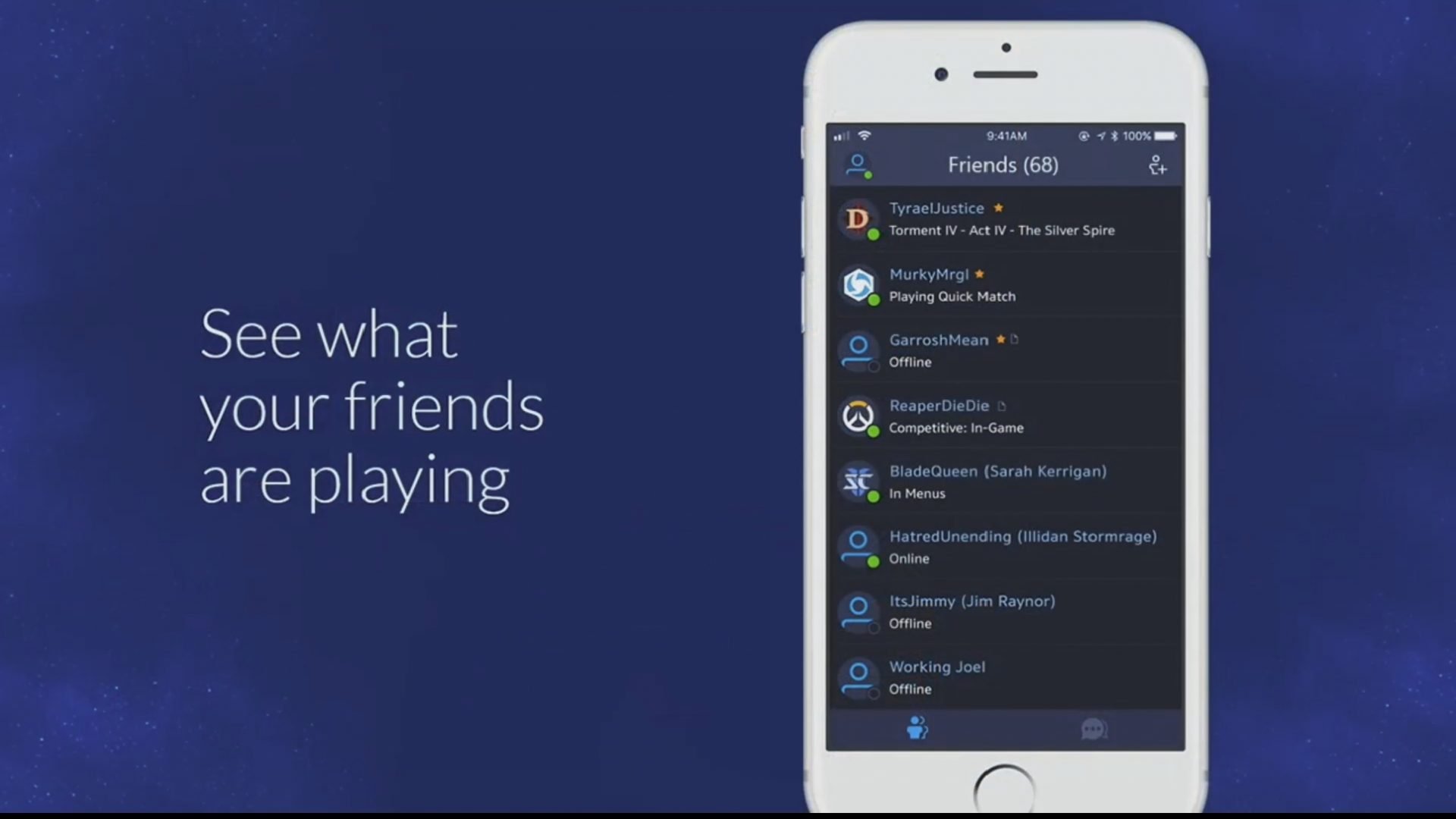 I know sometimes (I don't like to admit it, but) I'm too lazy to get off the couch, and go to my desktop, and see who's online and I don't have to. I can just pull up my phone, I see all my friends there, and I know who is ready to play.
Something else that I really like about the app is whether I'm online or offline, no matter what I'm doing, if somebody is trying to get a hold of me they can just send me a notification, and I get it right there on my home screen. As with most apps, you know… you click on that and you get right into your conversation.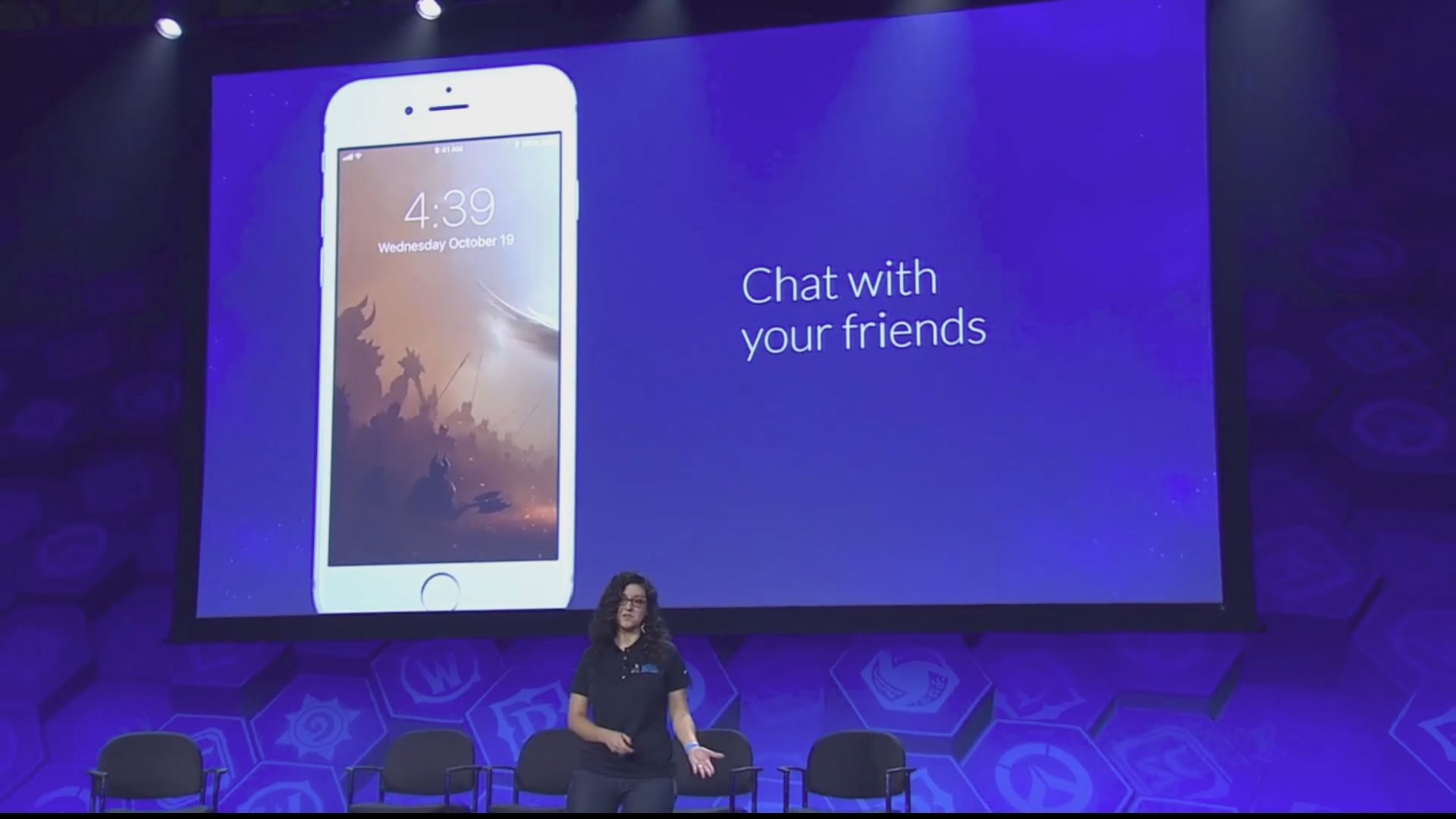 Now as my friend Mike mentioned, if you can't answer that message right away, it doesn't matter, because now we don't miss our messages anymore that we have chat history. You can come and look at it any time you want.
More importantly, if you prefer to chat with them on the Desktop App once you get there, your messages will be there too; because now they sync between your phone and your desktop.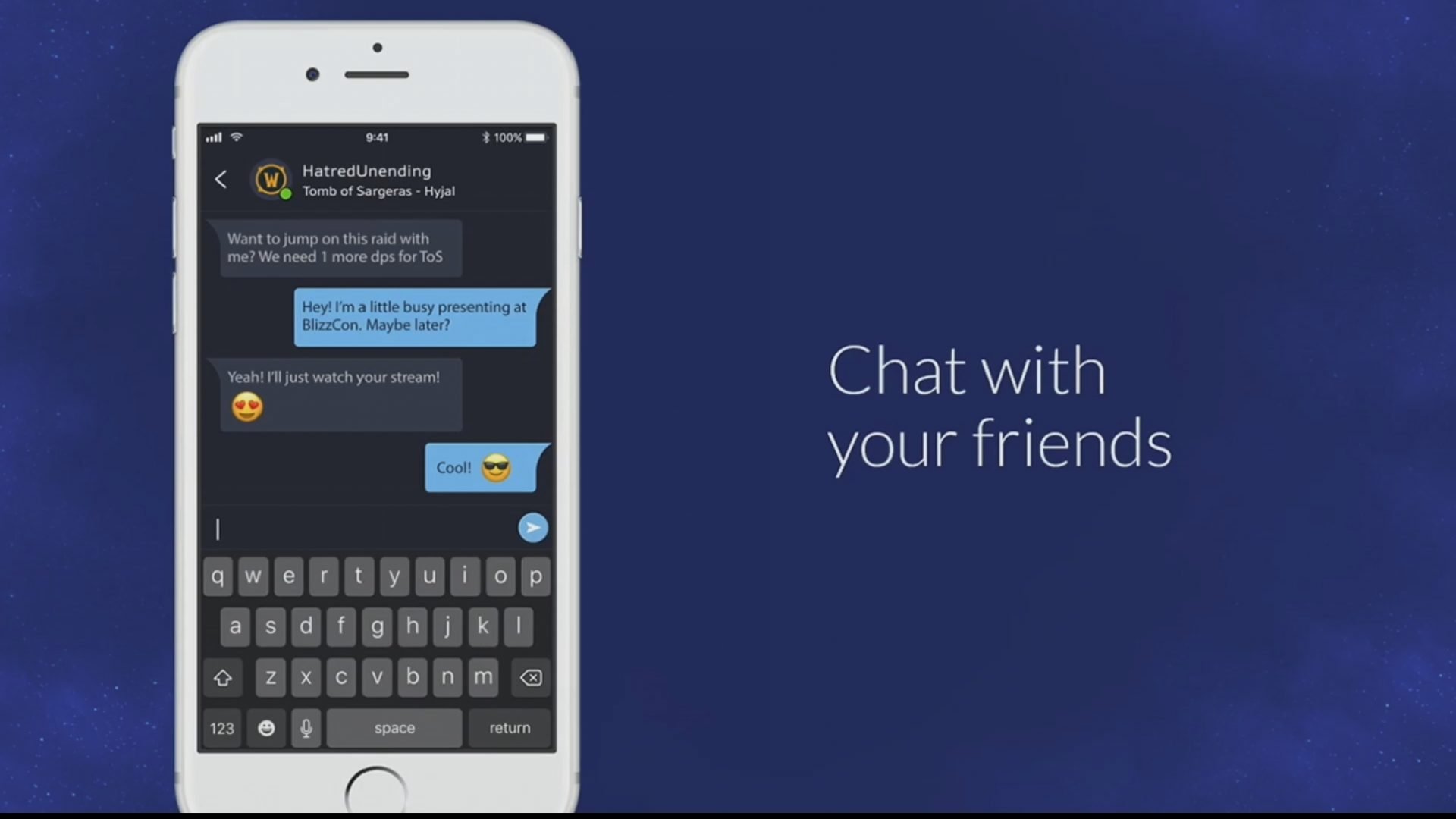 And my favorite part is if somebody is actually inside a game, you can message them and they'll get that message inside the game. I think that's pretty awesome. So something else that we added that I hope you all use while you're all here at BlizzCon is that we've added some new easier ways to make friends, especially if you are meeting them face to face.
So you know, while you're walking out of here or maybe you're hanging out at the lounge for the Bling Shop, or even here at the Darkmoon Faire, or if you meet anyone you really like and you want to keep in touch with them… Please pull out the app and go to what we like to call back at the office the "Friending Hub," and choose to scan a QR code to take a picture of that person's QR code. Boom… friend request sent. It should be that easy.
So now I have a quest for all of you, if you choose to accept it. The quest is that while you are here at BlizzCon, go out there and make at least three friends using the QR code feature on the Battle.net app.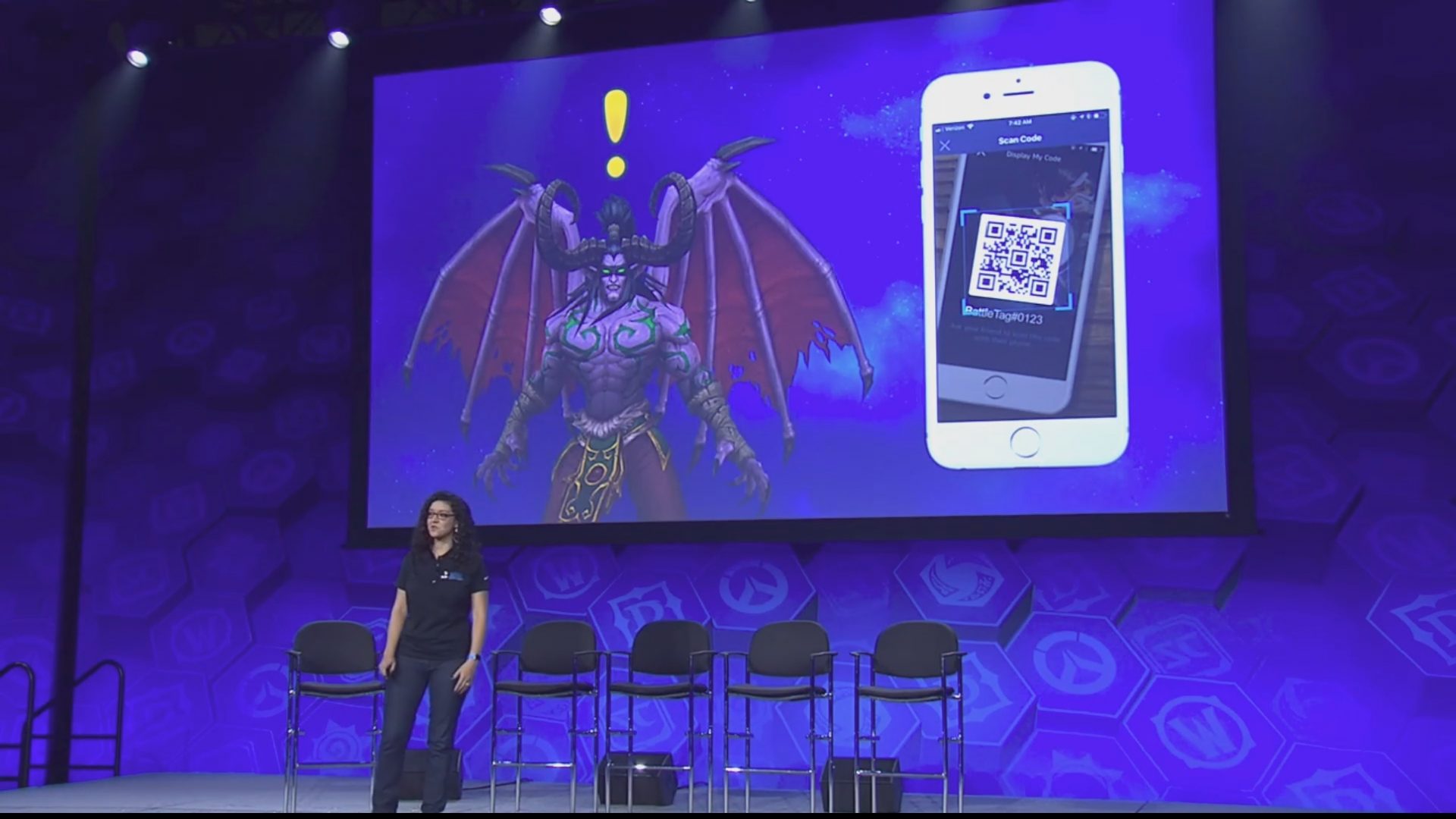 Now I can't leave this stage without taking a selfie with all of you. I can't miss that opportunity. We do this for you guys. You guys are awesome. So if you're excited to be here, let me hear it, and I guess we look good for the camera.
Hold on, here we go. All right, guys. Thank you so much for that. Go out there, download the app, give us feedback. Let us know what you guys want, and let me introduce you to my colleague Nathan Lyons-Smith. Thank you.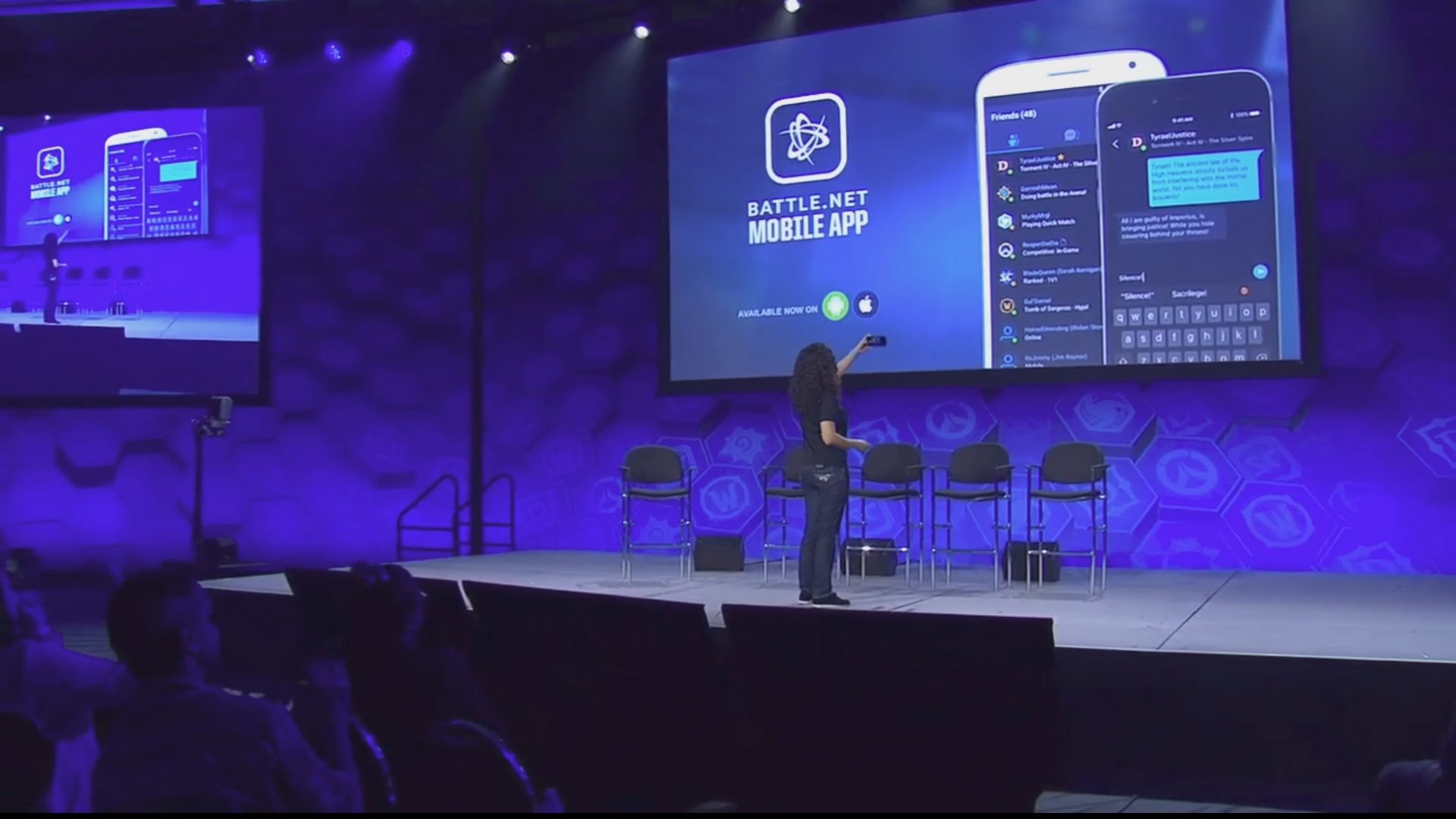 NEXT: GIFTING