Warbrave Oro: High Chieftain Ulan has requested your presence. We have learned that the Burning Legion has returned and know that if you are true in your purpose in facing this evil, you will need our aid. Our people have in our possession a great titan relic: the Hammer of Khaz'goroth. We intend to lend it to you for this task. When you are ready, join me on the western border to Highmountain and I will provide safe passage.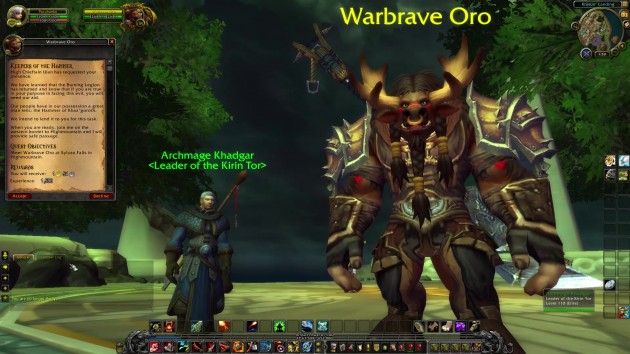 Quest Objectives
Meet Warbrave Oro at Sylvan Falls in Highmountain.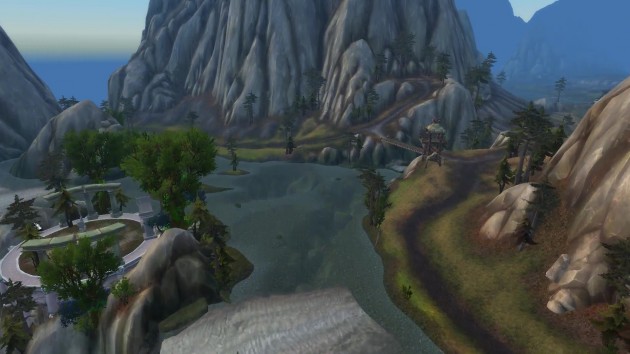 Intermission
Warbrave Oro: Come champion, journey with me and I shall show you the might of Highmountain.
Archmage Khadgar: (Name), the warbrave has good intentions – I think. Quickly, now, after him – his people are your best chance at an ally on that mountain.
NOTE: Click the Flight Master in Krasus' Landing. He will facilitate travel to Highmountain.
Location: Sylvan Falls
Warbrave Oro: We still tell the legends of when Highmountain stood against the tide of the Burning Legion many ages ago. It will be an honor to stand against them again.
(Lead me to your High Chieftain)
Location: Riverbend (Highmountain)
Warbrave Oro: When I left, a meeting of the chieftains had been called to discuss the coming Legion. Even the drogbar Underking was to be present. The drogbar are violent creatures that seldom come above ground. We trade with them and tolerate them, but I would hardly call us allies.
Spiritwalker Ebonhorn: Ah, champion! I told them you would come. A shame the warbrave did not find you sooner. The meeting of chieftains ended in disaster and treachery. The drogbar have taken the hammer you seek. Jale and I are here to negotiate for its return before the Legion arrives in force. Will you join us, outsider? Your recent experience with the Legion may prove useful in convincing the Underking of our need.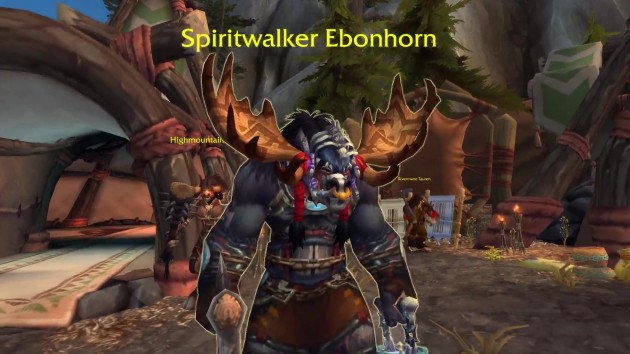 (Ready to negotiate.)
NOTE: A short cutscene plays showing the Underking using the Hammer to devastate the area with a slam on the ground. The landscape actually does change to reflect what the cutscene showed.
Speak with Spiritwalker Ebonhorn: 1/1
Completion
Spiritwalker Ebonhorn: No no no! What has that fool done?
Keepers of the Hammer