Apprentice Rosalyn: This road isn't safe, adventurer. Kobolds attacked our caravan and made off with the soul chambers we were meant to deliver to Allari for interrogation.
(What are soul chambers?)
Apprentice Rosalyn: Soul chambers are brilliant, but fragile gems that can be used to imprison demons. Soulkeeper Uriah and I were in possession of a handful of these shards until kobolds ransacked our caravan. Those mindless vermin have no idea what terror they may have unleashed.
Shiny, But Deadly
Location: Mucksnout Den
Apprentice Rosalyn: Soulkeeper Urian and I were transporting demon prisoners to Allari in Azsuna when our caravan was attacked by kobolds. Those mindless vermin made off with the soul chambers that house our demonic captives. The crystals may be shiny, but they're also deadly. If they are damaged in any way, the demons trapped within may escape. Head into the cave nearby and recover the soul chambers before it's too late.
Quest Objectives
Collect Soul Chambers from kobolds within Mucksnout Den.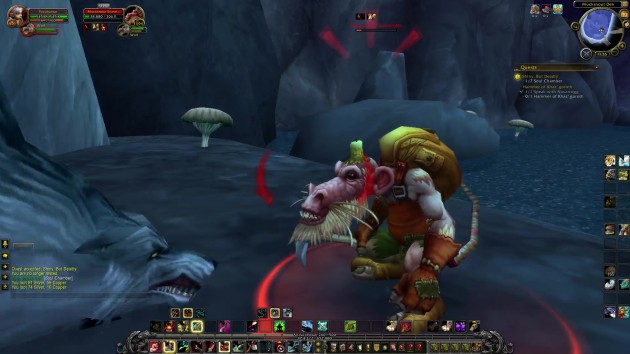 Completion
Apprentice Rosalyn: Have you recovered the soul chambers yet? Is this all you could find? While I'm grateful to have these gems in my possession once again, it seems that there are still a few missing. I fear they've been broken, which means the demons within have escaped.
Shiny, but Deadly