Warbrave Oro: We are about to follow a drogbar into a cave, something we warn our children never to do. Even so, several of our warbraves have already followed Dargrul inside. Come, join us in battle and let us reclaim the Hammer of Khaz'goroth.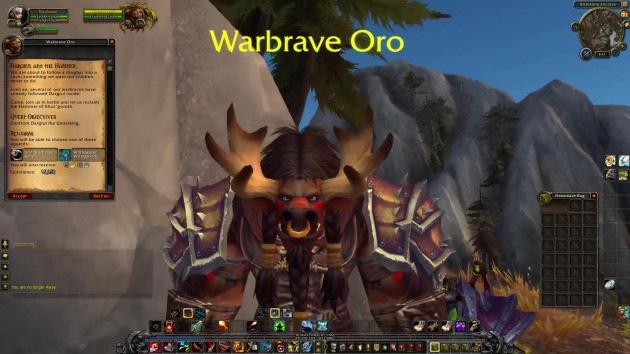 Quest Objectives
Confront Dargrul the Underking.
Intermission
Warbrave Oro: Well timed, champion. We have cleared a path to Dargrul. This way…
Dargrul: I heard about you. You come to challenge me?
Warbrave Oro: Aaaah!
NOTE: Dargrul uses the Hammer to command the stone beneath us to become into sharp thorns that stab Warbrave Oro and the other 4 Highmane Warbrave. Your character becomes trapped in a grasp of stone. Click it to become free.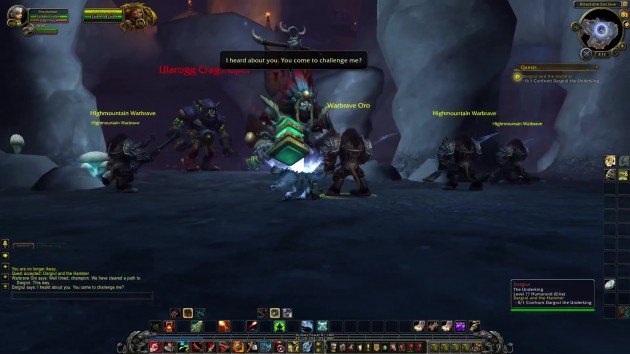 Ularogg Cragshaper: My underking, this one still lives.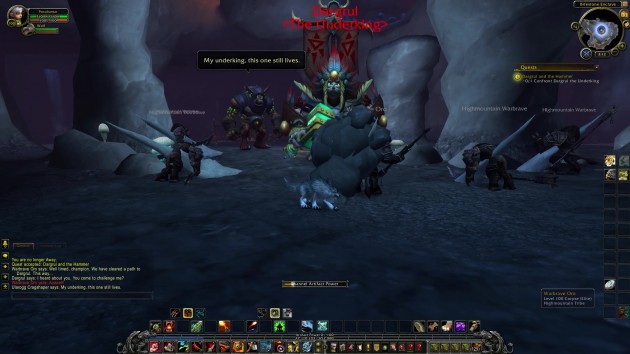 Dargrul: I wanted something to feed my basilisk pets. Let this fate warn others who think a weak outsider should wield the hammer.
Completion
Spiritwalker Ebonhorn: So many good warbraves have fallen today. We will need the full might of the Highmountain tribes if we are to recover the hammer. In his arrogance, the Underking is going to get us all killed.
Dargrul and the Hammer