Our sources tell us that a Highmountain tauren emissary has recently arrived in Dalaran. We don't know his intentions, but his people could be an invaluable contact in the region. Khadgar is greeting the emissary at Krasus Landing in Dalaran – you should seek him out. The Kin Tor mages have created a permanent portal for us that can take you to the city quickly.
Quest Objectives
Speak to Warbrave Oro at Krasus Landing in Dalaran.
Intermission
NOTE: The portal to Dalaran in the Hunter Order Hall building is located up the ramp (second floor). Above the entrance.
Drupala Nearmiss: Goodness! Is that (Name) with her artifact?
Practicus Rozzbin: Oh sure, it's a nice weapon… I guess. But can she tame a mechanical chicken with it?
Location: Krasus Landing (Dalaran).
Archmage Khadgar: We're in luck, warbrave. The champion you seek should be here shortly.
Completion
Warbrave Oro: Greetings champion. I am Warbrave Oro of the Highmountain tauren. I come on the winds of war to find you.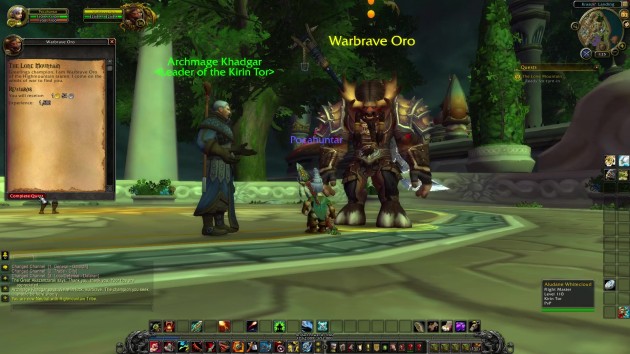 The Lone Mountain