Navarrogg: You have gained my trust. Not all drogbar are as violent as the savages led by Dargrul the Underking., nor are all tauren aas bloodthirsty as the Bloodtotem. You may tell Mayla Highmountain that she has our support. The cavern we call home is yours to explore freely as well, (name).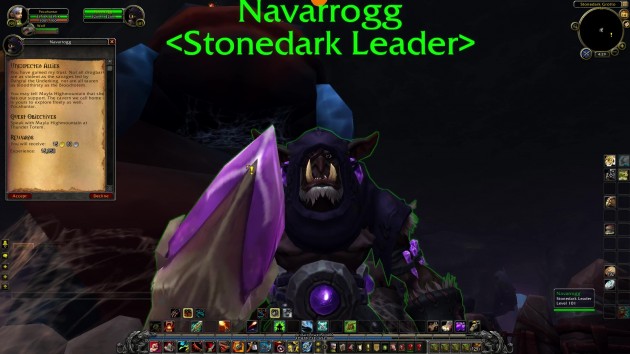 Quest Objectives
Speak with Mayla Highmoutnain at Thunder Totem.
Intermission
Navarrogg: Welcome to Stonedark Grotto. It doesn't look like much, but it is our home. Here, we live in peace away from the other drogbar. Stonedark! I have returned! WE have this one to thank for saving us from the Bloodtotem. We will help their cause when it is asked of us. Oh, and don't kill him/her.
Meet Navarrogg at Thunder Totem: 1/1
Navarrogg: You saved my people from the Feltotem and their Legion allies. We will now help you and your Highmountain allies against Dargrul and his mindless followers.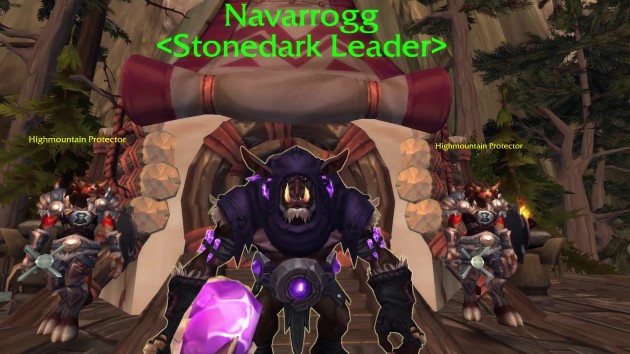 (I am ready.)
Navarrogg: I am nervous about entering this place. Best hurry in before they change their mind about allowing me safe passage.
Location: Hall of Chieftains
Navarrogg: I, Navarrogg, leader of the Stonedark drogbar declare my allegiance to the Highmountain tribe. Together we are Highmountain!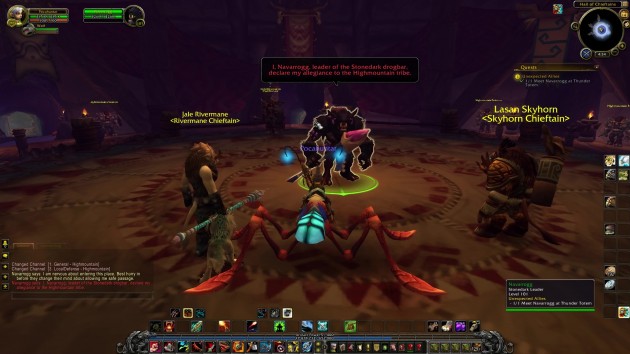 Mayla Highmountain: A glorious day is upon us! We entered this place as three tribes. Now, we are one. Together, we are Highmountain!
Navarrogg: As Highmountain, we are one!
Jale Rivermane: As Highmountain, we are one!
Lasan Skyhorn: As Highmountain, we are one!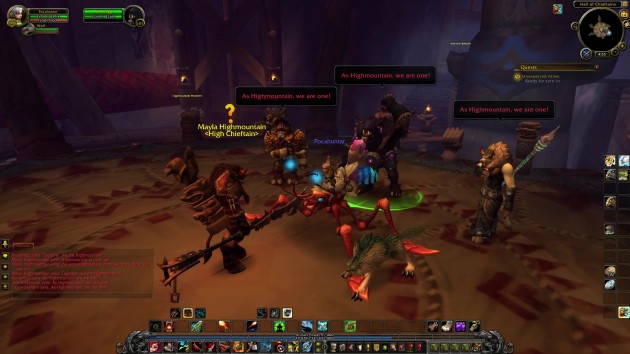 Completion
Mayla Highmountain: Torok is dead? By… your hand? He must have truly given in to his thirst for blood if that came to pass. The Stonedark on our side, though… That is an advantage I had not expected. Navarrogg has always been much more agreeable than Dargrul and his brood. Thank you for striking this rare alliance, (name).
Unexpected Allies