Mayla Highmountain: I know now why Ebonhorn brought me here. Though I don't know where he has gotten to. Can you seek him out?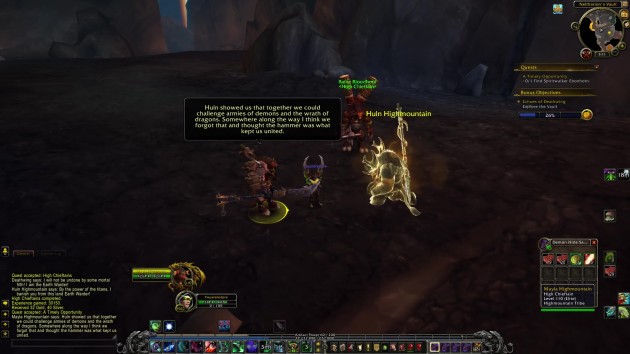 Quest Objectives
Assist Spiritwalker Ebonhorn in Neltharion's Vault.
Intermission
Mayla Highmountain: Huln showed us that together we could challenge armies of demons and the wrath of dragons. Somewhere along the way I think we forgot that and thought the hammer was what kept us united.
Spiritwalker Ebonhorn: Now that the whole "spirit journey" thing is out of the way we can get down to business.
(What?)
Spiritwalker Ebonhorn: Alone at last, eh Champion? Well, I suppose between the two of us there is no need for disguises.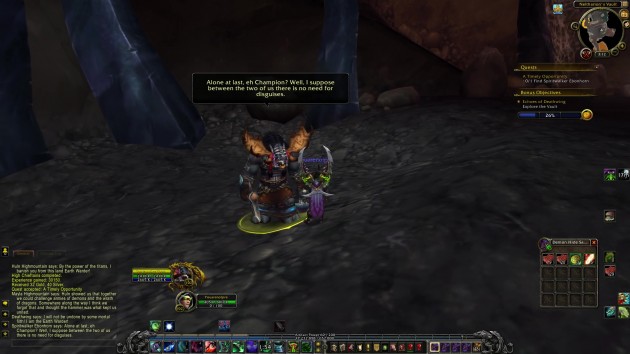 Spiritwalker Ebonhorn: Come champion, I will need your help while the time scars are fresh.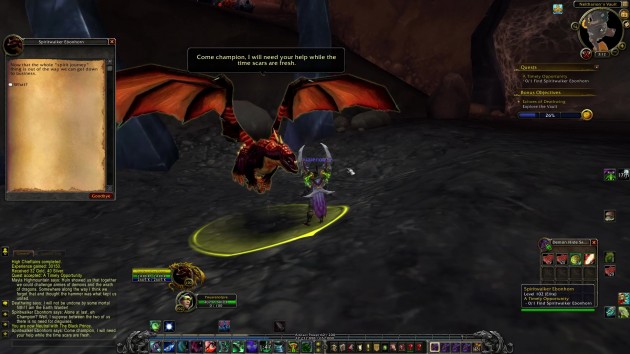 Wrathion: I apologize for the ruse, but I did not wish to reveal my identity in front of a tribe of known dragonslayers. I don't think they would approve of the real reason I am here. Champion, do you stand ready to assist me? I shall make it worth your while.
(Ready.)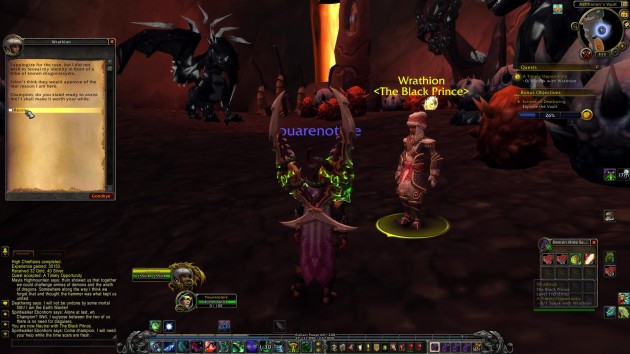 Speak with Wrathion: 1/1
Wrathion: Very well, champion. Stay close. Be on your guard. I have no doubt Deathwing left many traps behind to guard these treasures.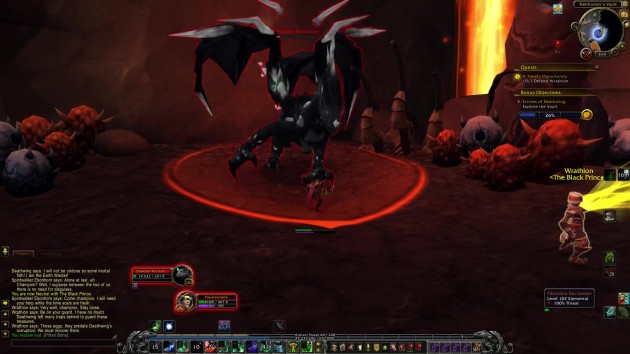 Wrathion: These eggs, they predate Deathwing's corruption. We must recover them. Keep them off me just a little longer, hero. I need to get as many of these eggs as possible.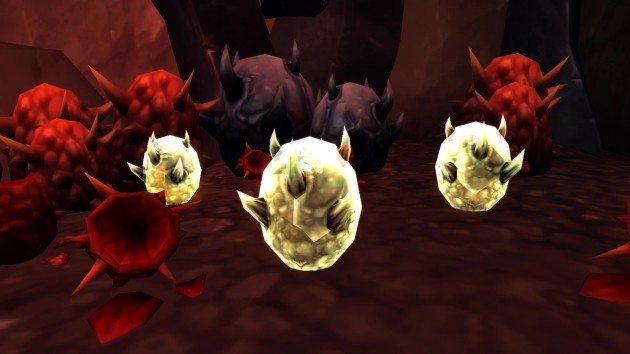 Wrathion: Well done, champion. I have sent the clutch to a safe location. Now I will see about finding us a safe way out of here. Look for me west of here when you are ready to leave.
Wrathion: For the last time, I didn't kill your Spiritwalker Ebonhorn. I was him the entire time. Your people needed to know the Legion was coming.
Mayla Highmountain: My father trusted you. I trusted you Why the deception?
Wrathion: It seemed in my best interest to not tell the dragonslayers that I was a dragon.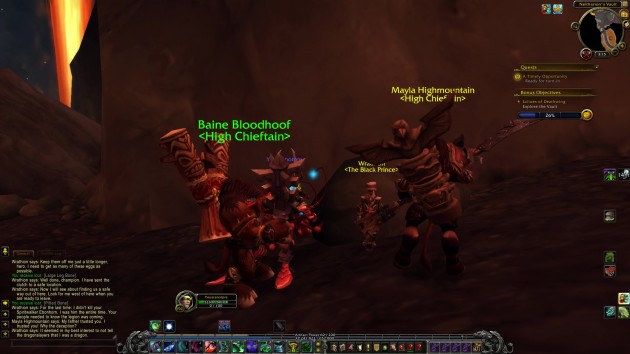 Baine Bloodhoof: So this is the Vault of Neltharion. Now I see why Wrathion was so eager to visit this place. The secrets here could easily turn the tide in any war. But this place has been abandoned by the living for thousands of years. We should be on our guard. There is no telling what sort of sorcery and traps were left behind.
Mayla Highmountain: I am not okay with that little creature posing as Ebonhorn. I am even less okay with Ebonhorn being dead. He was a mentor, and a friend. But I have come to this place to do a job, and I will see it done.
Completion
Wrathion: Thank you, Champion. As always your skills continue to protect the future of Azeroth in ways you cannot even imagine.
A Timely Opportunity