Apprentice Rosalyn: Soulkeeper Uriah was injured in the kobold attack, but insisted on venturing further into the cave to recover the stolen soul shards. He told me to wait here with our remaining supplies until he returned, but I fear the worst. Please find Uriah. He is the only one who knows how to trap the demons.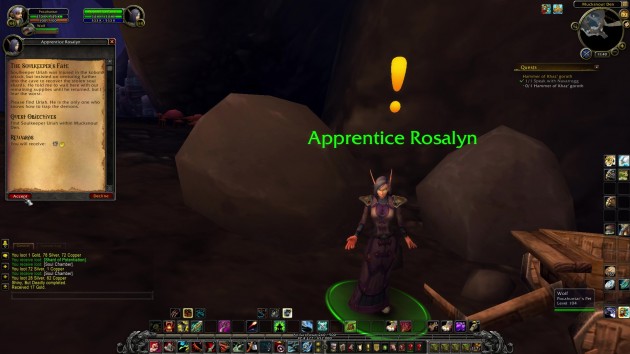 Quest Objectives
Find Soulkeeper Uriah within Mucksnout Den.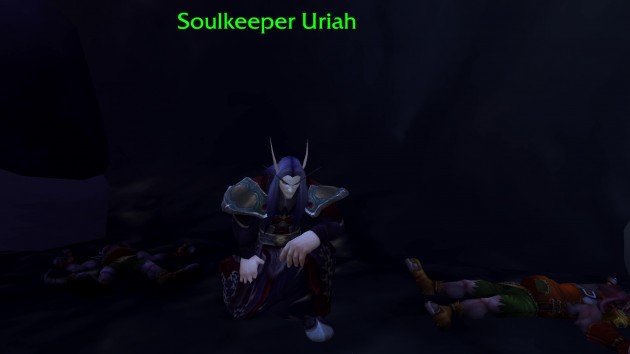 Intermission
Soulkeeper Uriah: Rosalyn! Where is Rosalyn?!
Apprentice Rosalyn: Uriah! I'm here! Where are you? Oh Uriah, you're injured! (Name), we must do something to save him!
Soulkeeper Uriah takes a slow, pained breath.
Soulkeeper Uriah: I am beyond saving, Rosalyn. You need to focus on finding the demons that have been released from the soul chambers and trap them once again, before it's too late.
Apprentice Rosalyn: But… but I don't know how, Uriah. I cannot do it without you!
Soulkeeper Uriah: You can, Rosalyn, and you will. You're more gifted than you let yourself believe.
Soulkeeper Uriah exhales tiredly as the last bit of breath leaves his lifeless body.
Apprentice Rosalyn: I can't believe he's gone…
Completion
Apprentice Rosalyn: Uriah would not want me to waste time with tears. My mourning can wait until the escaped demons are trapped once again.
The Soulkeeper's Fate