Oakin Ironbull: (Name), we meet in dangerous territory. Thank you once again for your help at Riverbend. Be on your guard here among the Bloodtotem; they are not often kind to outsiders.
Witch of the Wood
Oakin Ironbull: You saved me at Riverbend not long ago. It is the reason I vouched for you as emissary to this tribe, and the only reason you're alive here now. I consider my debt to you paid. You must prove yourself to the Bloodtotem chieftain before he will speak with you. Within the forest is the Witch of the Wood, a harpy mother who recently descended into this territory. If you are able to defeat her and show her carcass to the Bloodtotem, they might allow you an audience with Torok.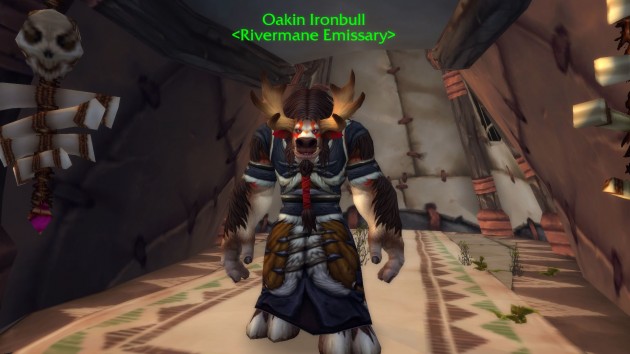 Quest Objectives
Defeat the Witch of the Wood.
Completion
Oakin Ironbull: The Bloodtotem don't often allow outsiders into their midst. Even asking them to give you an audience is a danger.
Witch of the Wood