Brann Bronzebeard: Well now, you have been turnin' quite a lot of heads lately amongst the Explorer's League.
Ol' Ebonhorn here seemed to know who I was and asked fer me to come help ya on this next journey. I hope ya don't mind but I dusted off me ol' Talas here. I heard there were ettins involved and figured we could use us some heavy metal.
Brann Bronzebeard: Neltharion's Vault? Well why didn't that spiritwalker just say so? When we were jumpin' into the cavern I thought I saw a chamber up high that might have what we are after. Have a look around this place while I see if I can't find a way up.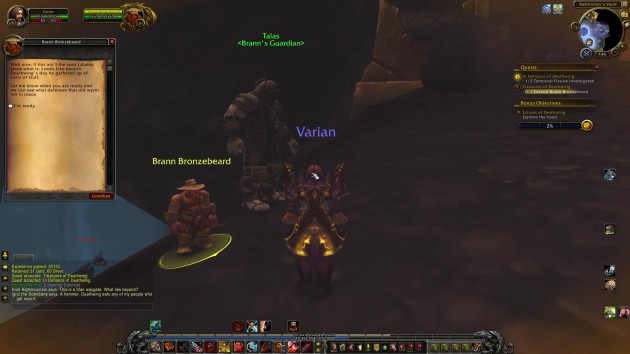 Quest Objectives
Defend Brann Bronzebeard.
Rewards: Ring or Gauntlet
Intermission
Find a Waygate: 1/1
Brann Bronzebeard: Well now, If this ain't the spot I dunna know what is. Looks like back in Deathwing's day he gathered up all sorts of stuff. Let me know when you are ready and we can see what defenses that old wyrm left in place.
(I'm ready.)
Brann Bronzebeard: Well well, what have we here. A pile of mostly unguarded titan disks? Looks like ol' Deathwing left the automated defenses on. Watch me back.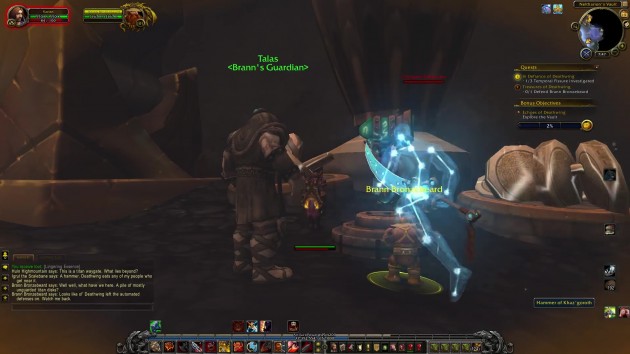 Brann Bronzebeard: Try aimin' fer the titan defenses. Them orbs are what are holdin' the portals open.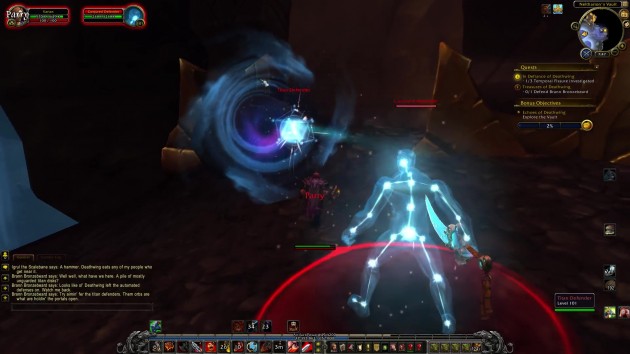 Brann Bronzebeard: Alright! That should be enough. I'll meet ya near the exit to this dragon hole.
Defend Brann Bronzebeard: 1/1
Brann Bronzebeard: Give me one reason not to let Talas here rip yer wings off and beat ya with'em.
Wrathion: Look, that incident with the Iron Horde was just a misunderstanding. Garrosh was supposed to convince them to fight the Burning Legion, not invade Azeroth.
Completion
Brann Bronzebeard: This is a big chunk of history we just uncovered.
Treasures of Deathwing