Heroes of the Storm
Kaeo: Hello, BlizzCon! Whew! As Mike was talking (about celebrating our 25th anniversary), I was thinking about where I was 25 years ago, and how much Blizzard games have meant to me. My Blizzard memories go all the way back to the original Lost Vikings on Super Nintendo.
The timeline of my major life events runs in close parallel to the releases of Warcraft, Diablo and StarCraft. Over the past 25 years, these games, their communities, and my love for them has meaningfully shaped who I am, and I'm sure many of you can relate to that.
This milestone also holds special meaning for the Heroes of the Storm team. When you think about it Heroes of the Storm is BlizzCon: The Game. It's our place to celebrate all things Blizzard in one amazing experience; and as developers we get to celebrate our love for these characters, and worlds in ways that we can't do anywhere else; and we're honored to share that with all of you.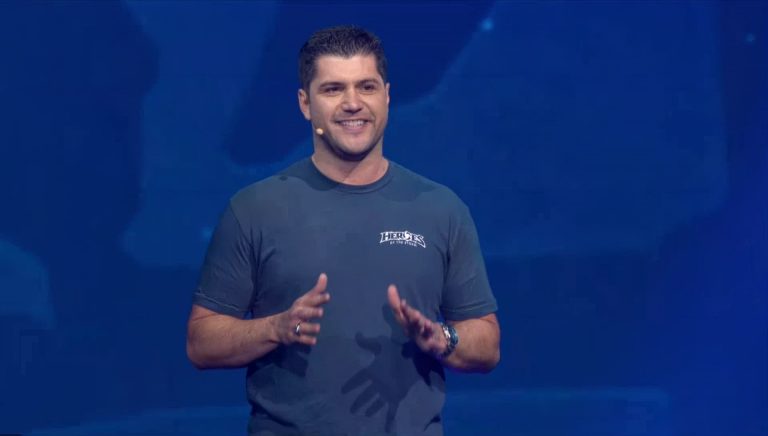 Now, it wasn't too long ago we used this very stage to introduce the first iteration of our game, and it was here at BlizzCon that we renamed and evolved it over the next few years; and that was just the beginning. Since last BlizzCon, we've delivered balance patches as often as every week, major feature patches every 4 to 6 weeks, 19 hero reworks, three new battlegrounds, 15 new heroes including our first 2 Overwatch heroes. Yeah!
We completely rebuilt our matchmaking system, we redesigned ranked play from the ground up, we brought you unranked draft, rank seasons with rewards, added the MVP and combination systems, and most recently we introduced StarCraft to the Nexus with our Machines of War event. Yeah, I love me some StarCraft.
Last year, we brought the Arena to BlizzCon, and with your feedback and enthusiasm in hand, we went back to the studio energized and inspired to expand those arena maps into an entirely new gameplay mode that we just launched called Heroes Brawl. With it, we created the ultimate sandbox that lets us stretch to the Nexus in impossible ways, and deliver a new unexpected experience to you every single week. With Arenas, rule mutations, and single lane battlegrounds. Our next brawl takes full advantage of those opportunities, and I'm excited to introduce you to Blackhearts Revenge.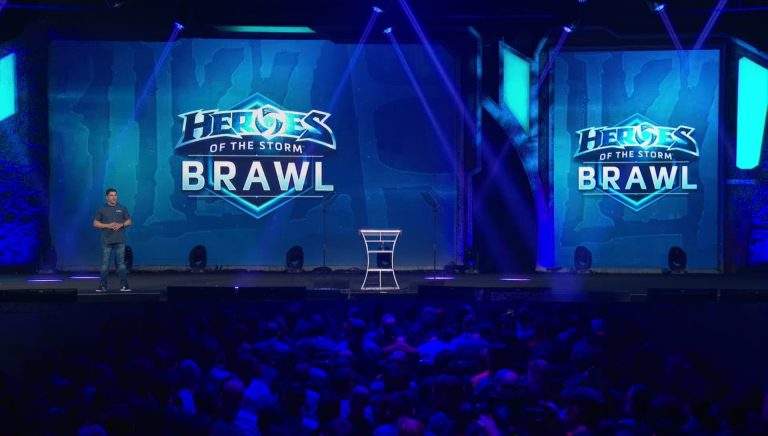 Everyone's favorite ghost pirate has taken to the high seas in our newest brawl that introduces an asymmetrical style of gameplay to the Nexus where each team has their own win condition. In this role only one team has a core. You're either charged with defending it against Blackheart's onslaught or helping Blackheart's ghost ship sail the seas to blow it to smithereens.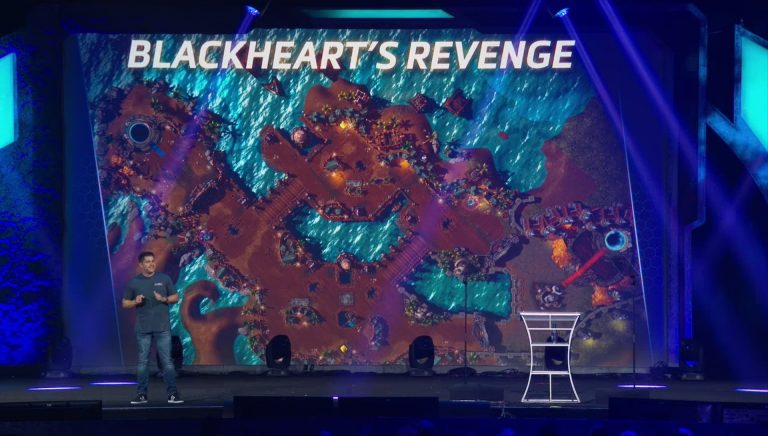 We have Blackhearts Revenge here at BlizzCon for everyone to experience and for those of you at home, it will debut in-game as a brawl the week of November 15th. Now of course, it wouldn't be Heroes of the Storm without the heroes. With every new hero addition, we're paying homage to those special moments we've shared as Blizzard gamers. Those experiences which crystallized our love for these games and characters; and in that spirit of paying homage, our newest addition to the Nexus honors a fallen warrior who recently made the ultimate sacrifice.
That's right, Varian and Ragnaros are coming to the–
(audience cheers excitedly)
Kaeo: (giggles) Yes, they're coming to the Nexus from World of Warcraft, and both heroes offer up vastly different gameplay experiences. Varian is our first multi-class hero, and what we love about him is his ability to be an adaptable fighter who can assume the role of a shield-bearing warrior, or a life-ending assassin based on the talent choices you make in-game.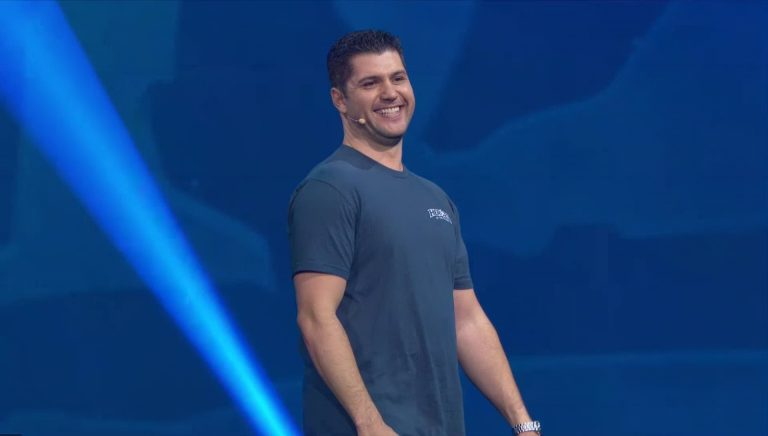 With game changing talents at levels 4 and 10 you have the power to play this hero a total of six very different ways to suit your playstyle, as well as the needs of your team in your current match.
For all of you who share our love for lore and fantasy you are Ragnaros. His larger-than-life abilities allow you to show your enemies the true might of the Firelord. Hurl the fiery destruction of Sulfuras upon your opponents, release lava waves that will incinerate an entire lane's worth of enemy minions or (and this is where things get really crazy) use his trait Molten Core to take over a fort whether it's still standing or not and become gigantic. As Ragnaros, you become the raid boss.
Use your empowered abilities to defend against an enemy siege, or bolster your forces during a push. You may very well full-wipe the puny insects who try to fight you. Both of these heroes are here for you to try out today on the show floor, and we can't wait to see what you'll do with them when they hit the game. We won't have to wait long because Varian comes to our test realm next week and releases the week of November 15 with Ragnaros following close behind in December.
So let's take a look at Varian, Blackheart's Revenge, and Ragnaros in action, as well as take a peek at some of the skins and other surprises coming very soonish.
As you can see there has never been a better time to play Heroes of the Storm. So in celebration, starting November 15 and running through January 4, we're launching our biggest giveaway to date: the Nexus Challenge.
Just team up with one or more people on your friends list and play games and heroes to unlock free rewards in both Overwatch and Heroes of the Storm. After 15 games, you'll earn the Genji Oni skin, spray, and player icon in Overwatch; as well as Zarya and the Genji Oni portrait in Heroes of the Storm; and if you and your friends complete 30 games during the challenge, you can also unlock the Orochi Hovercycle Mount in Heroes plus 4 additional free heroes and a free 30-day Stimpack.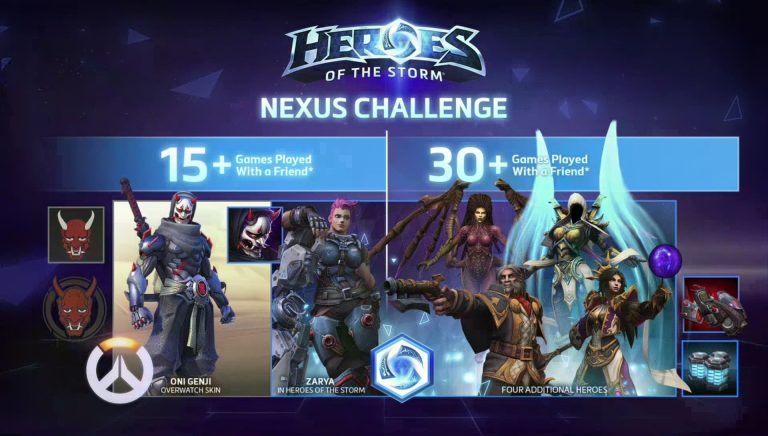 Now, that's a ton of info so please visit heroesofthestorm.com for all the details. There's so much good stuff coming to this game that I can only scratch the surface here. So please check out our Deep Dive and State of the Game developer panels later today at BlizzCon for more information on everything we're bringing you; and of course, don't miss the epic conclusion of the Heroes of the Storm Fall Championship this weekend where the best teams in the world are putting it all on the line for their shot at becoming our 2016 World Champions.
Okay, BlizzCon, we built this game together. Your support encourages us to break the rules and defy genre conventions, and we're so excited to be celebrating Blizzard's 25th anniversary with each and every one of you. This upcoming year for Heroes is all about bringing you new experiences, meaningful choices, and more unforgettable memories. So as always, thank you, and we'll see you in the Nexus. Now it's my pleasure to help welcome the executive producer of Hearthstone, Hamilton Chu.
Next: Hearthstone – BlizzCon 2016 Opening Ceremony