Diablo
Pearce: Hello, BlizzCon! Hearthstone is a great game, and the work that the team is doing is absolutely amazing. I'm definitely looking forward to Mean Streets of Gadgetzan. Okay, as many of you know, we are on the eve of a very historic occasion. An event that in many ways represents the battle between good and evil, truth versus corruption, egomaniacal madness versus humanity's hope for the future.
I'm talking of course about the Diablo 20th anniversary. We wanted to do something very special in Diablo III to celebrate. Diablo is a historic series, there's nothing else quite like those first moments in Tristram. The eerie music, the ominous story about dark rituals taking place in the church out at the edge of town.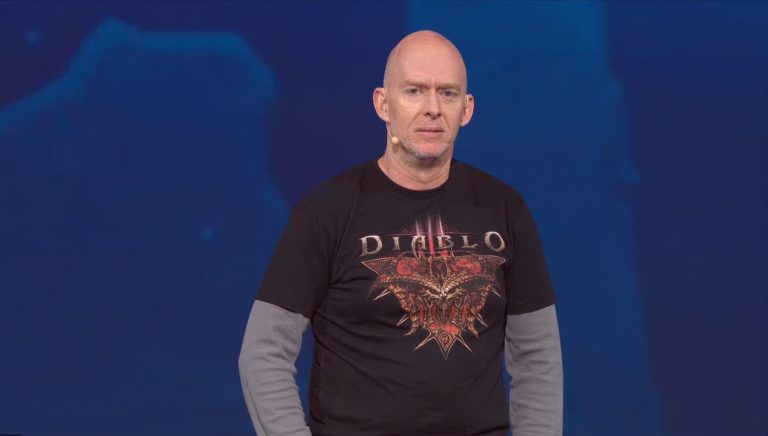 This is an important anniversary to us, and we know it's important to many of you as well. So we're going to take you back to the original Diablo. We are re-creating the original Diablo in Diablo III. Our upcoming anniversary patch The Darkening of Tristram will send you back into the depths of the cathedral.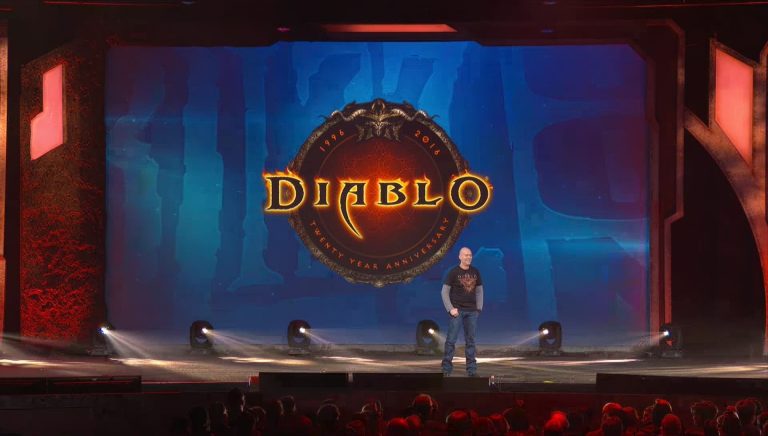 Hell, yeah! You'll explore a monster-filled dungeon, 16-levels deep, and you'll come face-to-face with the four main bosses from the first game — including Big Red at the bottom. The art and sound in this patch will hearken back 20 years ago, original Diablo music during gameplay, special graphics filters to make the visuals pixelated and grainy. We call it glorious retro vision. Character movement will be locked to eight directions.
As all you veteran Diablo players know in the old days we didn't have 360°s of movement. We had 8°s and we liked it. To be a proper old-school Diablo experience it's going to be available to all your current characters, but the best way to experience it will be to be the role of a brand-new character.
Now it would be an utter shame for me to spoil it for you, but there'll be many secrets to discover as well. If you love Diablo, this anniversary event will be very nostalgic. If you've never experienced the first game, this will be the perfect opportunity. You have to see what it looks like, attend our 20th anniversary panel right here at 5:00pm today to see it in action.
Now, you won't need to wait long to get your hands on this, the anniversary patch will be on the PTR next week. Everyone will have something to brighten their spirits after the election. We love Diablo, we're putting our hearts and our memories and our souls into this patch. We're grateful to everyone who has supported Diablo over these past 20 years and we're committed to this franchise for the long, long term.
Okay, a little more Diablo III news to share next year we're adding two new zones for free to the game for everyone that has Reaper of Souls. They're called Shrouded Moors and Temple of the Firstborn, and you'll be able to access them through adventure mode. You can learn more about the zones and other plans for Diablo III in our panel tomorrow at 4:00pm.
There's one more thing. We did extensive market studies. We ran a thorough in-depth analysis of all the data we collected. We cross-referenced our findings with historical models. It took some time to figure out. We had to work very hard to find the clues. Eventually we arrived at a very certain conclusion. As it turns out Diablo II.
Necromancers are masters of the dark arts, badass battlefield generals who direct their minions like commanders of the dead; and we're going to be able to play them in Diablo III.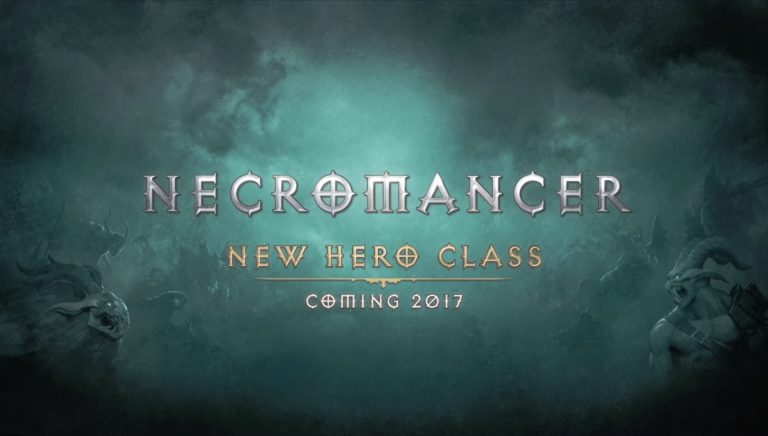 We're talking full load out Bone Spear blood-gone corpse explosion, the works. The new Necromancer is inspired by the Diablo II Necromancer that we know and love; and it takes advantage of everything that Diablo III has to offer.
Necromancer will go on sale next year as part of a character pack along with some other great features. If you want to learn more about the Necromancer attend the anniversary panel I mentioned earlier 5:00pm here today; but if you can't wait that long, the Necromancer is loaded right now in the Diablo area ready for you to play. So go explode some corpses, have fun, be good to each other. Have a great BlizzCon everyone.