Blizzard eSports
Okay, we can't talk about StarCraft II or nearly any other Blizzard game without mentioning eSports. This weekend after a very exciting opening week we're hosting the finals for StarCraft II, Hearthstone, Heroes of the Storm, World of Warcraft Arena, and for the first time the Overwatch World Cup. That's a lot of eSports.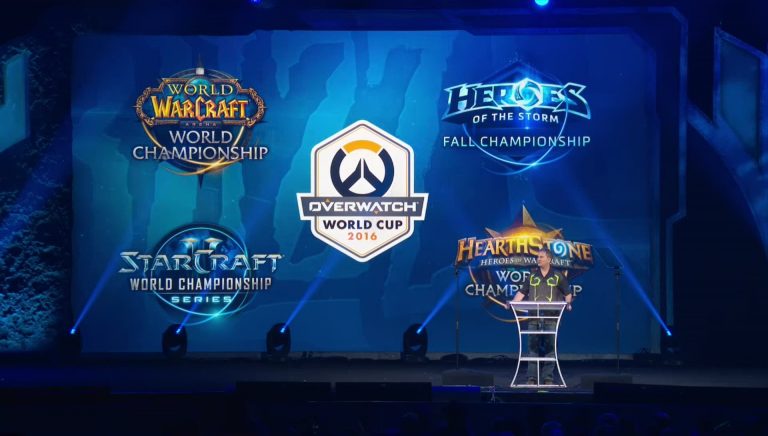 There's a lot of money up for grabs. Over $2.7 million will be given away this weekend. Altogether, Pro gamers will have taken home more than $8 million in Blizzard tournaments this year. A certain group of players also earned full tuition this year for the remainder of their college careers. I'm talking about the Arizona State University real dream team.
ASU dramatically returned to win this year's Heroes of the Dorm tournament after losing to UC Berkeley in the finals last year. We followed ASU and the other teams who made it to the heroic four, and we created a documentary from the footage that we captured.
This film offers a deep and moving glimpse into the lives of a new generation of sports heroes, and it's premiering here on the main stage tomorrow at 2:30pm. You all will be the first in the world to see it before its wider release next week. We're very happy with how the film came out, and I hope you enjoy it. Let's take a look back at some of the exciting eSports action leading up to BlizzCon.
The competitors in each of our games fought really hard to get here. So the competition line-up this weekend represents the absolute best of the best. You all are present for the equivalent of the Super Bowl of Blizzard eSports. So make the most of this weekend and check out the world-class gaming talent on display. There's nothing like this anywhere else in the world.
In addition to hosting the first Overwatch World Cup, we have a major new announcement to make for Overwatch eSports. Blizzard has been making competitive multiplayer games from the beginning. Overwatch reflects our experience, and our passion for super fun, well-balanced team-based gameplay. We designed Overwatch from the ground up to excel as a competitive game; and now we're looking for the top players in the world, and the team owners who will form the Overwatch League.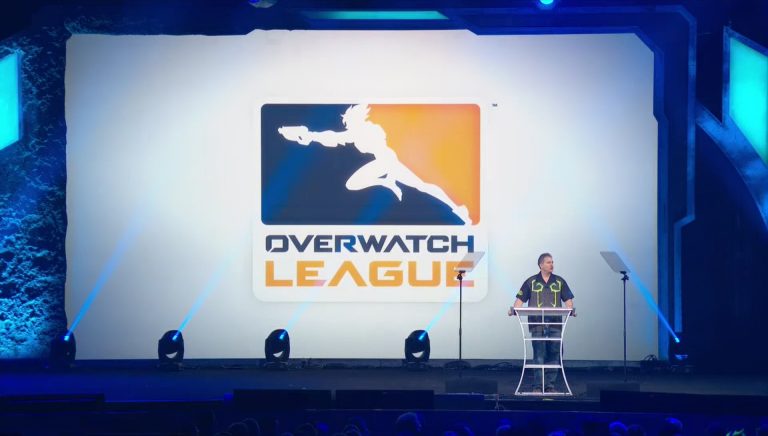 The Overwatch League represents a true next-generation eSports experience. There will be a combine where players attend tryouts, and will be evaluated by team owners, and coaches across a series of tests. Teams will be formed around major cities to support the growth of a regional fanbase. There will be regular schedules, professional contracts, free agency, baseline minimum salaries and benefits, providing more stability for teams and players.
Pro players will compete for fortune, fame, and glory; and have a chance to achieve the types of rewards and recognition you see with traditional sports. This next video provides a taste of what we have in mind.
We are very excited to share further details about our plans. In the meantime, keep making a name for yourself in competitive mode, in tournaments, and keep an eye out for news about the first combine which will mark the beginning of Season One next year.
Alright, in addition to hearing all of our latest news and watching eSports, BlizzCon is all about having fun, meeting up with friends, and seeing all of the attractions. One of my favorite highlights every year are the community contests, the costume talent art and movie contests are taking place right here at 6:00pm tonight; and this weekend they are being hosted by Thomas Middleditch from the HBO series Silicon Valley.
And of course, closing things out for us tomorrow night is the one and only fellow geek Weird Al Yankovic. If you've never seen 'Weird Al' live, it's really a must-see. Trust me.
One final note I'd like to share is that BlizzCon is very much an all-Blizzard-event. Thousands of Blizzard employees are not just attending the show, but are here putting on the show. They're running the stages in the demo areas and they're also mingling and enjoying BlizzCon with you. Many of them are wearing special blue shirts. So you can easily identify them.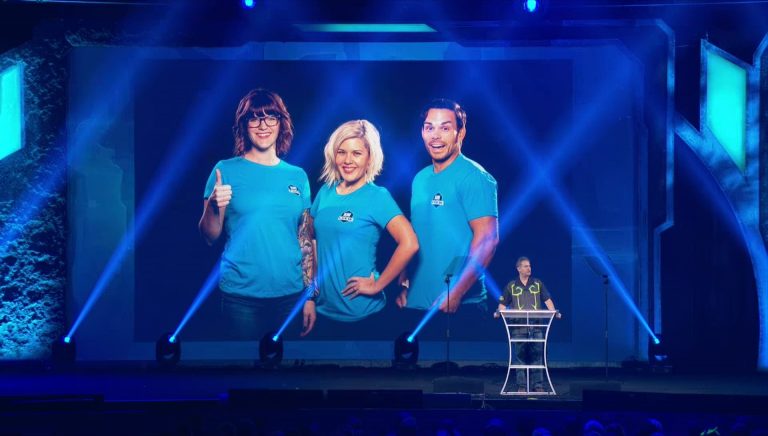 Feel free to say hello. We're really looking forward to meeting and talking with you this weekend. To me BlizzCon represents gamers at their best. These are interesting and strange times we're living in. It's never been more important to play nice, play fair, and think globally. Two of Blizzard's core values. Let's remind the world that what matters most is not winning, or being first, or loudest, but how we are with each other.
Let's make BlizzCon a positive example to the world. Be good to each other here online, and out in the world. Thank you, and have a great BlizzCon. Okay, now for Heroes of the Storm, please help me welcome production director and Blizzard veteran Kaeo Milker.
Next: Heroes of the Storm – BlizzCon 2016 Opening Ceremony