Leave Nothing Behind
Ga'nar: The Thunderlord clan has become a thorn in my side I will no longer tolerate.
Go east and leave none alive! Burn their supplies! Leave them nothing to cling to.
Converge on the Gronn Grotto to the east when it is done.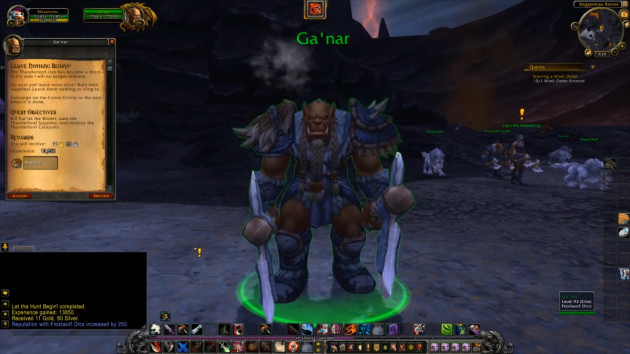 Quest Objectives
Kill Kur'ak the Binder, burn the Thunderlord Supplies, and destroy the Thunderlord Catapults.
Progression
Ga'nar: Forward, brothers and sisters! Cut through the camp and rally at the Savage Crag! Lok'tar ogar!
Frostwolf Greyfur: Lok'tar ogar!
Ligra the Unyielding: What are those Thunderlord fools doing with the gronn?
Completion
Ga'nar: Hrmph. The burning smell of Thunderlord. This pleases me, (class).
Return to the main hub for Frostfire Ridge (Horde Quests) in Warlords of Draenor, or continue below the Story Achievement: Ga'nar's Vengeance.