Eatercology
Draka: Drek'Thar thinks the portions of Exurotus consumed by the goren might be worthless. I am not about to step before the fury without at least trying to recover as many of these "motes" as possible.
Slay any goren you find in the Ice Forge and see if you cannot extract the motes of Frostfire from them.
Quest Objectives
Collect 10 Motes of Frostfire.
Progression
Note: Not all goren drop these motes. Hover your mouse cursor over them. If they don't have a yellow text mentioning the quest title on their tooltip, they won't drop a mote. The cave in that video isn't a good spot to farm. The hill is not safe. Lots of goren spawn every 20 seconds and run down the hill (named The Forge Gates) constantly. Not all of them will drop the mote, and it is just dangerous and reckless to fight there. Move up the hill into the Iceforge, and go near the stairs leading to Exurotus. That area has more empty space for fighting. Yet, don't stand on or near roads. Bunches of three goren spawn every few minutes, and the level 100 Magnaron patrol the roads. This is definitely the roughest quest in all of Frostfire Ridge. The Mote of Frostfire drop-rate is low too. In short, The Ice Forge is an aggro-magnet area, and it is packed.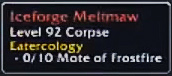 Draka: Have you had any luck recovering those motes? I found 10 myself.
Completion
Draka: Goren are abominations. You have done well.
Return to the main hub for Frostfire Ridge (Horde Quests) in Warlords of Draenor, or continue below the Story Achievement: Ga'nar's Vengeance.