Fearsome Jang: It was a miracle that you were able to survive, (name). It is with great sorrow that I have to say that Grand Master Hight was not so lucky. His spirit now rests with the ancestors.
Now we must look to a new leader for our order, our broken temple. I have spoken with the other masters and we are all of one mind on this.
We all agree that new leader should be you, (name). You have shown strength, wisdom, courage, and kindness beyond measure.
Walk with us to the temple and we will announce our decision.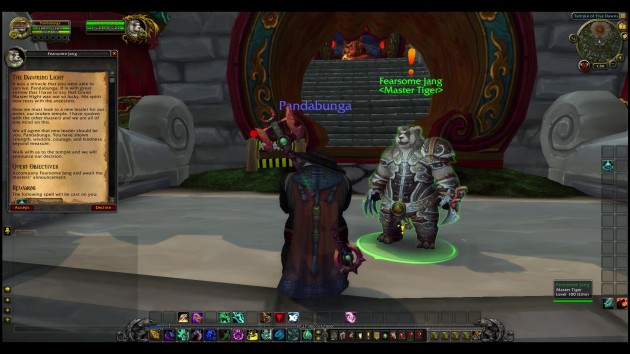 Quest Objectives
Accompany Fearsome Jang and await the masters' announcement.
Rewards: Zen Pilgrimage.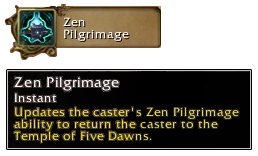 Intermission
Fearsome Jang motions for you to follow.
Number Nine Jia: Excellent! I have everything prepared inside, follow me.
Accompany Fearson Jang: 1/1
Number Nine Jia: To all members and students of our combined schools, I offer you my thanks for joining us. Our people have faced many hardships. The Burning Legion has destroyed our home, slain our loved ones, and defiled our sacred places.
Fearsome Jang: When we were upon the brink of annihilation, it was (name) who stayed with Grand Master Hight and fought the demons to ensure our survival.
Number Nine Jia: The heroism and courage displayed that day sent a message of defiance back to the lair of our enemies. A message that they will not take our home without a fight!
Fearsome Jang: Grand Master Hight has passed on to join the ancestors and we are left with a void in our ranks. It seems fitting that the hero who fought at his side, who displayed courage and valor immeasurable, should succeed him.
Number Nine Jia: Let us all give honor to Grand Master (name)! May he lead us with strength and wisdom.
Establish the Order of the Broken Temple: 1/1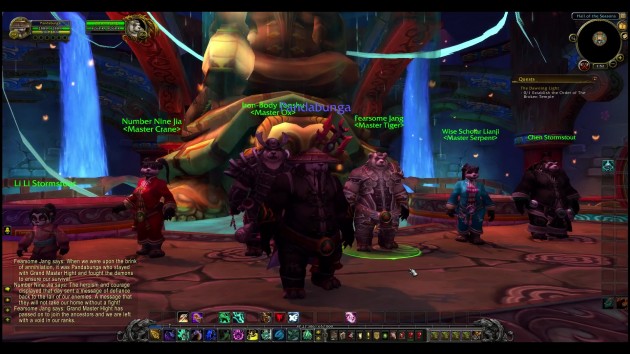 Completion
Iron-Body Ponshu: Congratulations, Grand Master (name)!
The Dawning Light