Lord Maxwell Tyrosus: I think it wise that we… introduce… the Ashbringer to the Legion on the Broken Isles.
Lord Grayson Shadowbreaker has volunteered to help coordinate our forces on the isles – you should speak with him immediately, Highlord.
Quest Objectives
Speak to Lord Grayson Shadowbreaker.
NOTE: Follow Tyrosus to the Sanctum of Light within the Order Hall.
Silver Hand Protector: I overheard Champion Bashi say that the Highlord can come back from death.
Completion
Lord Grayson Shadowbreaker: Now is the time to strike back against the Legion.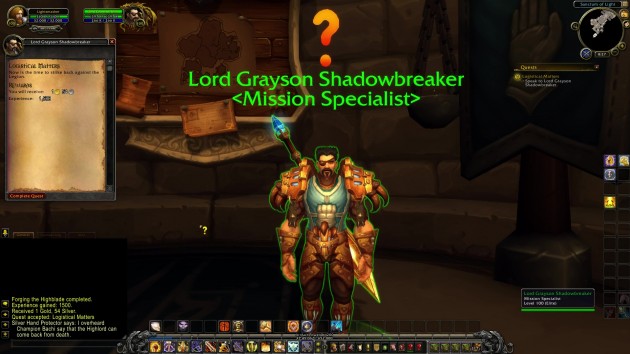 Logistical Matters