Lord Maxwell Tyrosus: Even the most powerful Legion lords fear the Ashbringer – and rightly so – but they are constantly at work fashioning new horrors and fiends in an attempt to counter the highblade's might.
Highlord, we must augment the Ashbringer's power to maintain our edge over the enemy.
The altar before you carries with it the combined power of the countless heroes of the Light buried in these sacred halls – place the Ashbringer upon it and you can imbue the blade with new strength.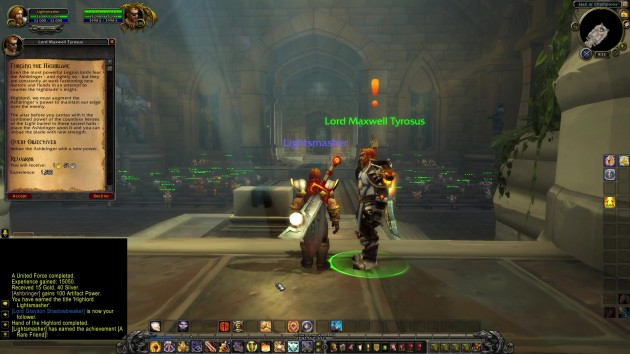 Quest Objectives
Imbue the Ashbringer with a new power.
Intermission
Lord Maxwell Tyrosus: Place the blade on the altar when you are ready. The Light will be our forge.
Completion
Lord Maxwell Tyrosus: I will continue to ask the Light for ways to imbue its power more quickly into the blade.
For now, the Ashbringer's new strength should be more than enough.
Forging the Highblade