Garona Halforcen: The Uncrowned stalk the halls outside but it is we, the very Shadows themselves, who guide their blades.
Now we guide yours as well, (name).
Shaw is right – you must be properly introduced to the order.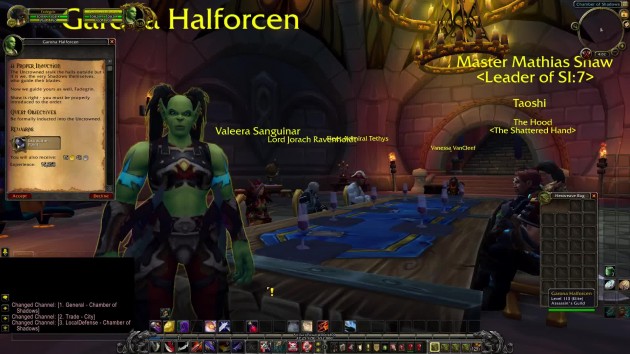 Quest Objectives
Be formally inducted into the Uncrowned.
Rewards: Extraction Point.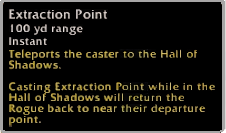 Intermission
Fleet Admiral Tethys: Let's get to it already. We don't be havin' all day!
Taoshi: Stop it, both of you, or I'll make you.
Vanessa VanCleef: No! I will not remain silent any longer! I was to be our blade, and instead you trust this… this newcomer at the drop of a hat? I don't care what they've done. I faked my own death without suspicion and worked my way into this chamber from nothing – and for what? For you to spit in my face and not trust my judgement? I get it, you've already made up your minds – I understand. I'll just have to make the choice… simpler.
New Objective: Defeat Vanessa VanCleef.
Garona Halforcen: Nobody interferes – let them settle this between themselves.
Vanessa VanCleef: It's nothing personal. This is purely business.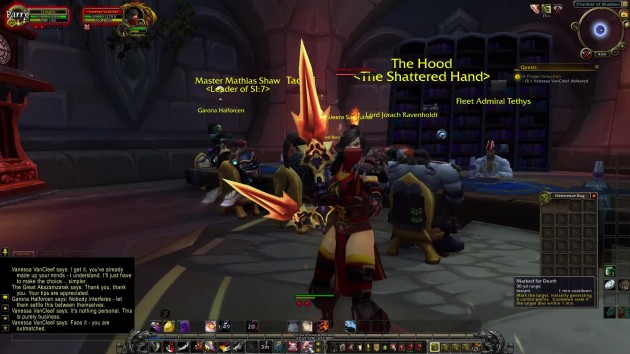 Vanessa VanCleef: Face it – you are outmatched.
Vanessa Vancleef Defeated: 1/1
Vanessa VanCleef: Stop. Stop!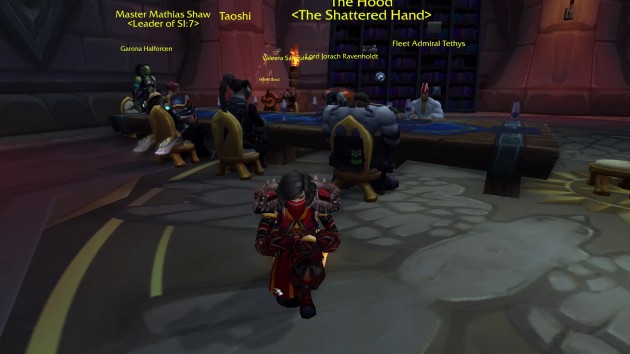 Vanessa VanCleef: Perhaps the others were right.
Garona Halforcen: Your father would have been disappointed in you.
Garona Halforcen: (name), Tethys told me what transpired in Azsuna. You have impressed us. Vanessa's position in the Shadows is yours. Take a seat. Archivist, post a notice in the hall – (name) is now a Shadow. Fear them as you fear us all.
Filius Sparkstache: Y-yes ma'am!
Completion
Garona Halforcen: Watch your back – it seems you've struck a nerve.
A Proper Induction