Bounty: Twisted Ancient
Garrison – Bulletin Board: The ancients of the Cursed Woods have been corrupted by demonic magic. Since they need to be destroyed, we might as well make use of their resources. Waste not, want not.
Beware: these woodland behemoths are no easy targets. Gather trusted friends before you engage these Twisted Ancients.
— Baros Alexston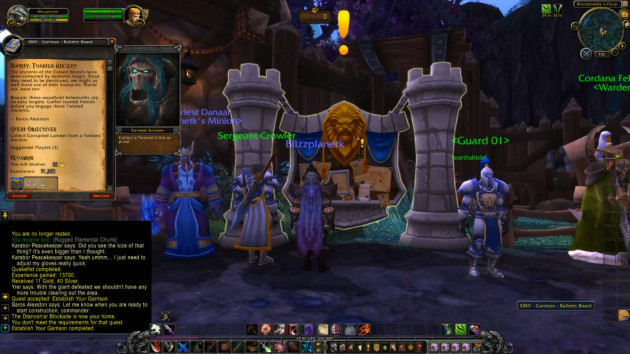 Quest Objectives
Collect Corrupted Lumber from a Twisted Ancient.
Suggested Players (3)
Completion
Baros Alexston: Have you read the bounty I posted concerning the Twisted Ancients in the Cursed Woods?
Unfortunate that the ancient guardians of the woods fel to such corruption.
At least now, its long nightmare is ended. Not to mention its sacrifice is our gain.
Return to the main hub of Shadowmoon Valley Story Chapters or continue below — Chapter 1: Establishing A Foothold.