Modeling
Seth: Absolutely. What you see here is our gnomish pilot, Remy Clutchgrind, and basically at the beginning of the project we had some extra time, and we decided to model this out, and we were like: "Hey, can we finally put this in the cinematic?" It is actually in the cinematic.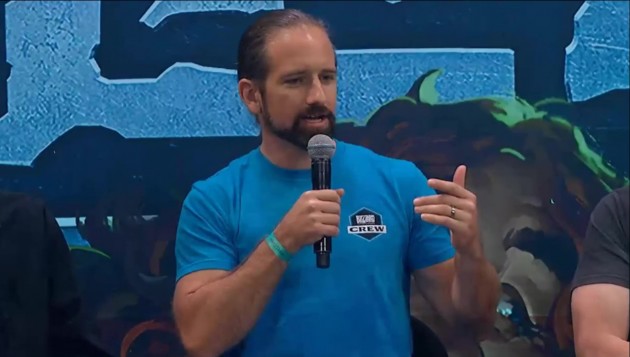 So if you guys go back the next time you watch it, you can find it in there; and before we do a little tour of our Alliance gunboat, I think Marc was going to give us some sounds effects?
Marc: I do the sound effect? Ok, ok. Here: "Chkt-chkt-chkt-chkt-chkt-chkt…" (helicopter noises with the mouth).
Seth: That would be good. So let's take a look at our Alliance gunship. What you can see here is — over that noise of the loud helicopter blades is — we have these turbo-propelled engine on the side. We have anti-airstrike cannons. We have retractable cannons. On the front we have this aero-dynamicly-designed eagle prow. We have armor-plated 50-caliber cannons, we have got hand-to-hand weapons, all sorts of stuff on the deck. All the clutter Mike was talking about; and now we are going to use our gnomish world-enlarger and we are going to zoom in on to the cabin here — so we can have a look at where Varian is at.
… At the desk, at the beginning of the cinematic, and this will kinda lead into some of the art direction for the cabin here. And we'll kick it to Chris to talk about that.
Chris: Right. The cabin was actually envisioned at first as a much more expansive space, and Marc felt after looking at it that it really should feel a little bit more claustrophobic. So as the 3D animatics stroke in, and the storyboard stroke in, we realized you "know what?, all this space really needs to do is to act as a backdrop to the character, so we designed accordingly. now if you look closely, you will actually see that there is a number of items on the desk that has been reused from prior cinematics such as the candle holder from Diablo III, as well as the quill that Leah wrote with; so for the hawkeyes amongst you, I wanted the big items — a story-point item in this entire cinematic is the compass. Marc is going to talk about that.
Marc: Yea, to me the compass kinda is Anduin. It's like the talisman expresion of a son. So it's very important for us, but also if you look at the concept art here you can see "L.W." inscribed there; and the intention was this is King Llane's compass. This is the king's familiy heirloom passed from father to son. From king to king. So it is very significant, and deserves a lot of love.
Chris: That's right, and because it is such an important story-point we researched a number of different application methods for the Anduin portrait that was going to go into the lid. First, we thought: "Wouldn't it be cool if it was just a metal-etching process they would have used?"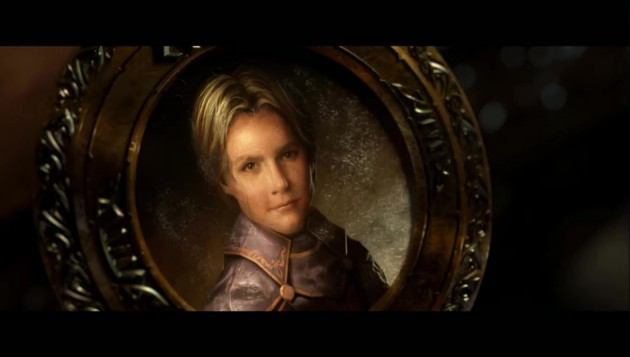 It would have ended up very monochromatic, but as we saw the shot, we thought — you know what this shot means, this is a little bit off-color. It's a colorful focal point, so we envisioned it as a mineral oil painting. The same way you would find it in an antique pocket-watch, or an amulet.
Kelleher: Alright, so we have our portrait, we have talked about Anduin. We actually haven't yet talked about Varian yet. Obviously, he's the hero in the cinematic.
Marc: Right. Yes, and there is a lot of Varians out there, right? I mean there are a lot of artistic expressions of Varian done by Blizzard artists, but there is also the comic book Varian, right? … and there is the in-game model, but there is also the "Lords of War" Varian — which is somewhat different. Not to mention all the fan art out there. There is a lot of great Varians out in the world, and so our challenge was to try to take what we thought would encapsulate into the best Varian for this cinematic. Right?
Kelleher: … and now we have Chris's. This is your portrait of Varian. Tell us a little bit about it.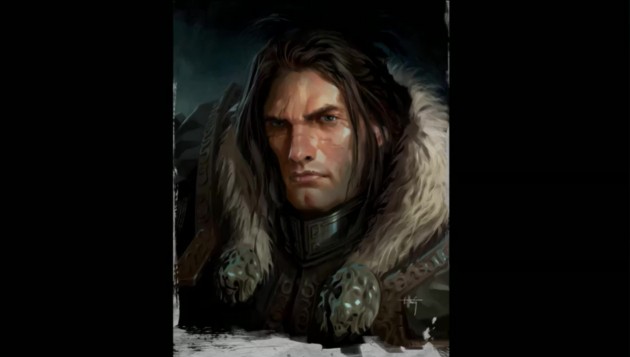 Chris: Just so happens when we were getting to re-envisioning the character for our cinematics context that hasn't been featured in a pre-render before. We just jumped at that. For this ocassion I felt it would be good if the things he has been through in his life — at some point Varian was a gladiator, he lost his memory… I mean, this guy has seen a few things. If that was represented in his appearance a little bit, taking all the other prior depictions of him into consideration, of course. I went for a little more of a chisel look. A little bit harder. Just to get that point across. The other big challenge we — here is the 3D model — usally have with our characters is (this happens especially in the World of Warcraft universe) translating the character's proportions into the pre-rendered context in such a way that it is practical, and remains believable.
So that was actually a bit of back and forth with the animation team, the rigging team, and the modeling team to try and work out the size of the shoulders, and the size of the knees, etc. So it would actually work in the cinematic without too much interpenetration.
Kelleher: Ok. So we have our concept for Varian. Beautiful painting, and now we need to turn it back to Mike Sandrik, and talk a little bit about how this was created from the surface and perspective.
Next: Surfacing and Perspective.