Digital Matte
Dan: Yea, early on the cinematic was going to take place in 3 main stages: there was going to be the cabin sequence, we were eventually going to have most of the action happen in the air, and eventually we would end up on the reefs leading up to the Broken Isles.
As you saw, the cabin was all modeled by Seth's team and done fantastically, and Jason did a really good job with lighting and compositing that. Anthony Eftekhari and Fabio Zungrone (our two digital matte artists) did an early test on the skies to figure out what could we do 2D versus 3D, because 3D is very expensive. 2D is not so much. So what we did — we gathered a lot of photographic reference and resources and built up a 3D setup using 2D images in our compositing software Nuke; and it proved to be very promising.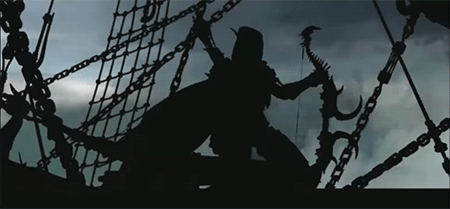 As you can see here she's getting tons of parallax. It's actually quite difficult to do if you have ever worked on 3D. So we did an amazing job, and here in this shot you can kinda see — this is the fly-through attacking the gunship and I'm going to show you sorta like a breakdown. This is the 3D that the lighting team added on top of that. Kaz Shimada did a really nice job with lighting and compositing that shot.
Eventually we knew we would go to the Broken Isles. So we needed to reveal. This is the base digimatte that was provided by the guys for kinda everything we were going to build on it and shots. We were going to see it in slightly different angles, different cameras, that we distinguish a base to go from; and eventually we would supplement this with 3D elements, and effects and everything else.
So that was eventually going to be the ocean. This is the reef leading up to the Broken Islands. Seth's team modeled all the reef, Mike's team shaded everything, and then the guy of the digimatte here to kinda see what would it look like before the action takes place, because it is going to end up being this crazy crazy shot.
Vince: I can still remember Marc's pitch for this thing. He came up like: "We are going to finish strong, boys. We are going to take every asset we have on this show, we are going to throw it at our heroes, we are going to see if they can fight through it all, which they can't because they are so many, but then they are going to try anyway, and see if they can make it to shore, and it's going to be EPIC! It's all going to be in one big shot."
Kelleher: YEAH!!!
Dan: Jarr!!!
Marc: That sounds great!
Vince: Actually, Blizzard as a company policy after pitches like that, we are allowed to go back to our desk and cry for about 5 minutes, after which we go back to work and we sat with Marc and we figured out what the important points were. Basically, we got to see the heroes, we got to see the villains (and they gotta look insane), we gotta see the Broken Isles (even closer than ever before, but so far away), and we want to finish with a bang.
We drew straws and Don Ta was the lucky previs artist who got to bring this shot alive, and he went through by his limitless energy exploring so many iterations of Varian's coreography, the formation of the fel bats, the creation of the rocks, and the placement and the wave timing. Basically solving all these problems early on so that later the departments won't have to; and when Marc was pretty happy with it, we went to Ricardo and we said: "It's your problem now."
Ricardo: It's very kind of you, Vince. Yea, this shot was crazy. I can't remember when was the last time we had this many characters interacting with each other, and with the camera at the same time. So whenever we have a shot like that our first instinct is to go outside of our office and try together as many animators-slash-ninjas. We have it at our studio, we place them all in our reference room, and start shooting reference with them. We probably did hundreds of different takes for this shot, and you've got the best piece of each one and then compile them together. Since this was going to be a complex shot, we decided that the best way to approach it would be splitting into 3 different animators. So Davy Sabbe — he was in charge of Varian, and the foreground; Corey Pelton — he was doing the infernals and the felbats in the background; and [???] — he was on the bats for the shot. I think by the time of this shot, he was a bat specialist. The other interesting thing about this shot that I want to play out is that the next version that we did and we showed it to Marc, Varian was stepping on the rocks and by the way he was like yelling, and Marc saw the animations and "hey guys, I can't buy the fact that after Varian did all that thing he doesn't take a step, breath a little bit, and yell from the top of his lungs." So I thought it was like a cool detail, how to bring this shot to life.
Marc: Thank you for that, Ricardo.
Kelleher: Very nice. So the hot potatoe goes from previs to animation, and then after all that work is done by rigging we get all that great work compiled in one place, and we give it to the team, and Dan … it is on you.
Dan: I have to give a big shout out to the Lighting and Digi-matte and compositing teams on this shot. They did an extraordinary job and a shot like this shows this off; and Sheng Jin was my right hand throughout the whole project. It was amazing, and when we get a shot like this, we talk about previs, animation, modeling, surfacing — everything is going down this pipeline and eventually, then put it on our laps, and say "Make it work." Luckily their work is so good that makes our job easier, and Enrique Munoz (our light compositer for this shot) took it on and put everything together and this is really nice. We were able to de-contrast the thing, make it a very war-like feel, hand-held camera thown water on the lens — you know, all the tricks we talked about earlier. It all really came together and gave us this nice really big moment. It always gets to lead up to a big moment to the end that we have got here.
Marc: Yea, moments. That's exactly the thing — when I see a shot like this I think about what our goal is. To work together, to collaborate, everybody brought their egg in to create this moment. That's what we are looking forward… to make you feel energized, and make you feel as excited, maybe we can thrill you with the moment, maybe if we are really on our game we can touch you in some way. That's what gets us excited to come to work everyday. That's what gets us energized. So we want to thank you guys for your dedication to this game and your love of this world that we all call Azeroth. Thank you very much; and while I'm thanking people, I've got to remember the sound department, because I have said it before: sound is half-the-equation at minimum. Right? This guys totally equipped themselves beyond all on this shot; and I am so very very thankful for the work that they did — from the music to the sound effects, to the mix. Fantastic work. So thanks to the sound department.
Kelleher: Absolutely, and I am going to throw out a few more thank yous for that as well. I'd like to mention our video and post-production group which is responsible for taking this and putting it up on YouTube; and actually frankly they are responsible for most of what you see on the stages today. So that's fantastic work. Our localization teams for turning this from an english into ten different languages. World of Warcraft is a global game, and we are really proud of that fact; and I want to thank everybody here. That's our panel for today! We have got a little time for questions. If you have a question, our panelists will be happy to stay up here. Please, there is another microphone. We know that your time at BlizzCon is incredibly a pleasure. There are so many things to go see, and we are happy you have spent some time with us today. Thank you, and have a great BlizzCon 2015.
Marc: Thank you!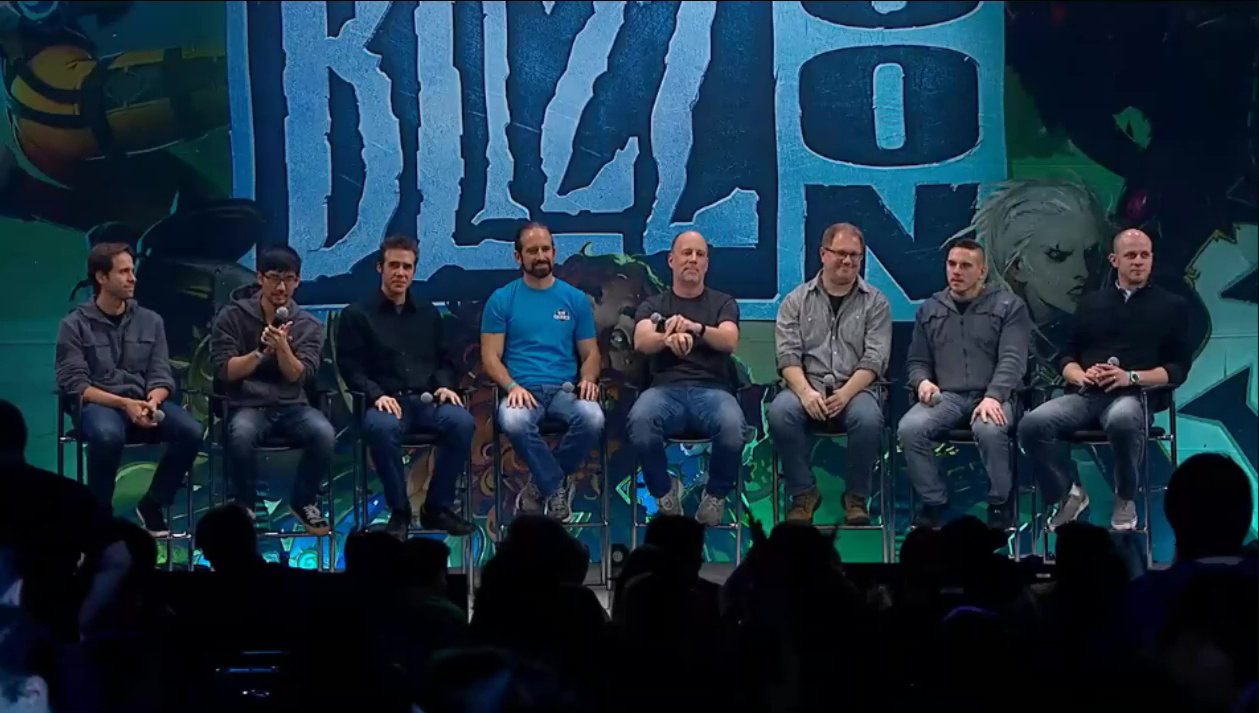 Next: Q&A