Art Direction
Kelleher: That's right, and now we have an idea of what that previs is going to be. We kinda have a "what's going to be in the cinematic" but now we need to know how it looks like, and that's when the art direction comes in. Right, Chris?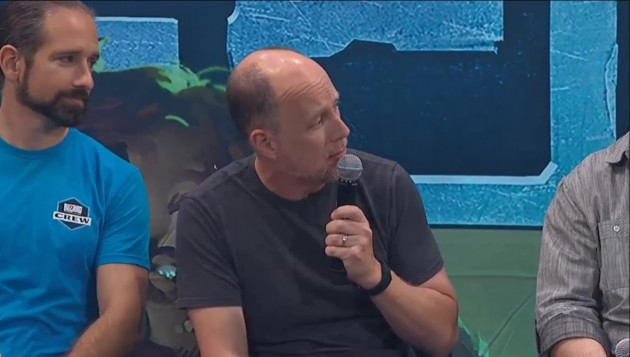 Chris: That's right. When Marc and I got together to think about the mood that we are going to go for, we quickly landed at the mental image of the northern California coast on a cold November morning.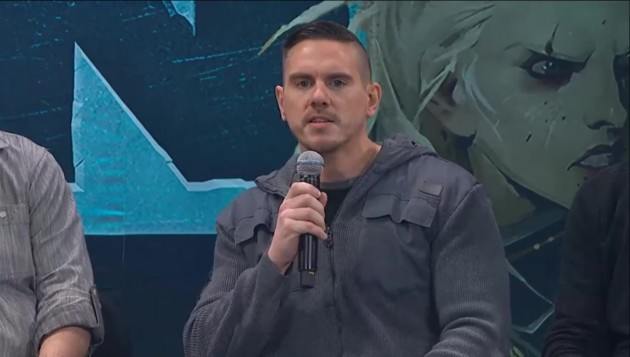 It was meant to be a little bit hostile. We wanted to make it clear that not only was the Alliance and the Horde going to fight the Legion, but they also had to fight the environment to some extent. Now we knew we were going to have a thick multi-layer cloud-covered mood with the felstorm at the center, but we also wanted to have opportunities for sunlight beams to penetrate the clouds to give us opportunities for light pools to carve out our characters, to peel them off the background to stage them properly; and they are also meant to move us so gently and creately make moving shadows across the depths of the ship.
Once we knew we were gonna expose for the shadows that meant the highlights would burn out everything so slightly and [that] would create little blooms around (for instance) bomber gleams or wave crests, things like that, just to add a little bit of brilliance to each frame.
Marc: Right. I like that cold sorta stark beauty that we were trying for on that.
Kelleher: Exactly. So we have these beautiful paintings by Chris. Quick swatches, but now that we have our mood, so to speak, we can talk a little bit about where this action takes place — which is the gunship.
Marc: Yea. Right. Varian needs a ship set for a King and we were only too happy to oblige. We love these giant flying fortresses that are roaming around Azeroth, and so we asked the game team and they were like yea, you could totally do that, and in fact since we are planning on crashing the thing, they said you could probably customize it a little for your own needs.
Chris: That's right. Basically allowed us to crash it. This isn't going to be featured in the game, this specific one. So just do to it as you wish. So as we usually do when we are trying to translate assets into the context of our cinematics, one way to make it believable was to play with the proportions a little bit. So we elongated the ship slightly and we also widened the bow just to make it a little bit more front heavy. Evoke the feel of a containment ship or an airlift carrier a little bit more; and one thing that was important to me personally was just to re-envision the bilge (the bottom) of the ship in such a way that the propellers wouldn't feel stuck on, but like the ship was conceptulized from the start as a flying ship. So we added these little port-side receptacles in the bilge.
Kelleher: Alright, so we have our concepts here, you can see — actually this is just a little swatch here with materials that Chris had in mind for some of those pieces, and here we go… here is our final turntable just to show you what the final thing looked like; and actually, I'm going to turn it over to Mike Sandrik, because we have a lot of real-world textures and materials that are real on this gunship.
Next: Textures.