Previsualization
Vince: Yea, once you are comfortable with bringing the 2D storyboards into 3D space, that's when the previs team comes in.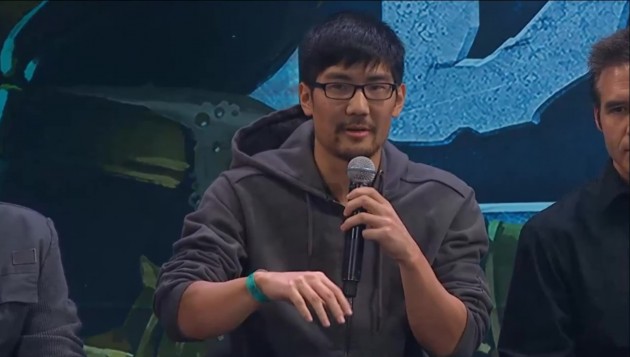 This is the stage in the pipeline where these conceptual drawings have to become realized with 3D characters interacting with 3D stages, and being shot with cameras, and not every part of the storyboard cinematic is going to make that transition perfectly, but we try as much to get the storyboard spirit as we can — whether it is through composition, or timing; and
One of these things that — what you are seeing onscreen that was kinda explored in previs. The original concept board had the camera following above the deck, and then Varian comes out; but it was actually Dennis who suggested: "What if we follow Varian from behind?"
So we tried that on previs, and showed it to Marc, and he actually liked what we gave him. Began to see the expansive deck when he comes out, being able to see the length of the ship, with all the life and energy on deck before we go over to the edge. So this is how this shot evolved. I just wanted to talk really quick about one of the unique challenges of the cinematic which is that throughout the sequence that gunship is actually flying toward the Broken Isles.
You might not consciously perceive it, but at the end of every shot, we are closer to the Broken Isles than when we started. It's just one of those subtle ways that we do drama build, and the other thing that it gives us is that we wanted to do it right when we deep under the clouds, and the way the hair and the fire are affected by the wind; and the truest way to get that is to just take the whole stage with all the actors and just shove it, and eventually just plummet it toward the surface; and without going too much into technical stuff, it makes animation really difficult, and it makes shooting the stuff really difficult.
Next: Art Direction.