Textures
Sandrik: Yea. Thanks, Mike. So anytime we do any of these cinematics, usually there is one or two assets that are going to be very technically challenging; and the gunship was definitely one of them.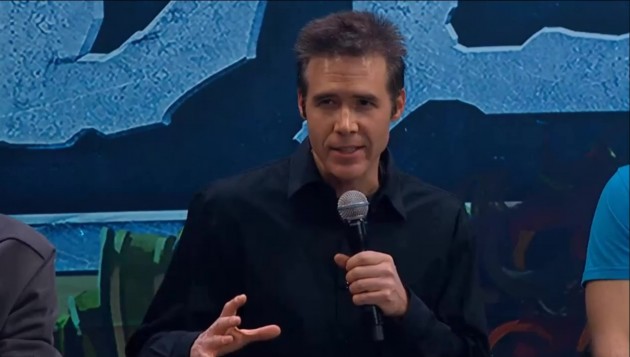 The reason why is that we saw an upclose everywhere, so we needed a lot of detail everywhere, and what that basically means is that it's a very very heavy model. That took a long time to make.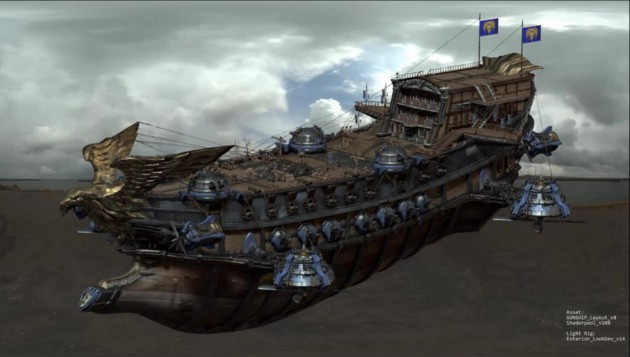 Just to put that into numbers, this model has about 7 million faces/polygons, it has about three thousand 4000 x 4000 pixel texture maps on top of that, and then we retrace everything, and that just creates a very heavy, very memory intensive asset. If you have got very sharp eyes, you can see there on the bottom-right this asset takes about 6-8 hours to frame the render and about 20-30GBs; but before we start any of this, we actually need reference to base this off of, and the direction here was 18th Century frigates.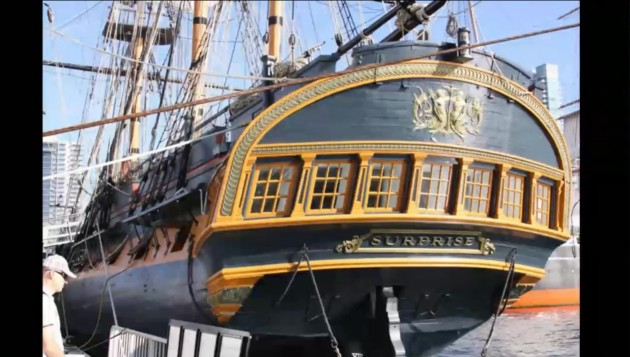 We had the good fortune where we live that we are able to go to the San Diego Maritime Museum for a day, and we were able to crawl all around these types of ship, and all kinds of reference photos, and it was great. Here is the Texture Team right now where we were taking photos of the deck.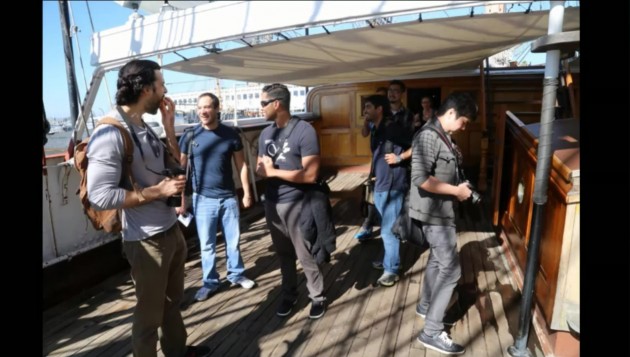 We wanted to crawl around these ships to take photos of the deck, the ropes, anchor, cannons, all these little bits of the ship that make it what it is. You take a look at the deck of these ships… they are really really busy. We had to hand-create all of that one piece at a time, and basically this is all based on this reference that we saw. Our team did an outstanding job putting these together.
That said, this is an 18th century frigate that flies. So our reference gathering didn't stop here. We also had to check out some museums and look at some World War II air bombers in order to get a reference for the engines on this thing. You can see here — if you go back 50-60 years, you get back to where airplanes were bolted together with aluminum-plate. That's really the kind of the feel we wanted. Modern day planes are put together with carbon-fiber and glue. This kind of reference grounds the whole thing in reality. So it's a fantastical thing but you believe it when you see it because it is based on something you know.
Kelleher: Alright, so now we have our reference, and it's time to actually model this, and this is — Seth, this is where your team comes into play. I understand you have got a little thing for us to show.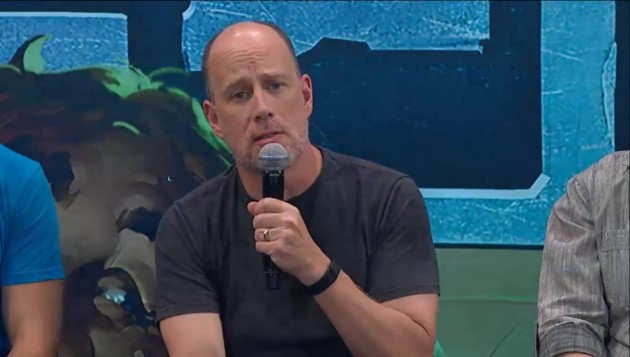 Next: Modeling.