Assets
Kelleher: So I think we are back to the scene and I think there is a little bit of an easter egg down there. We have got a little goblin tugboat that we put there, and if you look close to in the cinematic, next to it with the gnomish magnifying glass —
Did you not see it? Did you not see IT?
It's in there! Also here there is some stuff we have recycled from other cinematics. This one is the Alliance ship that we did originally from Cataclysm.
Marc: yes, this is based on the Maiden's Fancy actually.
developer: Here you can see it being destroyed in that Booty Bay cinematic there.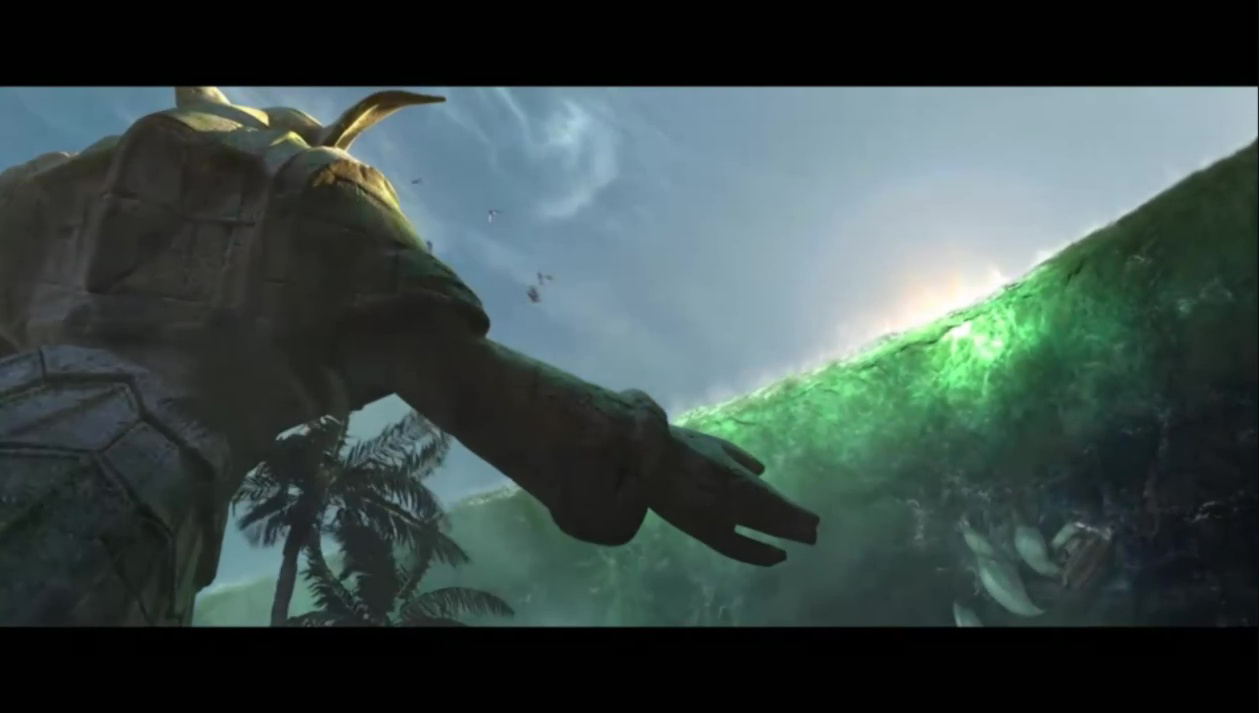 developer: Now you can see it again in the Mists of Pandaria cinematic. We used it again. Both of the ships; and the thing is we built the back of the ship bow to look really good, however in this cinematic you get to see the front of it. So we need to add a lot more detail in.
developer: We went through in about a week. One of our modelers added a bunch of a lot of really cool detail and we recycled some pieces from our Alliance gunship, and put it in there, added textures to it, and here we can see it in the final shot.
Marc: So what I take is that it took you about 6 years to model one ship.
developer: So lots of ships obviously on the ocean, and up here; but we have got one more ship to talk about and that is the Horde gunship which is coming out of the clouds here. FOR THE HORDE!!! Yes!
Kelleher: We have got Mike Sandrik here in a minute to talk about that.
Chris: The Horde airship obviously is architecturally very different from the Alliance gunship. It's a much cruder, much less refined way of manufacture, and we thought it obviously needed to be represented in the model. One thing that was really important was to find an interesting way to introduce it. In pushing through the clouds we took one of the fining features of the in-game model which is the wolf-head, and we invented it in such a way that we were really trying to work out the silhouette to get the ridge just right as it pushes through the clouds.
Kelleher: Here is our 3D concept of that, and now actually I can go to Mike Sandrik. Can you talk a little bit about where the reference came for this? A little different source.
Sandrik: Taking our cue from Marc and Chris that this should be a cruder design, Eric and Nathan went kinda back in time, and instead of the 18th century frigate, we used a 10th century Viking ships for the reference. Now something interesting about this is that it might look about as detailed as the Alliance gunship, but actually it isn't.
We basically just concentrated the detail on that starboard bow section that you mainly see in that cinematic when we first introduce Sylvanas.
Marc: Right, and that bring us to: Sylvanas!!!
That was a great great applause for Sylvanas. Another major character we hadn't actually done in a pre-rendered cinematic. That means we get to go back to our direction and really talk about Sylvanas here.
Sandrik: That's right, and we ran with it. Sylvanas is such a beloved well-known character. Her being a undead high elf, we really wanted those trait marks, those features to be represented properly. So we just went for some slightly wide set of eyes, high chickbones and a very pointy chin.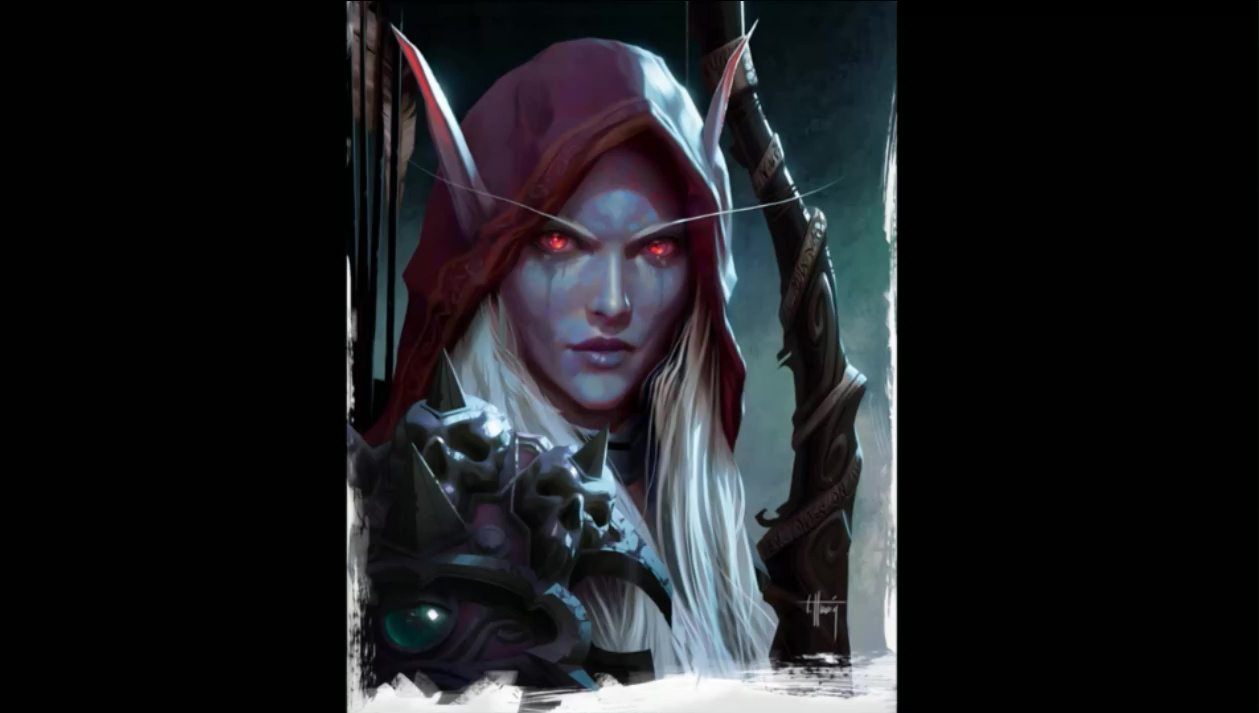 One thing that I felt was needed, just an echo a little bit of what we did with Varian, was to add just a little bit of chisel on her face. Maybe a little bit of maturity. So that's what we went with. Once again, the other half of the equation is the armor, and here we felt this is an opportunity to maybe recreate a little bit more a fitting attire for the ocassion. She was going to be in one of her big battles she was ever going to be.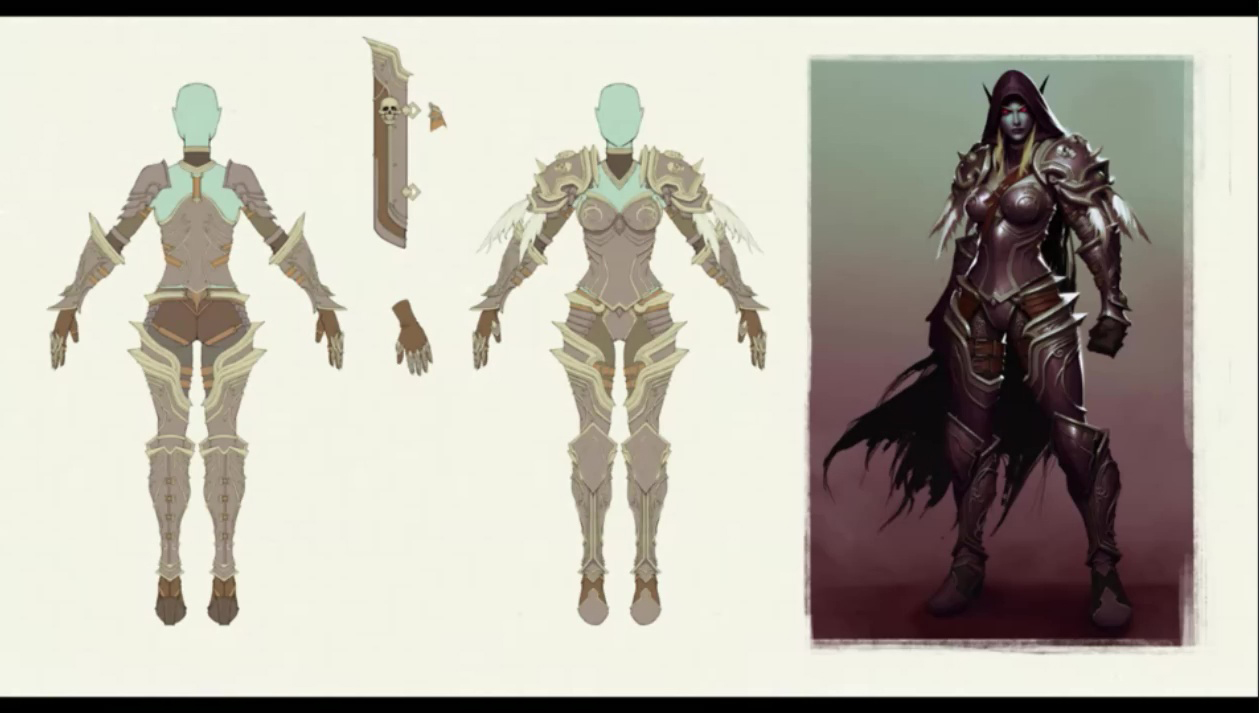 So we actually went in there and created an armor for her and added a midriff for her, but still tried to harken back to the outfit that she's so very well known for. So the shoulderpads–
Marc: It is kinda her battle armor.
Sandrik: Exactly. Her battle armor. You got it.
Kelleher: Here she is, finally on her final turntable. Obviously, all of her materials applied, and that means — Mike — she provoked some major kind of challenges to the surfacing team there, right?
Sandrik: Yea, young women in computer graphics are notoriously difficult to do. The main reason is that the detail on young women's faces are much more subtle. If you kinda remember Varian's face, he's got beard stubble, large pores, he's got wrinkles, he's got pockmarks, freckles, zits, I can go on. Scars obviously. There is all these things that you can sorta hang on to to create reality. Women have all of that, but it is much much refined, much more subtle. It's got to be there. You just can't have it to be smooth, but it's difficult.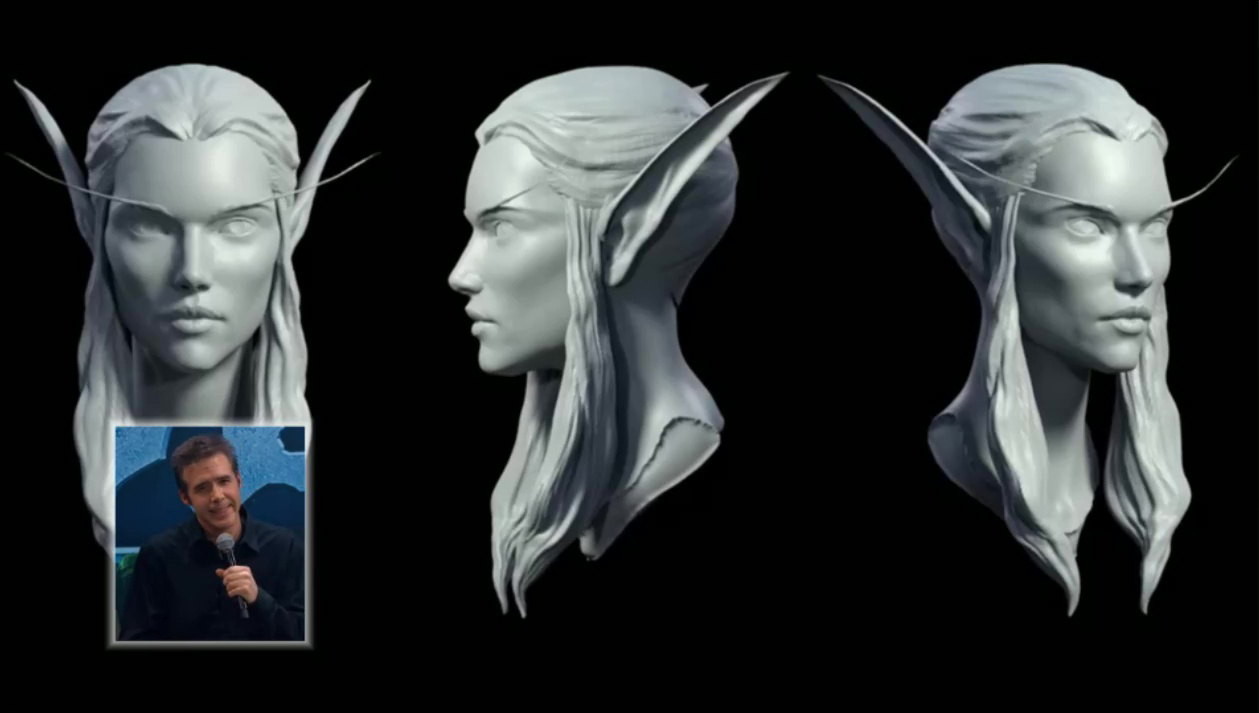 It's even difficult to talk about. It is. It is. It's a hard thing to do, but basically what we did is we went back to photo-referencing again.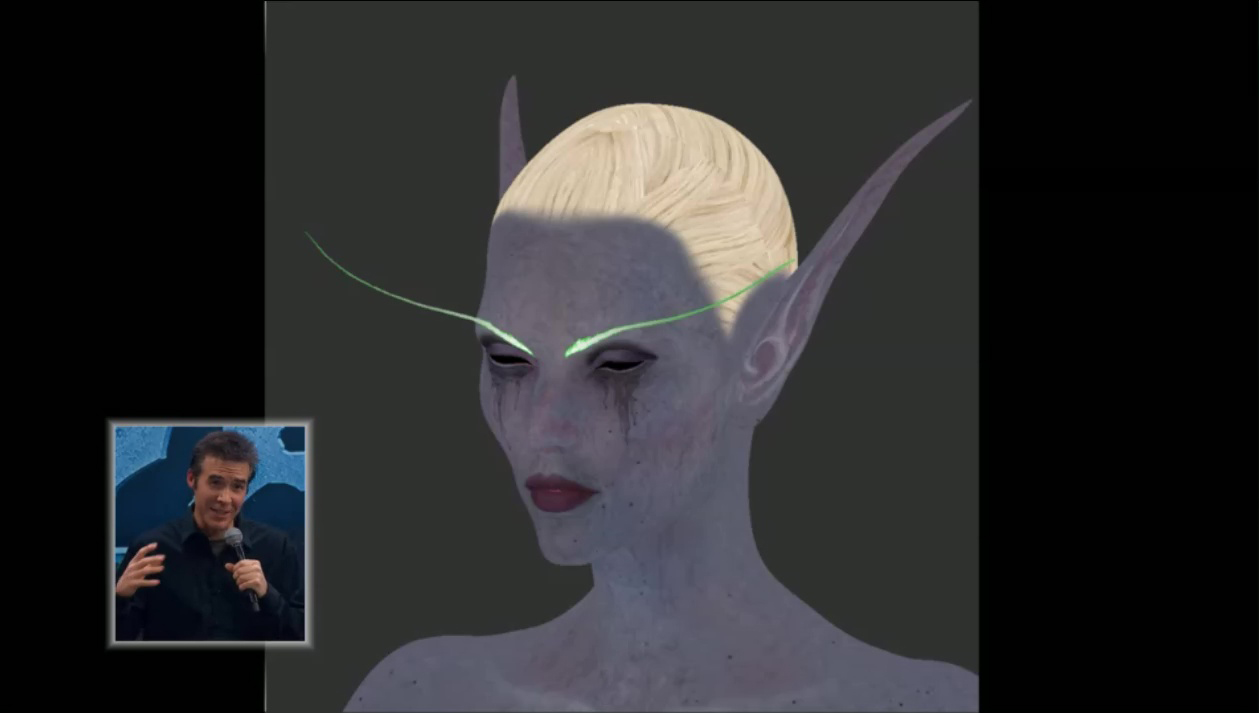 This time we had a couple of women volunteers in the studio. We took high-resolution photos of their faces, and then Nathan Boyd who did the look on this did a fantastic job, projected this on Sylvanas' model, and then cleaned it up from there. So if you have a look at this, obviously a lot of it is fantastical; but the poor detail you see is from photos of real people.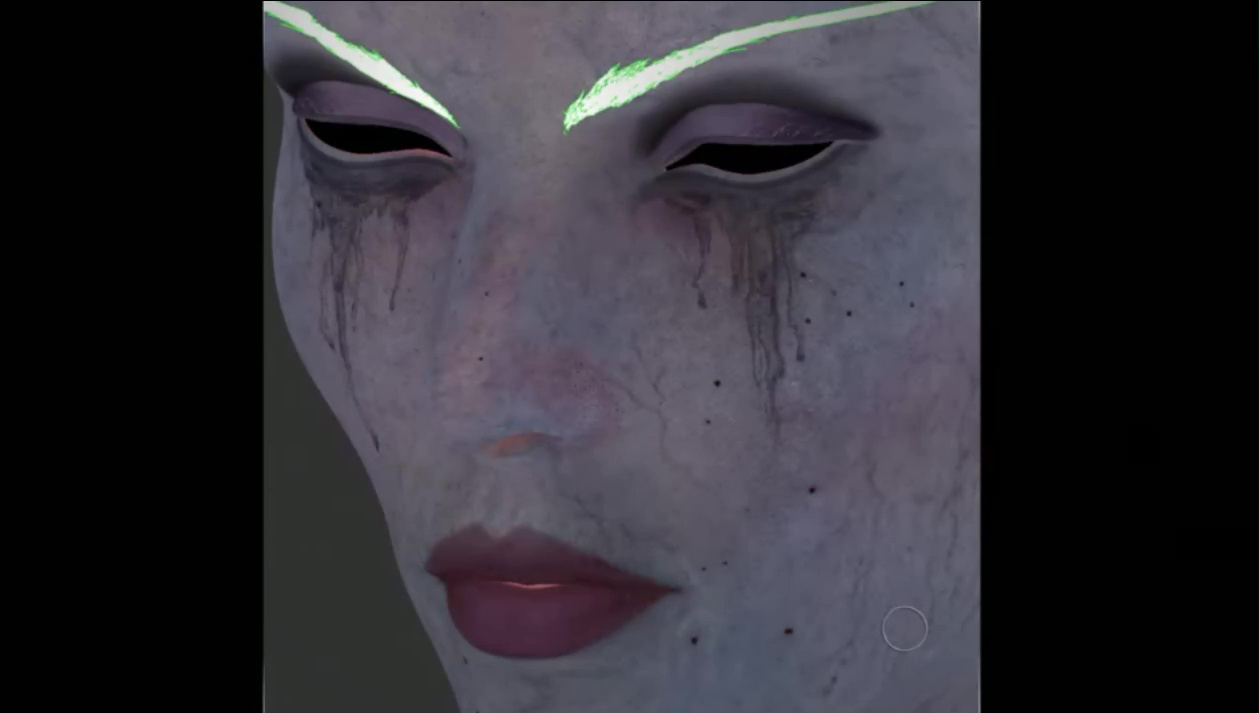 Here is the final turntable. Another interesting thing to note is that — you can see that red surface on her ears? — that gives the illusion of red blood flow. We are not really sure what color her blood is, but giving the illusion of red is what really the audience expects because that is what you see when you see back-slit fingers, and that just helps sell the reality when you see a fantastical creature like this onscreen.
Kelleher: So we have our other actor, and Ricardo — now we need to make her move, and we need to make her move believably.
Ricardo: Yea, Mike. So the thing is, every time we animate one of our Blizzard characters, we want to make them bigger than life. We want to make them epic; but on the other hand we also know that we need to make them grounded in reality. Otherwise, nobody is going to buy it, and the thing about Sylvanas — knowing that she has so many fans out there, that love her — we knew that we need to get it right.
So unfortunately, nobody in our crew was an expert in archery, but luckily one of our animators, Glenn Ramos, he introduced us to Anna Maltese. I think Anna is out there.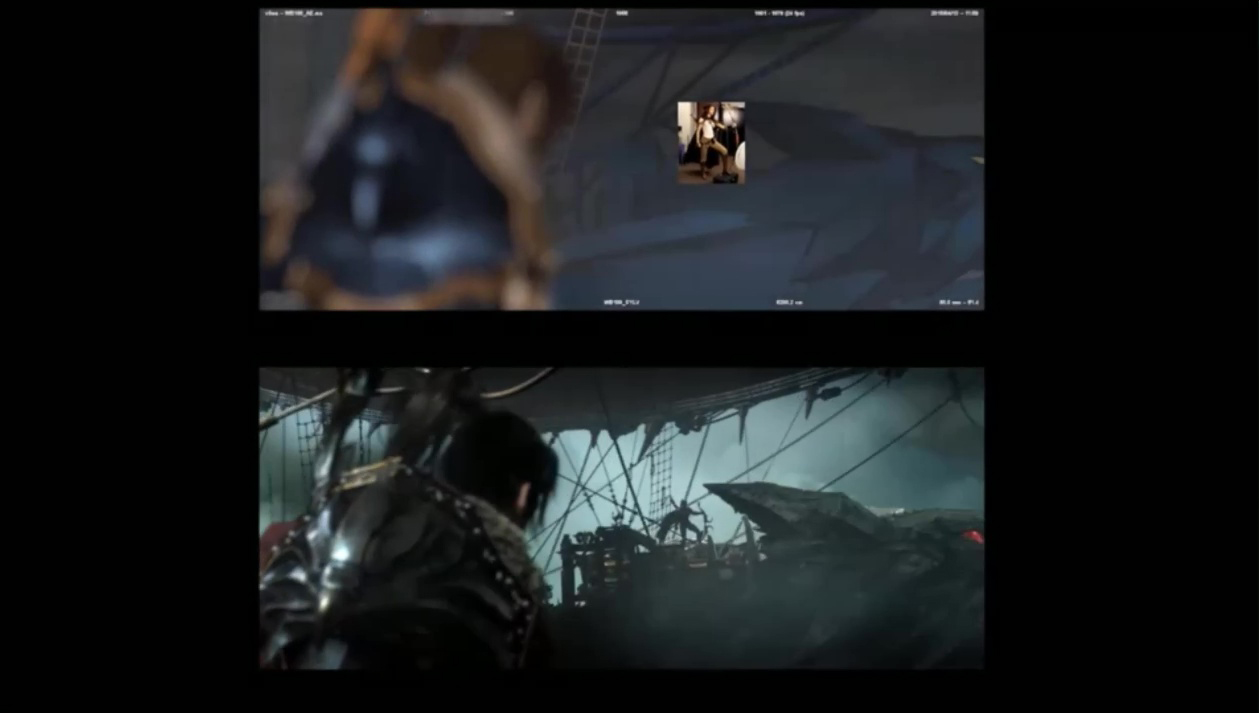 Anna is an amazing performer. Like a martial artist. An archer, and she was kind enough to spend the day with the animation crew shooting reference, but also she was teaching us the proper grip, how to hold the bow, the right stand, and I think that's what made the difference: grounding Sylvanas' movement in reality. I think it was an important piece in the cinematic to show Sylvanas working with Varian, to show that they are together in a common thing.
Marc: Totally. Totally. Team-work on this one, and I wanted to do a shout out to both Anna and Jim Pirri — our actors for doing such a wonderful job. Not just giving us the big action stuff, but for providing a lot of really great little subtleties of their performance. Just little pieces of gold that might be hard for us to mine on our own. So can you guys give them a round of applause real quick? Thank you!
Kelleher: Fantastic. Awesome. Sometimes that's the most important stuff, actually. So we have our heroes here. We have Varian, we have Sylvanas, but we actaully haven't talked about the bad guys — and that's obviously the demons, and the first one out there is the Infernal, and we wanted to give the infernal a big entry ticket.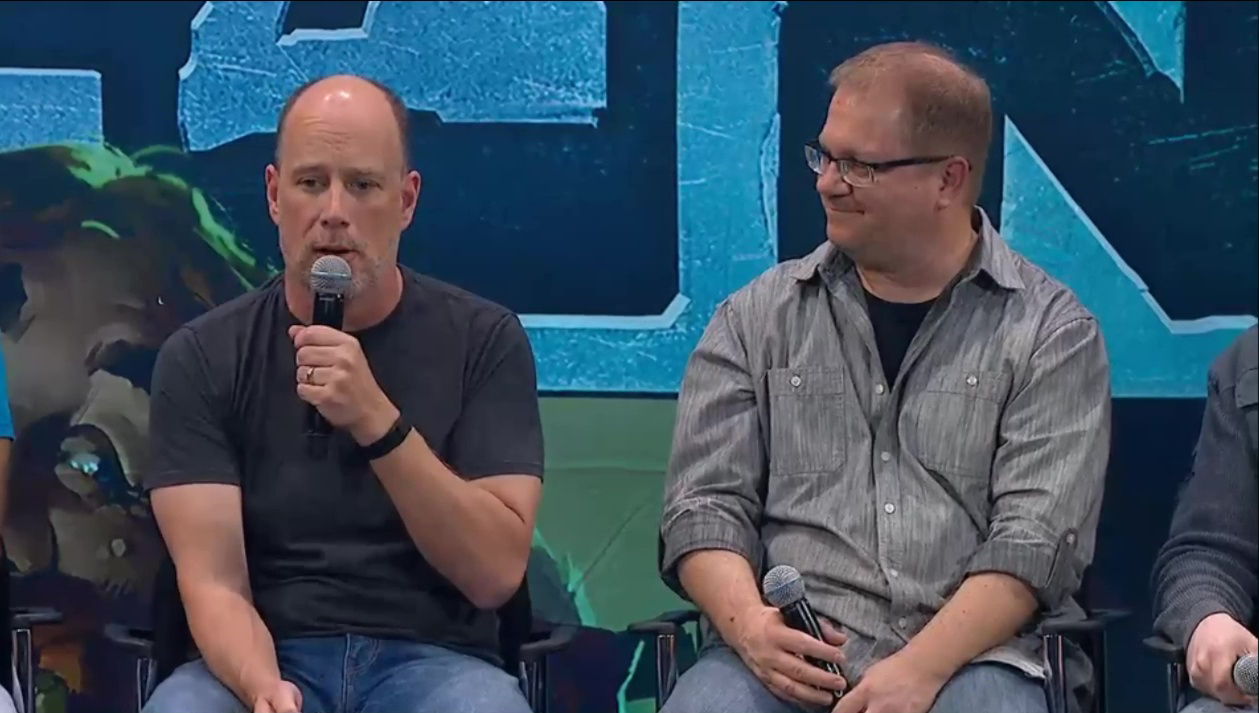 Marc: Yea, we haven't introduced the Infernal properly since the original World of Warcraft trailer. So we are very excited to give him a big entrance having claw his way up off of the deck, with the small fuming off, and the green fel; and the fel is kinda really a unifying thing for all our demons, right?
Chris: That's right, Marc. The demons are really meant to feel like they are part of a team, and to use the fel fire, the fel energy, as a unifying factor to do that. This was obvious for the infernal.
Then for the felguard, actually, the design work that we got from Team 2 (the game team) really helped us quite a bit. If you look closely there are actually a little distorted faces — unfortunate tortured souls that have been absorbed into this guy's armor, of the enemies he defeats. So we have used those mouths and those eyes as little fel fire furnaces to get those teemed colors in there.
Now for the Fel Bat, we had to just be a little bit more subdued, pull back ever so slightly because there are a lot of them in every shot; and if you overdid it, you would just have a lot of green dots flying through the frame, so we really kinda confined the fel fire to the chest ridges, and to the facial area (obviously), and to the root of the dreadlocks.
Kelleher: We have set our villains, and now we have our actors on the stage, and it's now up to the digimat and lighting team to really take us home, and put this characters in their environment. Dan, that's where your team comes into play.
Next: Digital Matte