Kelleher: The Deck is obviously alive, but that is not the only thing in the shot, and I just wanted to take a moment to shoutout to the effects team that created this beautiful water that you see here below. They did a great job. The effects department integrated that incredibly well with a duty mat team — which we will hear about later.
They were called on to do an enormous amount of water. You can see some of those passes here: we have water scenes, we have boat waves, white caps, mists — and not just above the water, but also just below the water as well. Here is some of our early tests, trying to get that feel of the waves crashing into a shore; and they did a phenomenal job.
We had a lot of good reference. I would like to call Seth. Thank you Seth for doing our bubble reference.
Unknown: Don't try that at home.
Kelleher: He's one of our tests, and the effects department was able to replicate that out just great.
This is one of my favorite takes. So let's just put this on the screen.
Marc: That is so EPIK! Look at this man KILL WATER!!!
Kelleher: Kill it!
Marc: Jarr!!!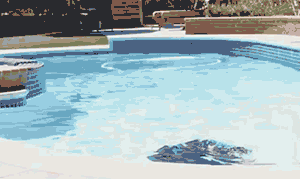 Kelleher: Alright, so we used that reference. We first started with some simulations for the effects team. I believe that is Grommash Hellscream there. We used one of his models just trying to get a look and feel.
As we go through, here is some of the tests that you can see…
and finally, the final shot here with all the water and the sword effects included and everything.
Great job and hands off to the effects guys for doing that. Great job!
Next: Assets