The Exarch Council
Vindicator Maraad: Good work at the gates! The Shadowmoon orcs have been seeking prisoners for some reason. Their aggression helps our cause.
Come with me,. I would like to introduce you to the Exarch Council, "The Hand of the Prophet." I have been trying to convince the Exarchs to support our cause and go on the offensive against the Iron Horde, but they are – as always – too cautious and slow to act.
Come with me, I will introduce you to Exarch Othaar up the hill. Perhaps meeting an alliance hero can sway the council.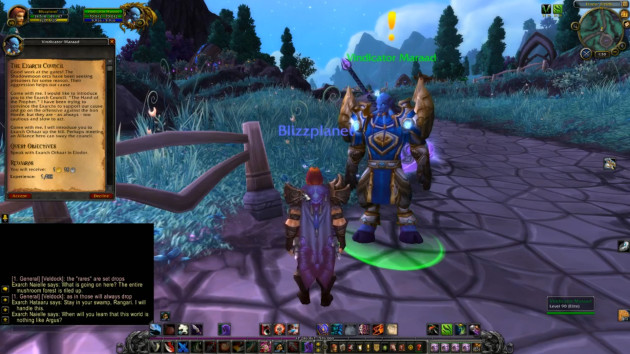 Quest Objectives
Speak with Exarch Othaar in Elodor.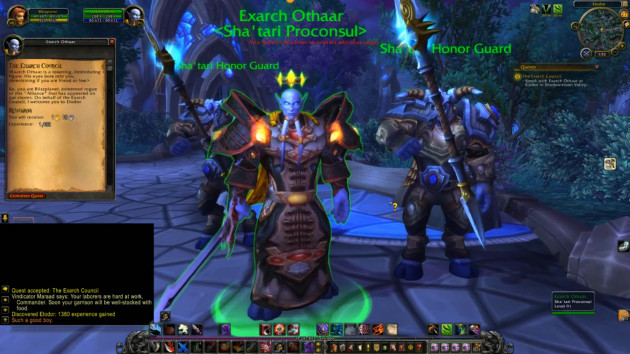 Progression
Exarch Maraad: Your laborers are hard at work, Commander. Soon your garrison will be well-stocked with food.
Completion
(Exarch Othaar is a towering, intimidating figure. His eyes bore into you, determining if you are friend or foe.)
Exarch Othaar: So, you are (Name), esteemed rogue of this "Alliance" that has appeared on our shores. On behalf of the Exarch Council, I welcomed you to Elodor.
Return to the main hub of Shadowmoon Valley Story Chapters or continue below — Chapter 1: Establishing A Foothold.