The Real Prey
Shadow Hunter Rala: Eh boss-mon. Time for us to be huntin' the real prey now. To the north, there be a cave. In the cave, there be right mean ogron dey call "Grosh the Mighty." That ogron got a big stash of pillaged hides and leathers we gonna be needin' for the troops at the garrison.
I made a special poison from the stuff ya gathered. Dis be a magic poison, and it gonna put that ogron down to sometin' a bit more manageable.
Take these vials to the cave and see if ya can't win us a treasure.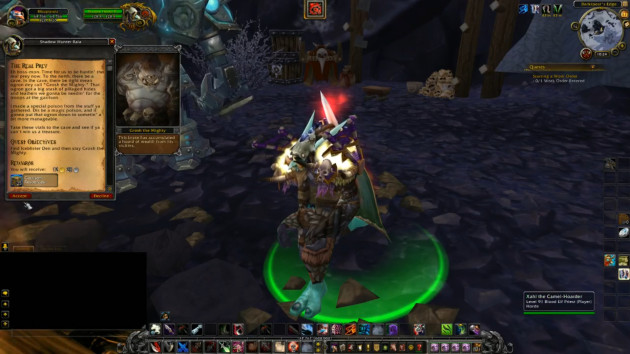 Quest Objectives
Find Iceblister Den and then slay Grosh the Mighty.
Completion
Shadow Hunter Rala: Now dat be a mighty fine haul. We gonna be keepin' all the folks at the garrison warm.
It seemed like a simple task but ya tackled it like a boss-mon. If ya need a shadow hunter in your ranks, I be willin' to serve.
Return to the main hub for Frostfire Ridge (Horde Quests) in Warlords of Draenor, or continue below the Story Achievement: Foothold in a Savage Land.