Mak'jin (Fishing Trainer): The fishing here is like nothing we have ever seen back home. How about helping us get this fishing operation off the ground?
Looking For Help
Mak'jin (Fishing Trainer): We have an accessible fishing spot here, but no bait seems to work! We need to find a local fisherman with some knowledge of the area to help us out. Think you are up to the task?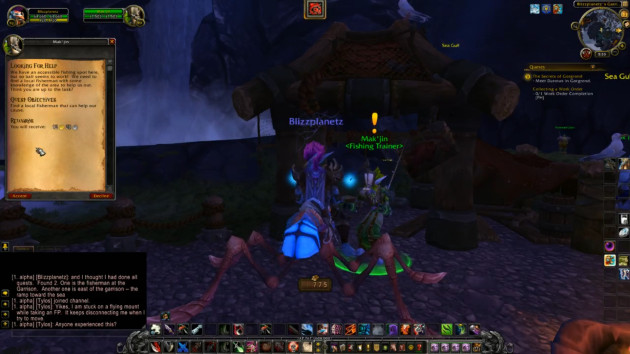 Quest Objectives
Find a local fisherman that can help our cause.
Completion
Mak'jin: Good work, (race)! These waters will provide welcome nourishment for our troops at the garrison.
Return to the main hub for Frostfire Ridge (Horde Quests) in Warlords of Draenor, or continue below the Story Achievement: Foothold in a Savage Land.