Kayn Sunfury: Jace's wards are not going to hold out much longer. We need someone to go out there and make sure those Legion devastators are destroyed.
(Kayn pointedly looks at you with his spectrally-enhanced vision.)
Quest Objectives
Destroy the Legion Devastators.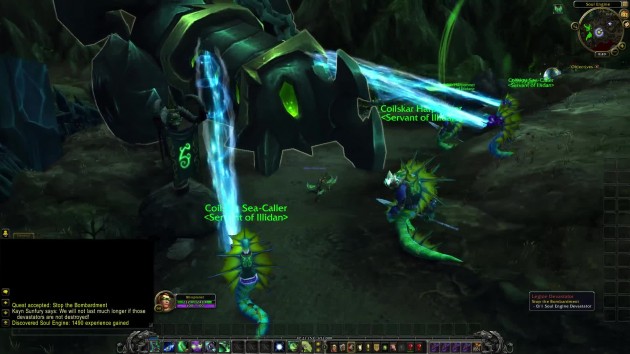 Intermission
Location: Illidary Foothold
Kayn Sunfury: We will not last much longer if those devastators are not destroyed!
Location: Soul Engine
Coilskar Sea-Caller: My thanks. Come, my brothers… back to the battle!
Soul Engine Devastator: 1/1
Location: Forge of Corruption
Forge of Corruption Devastator: 1/1
Location: The Doom Fortress
Doom Fortress Devastator: 1/1
Completion
Kayn Sunfury: True leadership is hard to come by. Leading from teh front is an even rarer trait.
We are just about ready to assail Brood Queen Tyranna's command center.