Lady Liadrin: Regent Lord Theron invited the nightborne to join him in Silvermoon City. First, we must inform them of the invitation. I prefer to do such thing in person. Please, come with me to Suramar and meet with Lady Thalyssra.
QUEST OBJECTIVES
Meet with Lady Liadrin at the Estate of the First Arcanist in Suramar.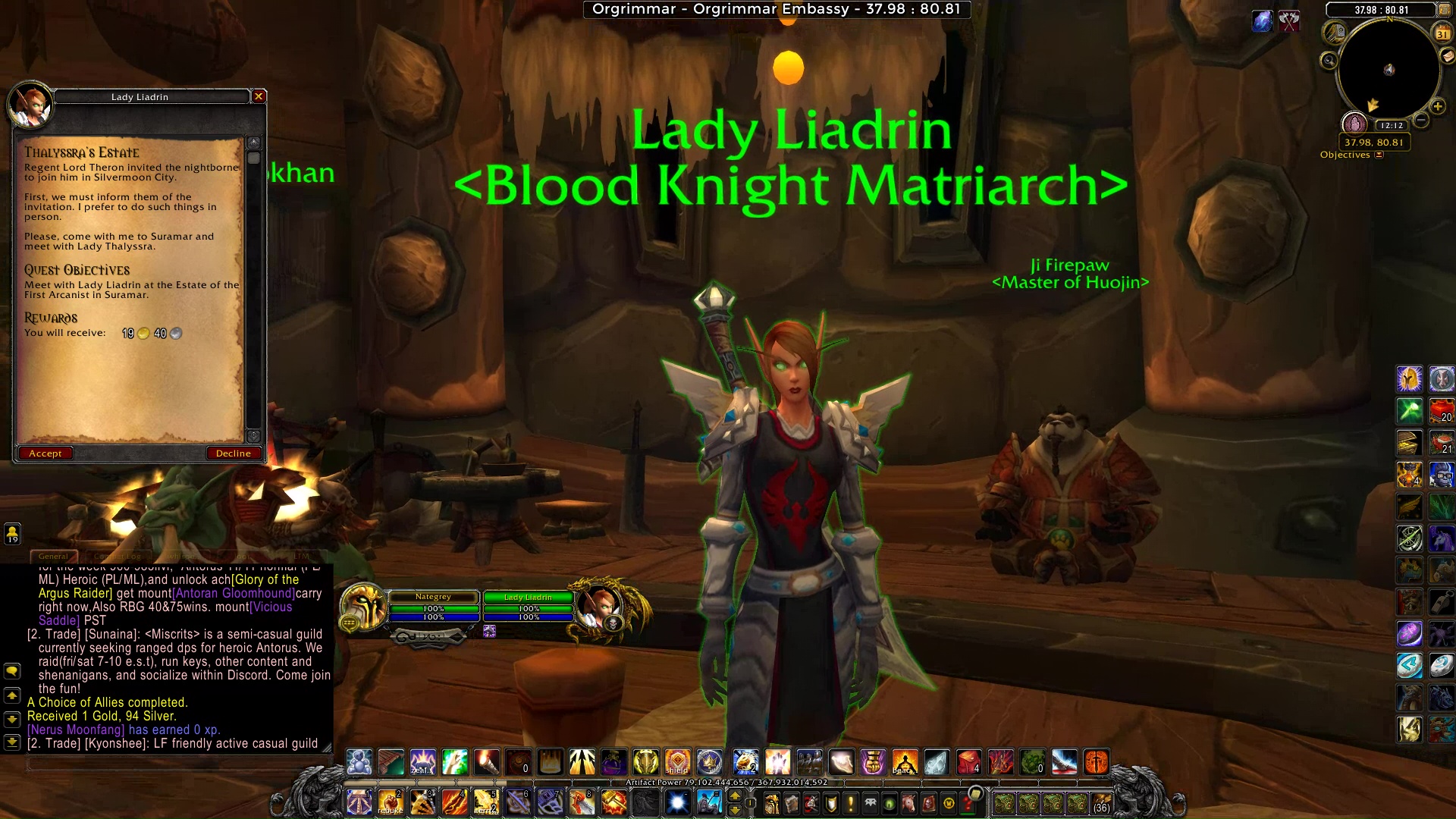 PROGRESS
Lady Liadrin: The regent lord invited the nightborne to Silvermoon. I am to travel to Suramar and escort Lady Thalyssra to the meeting.
Lady Sylvanas Windrunner: I am counting on you both. Do not return until Suramar's strength is pledged to the Horde.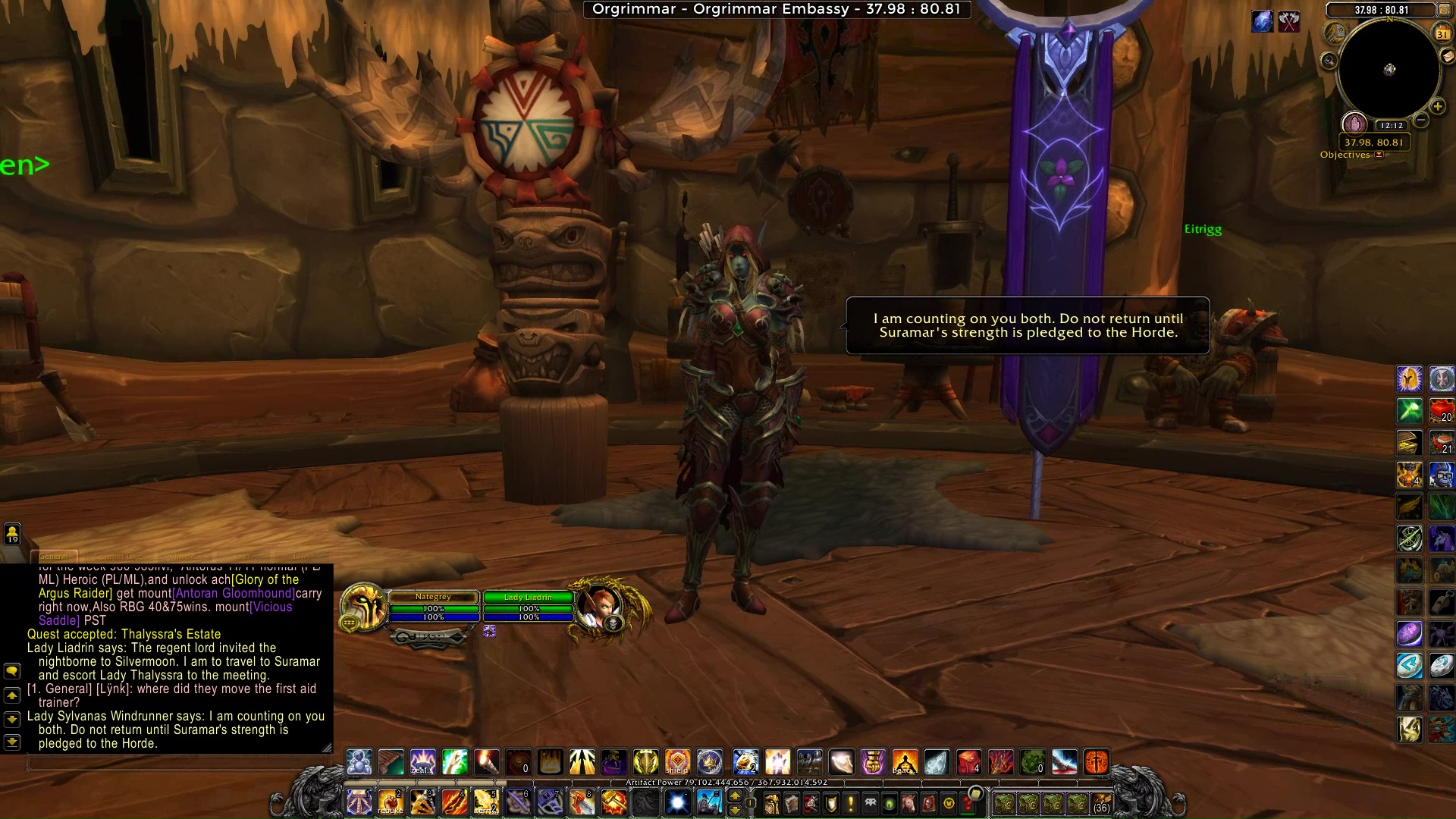 Lady Liadrin: As you command, Warchief. I will meet you at Lady Thalyssra's estate in Suramar, (Name).
COMPLETION
Lady Liadrin: The city of Suramar is beautiful to behold. I hope Silvermoon City is not a disappointment to them.
CUTSCENE
First Arcanist Thalyssra: Greetings, Lady Liadrin, (Name). Welcome back to Suramar. I am pleased to receive you under more pleasant circumstances.
Lady Liadrin: It is good to see your city free, First Arcanist.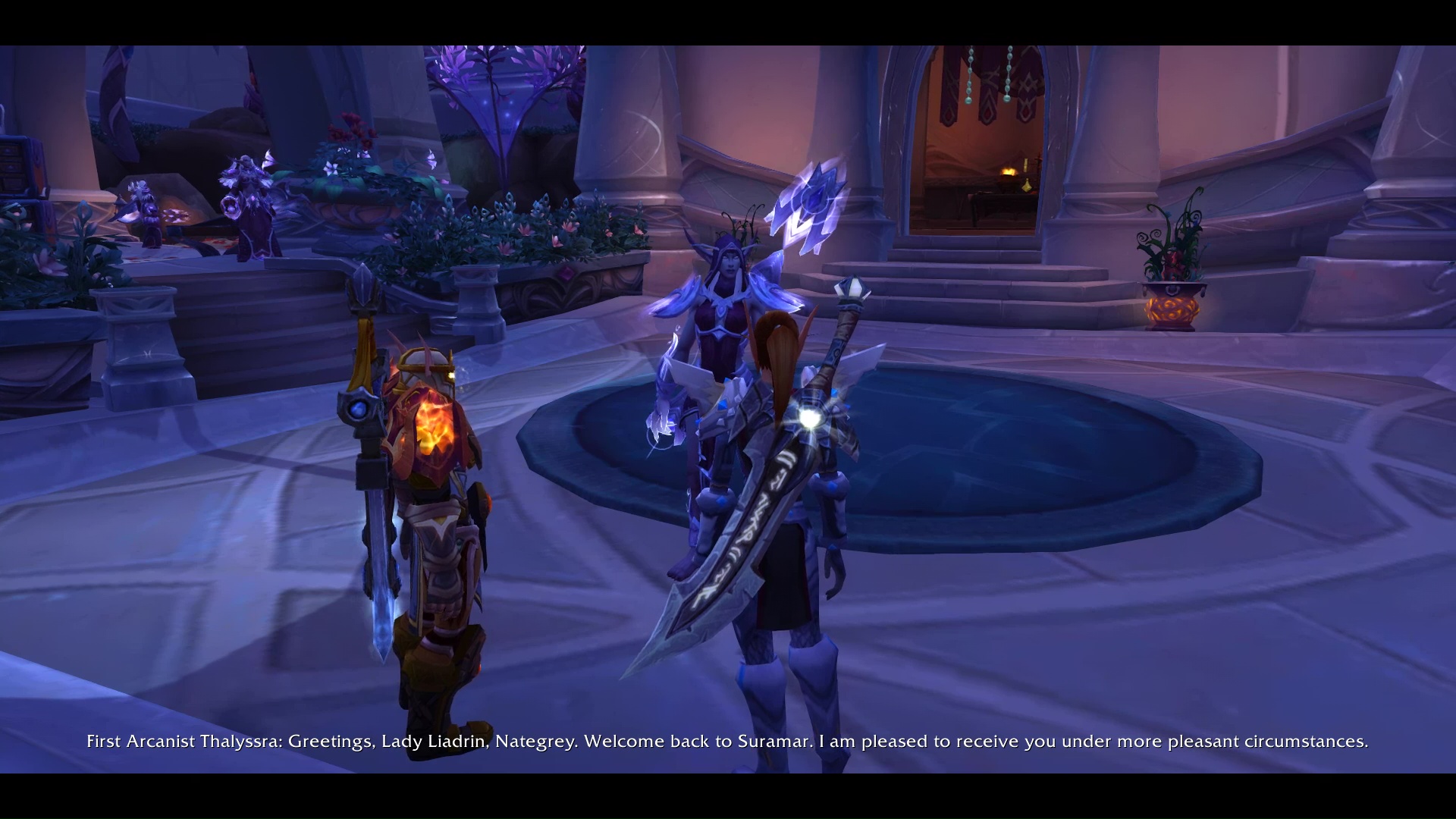 First Arcanist Thalyssra: For that, we owe you both a great debt. You proved instrumental to our cause.
Lady Liadrin: The Horde was proud to fight by your side against the Burning Legion, my lady.
First Arcanist Thalyssra: I must admit, when I first learned of the Horde, I was skeptical that we would share common ground. I thought our kin from Kalimdor would make obvious allies. But their arrogance and mistrust soon proved otherwise.
Tyrande Whisperwind: Arcanist Thalyssra. I remember where your order stood in the War of the Ancients. How do we know you won't betray us and become the next Elisande… the next Azshara?
First Arcanist Thalyssra: We do not intend to be slaves to the Nightwell. We seek to drive the Legion from Suramar and put an end to Elisande's oppression.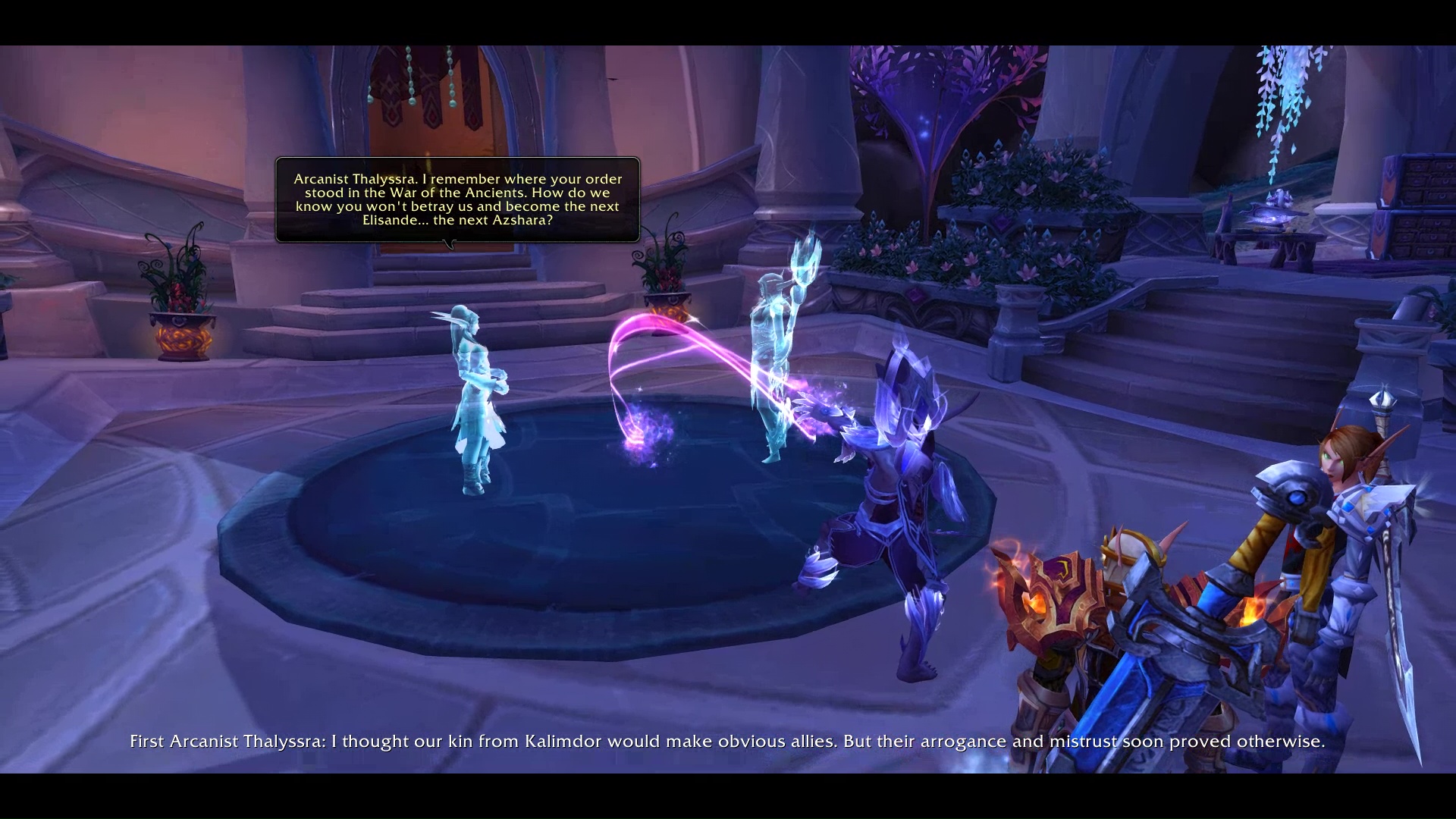 Tyrande Whisperwind: The kaldorei will fight to see the Legion defeated and the Nightwell destroyed. Beyond that… we shall see where Elune's wisdom guides us.
First Arcanist Thalyssra: It would seem "Elune's wisdom" guided her away from the bond we once shared. So be it.
Lady Liadrin: The sin'dorei are also scorned by Tyrande and her prideful lot. Yet for many ages her people slept in dens or hid in trees while my people fought to save this world.
First Arcanist Thalyssra: The Alliance feels too walled off… too cloistered. My people will never endure such stagnation again. That is why I am grateful for your invitation to Silvermoon. I would like to inquire whether there could be a place for the nightborne in your Horde.
Thalyssra's Estate