King Anduin Wrynn: High Exarch Turalyon and Alleria Windrunner have come forth to suggest potential allies to add to our ranks. These heroes have dedicated their lives to defending our world, and I put great faith in their counsel. You have been a stalwart champion of the Alliance, . I entrust you to choose which course we pursue first. Hear what they have to say and make your decision. Then let me know which ally you believe we should pursue first.
QUEST OBJECTIVES
Speak with Turalyon and Alleria to learn more about potential allies.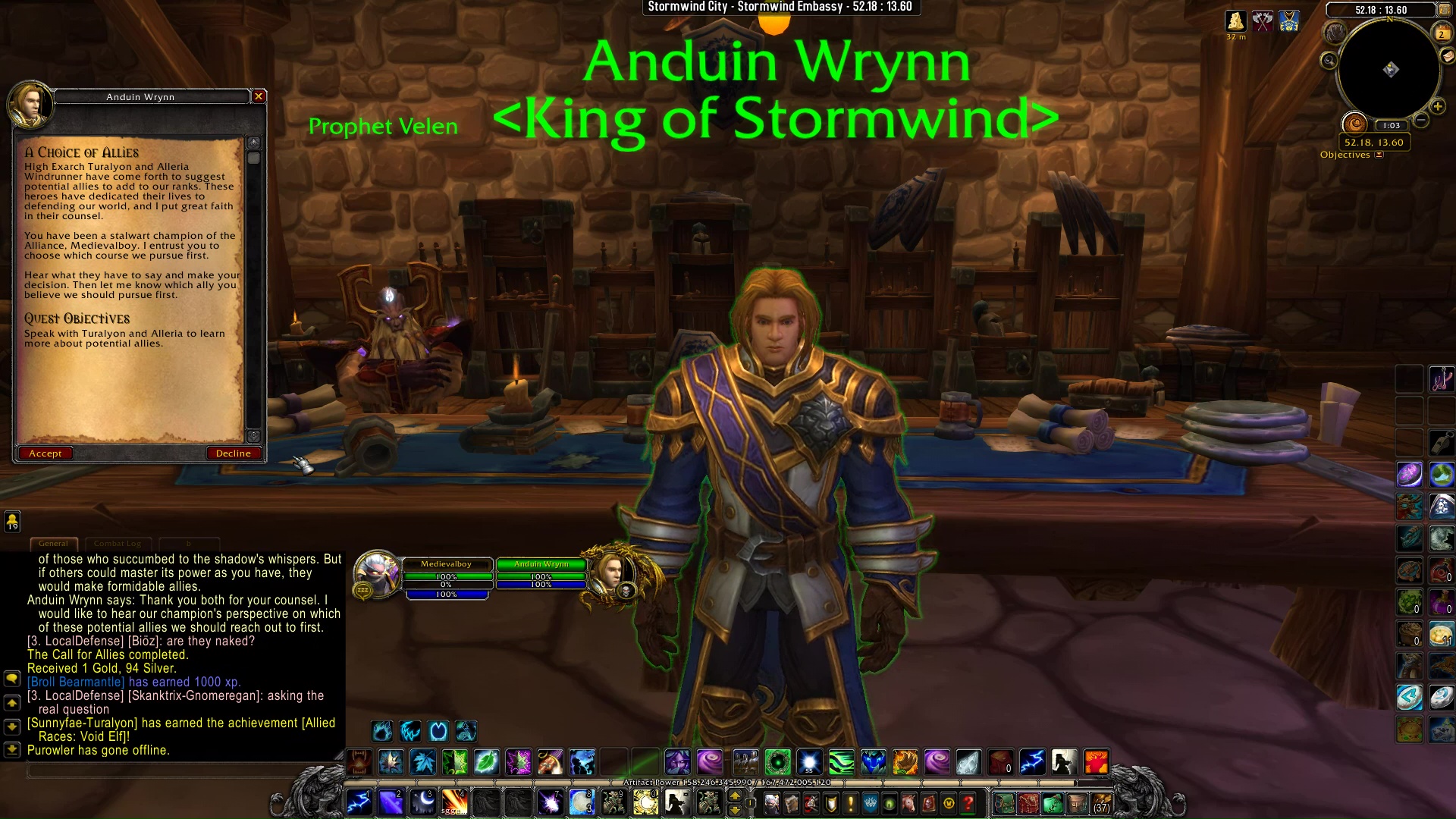 PROGRESS
High Exarch Turalyon: Much about Azeroth has changed in the years I was absent. But the Alliance remains an ideal worth fighting for. I will do everything in my power to make it stronger.
(What can you tell me about the Lightforged Draenei?)
High Exarch Turalyon: Fighting a long, bitter war against the Burning Legion, these draenei soldiers were infused with the Holy Light to become living weapons. Victorious at last, these Lightforged stand ready to defend Azeroth.
Light's Judgment: Call down a strike of Holy energy, dealing 1,437 Holy damage to enemies within 5 yards after 3 sec. 2.5 min cooldown.
Light's Reckoning: Erupt with Light upon death. Deals 798 Holy damage to enemies within 8 yards and heals allies for 798.
Holy Resistance: Reduces Holy damage taken by 1%.
Forge of Light: Summonm a Forge of Light, enabling Blacksmithing. Blacksmithing skill increased by 10. 2 sec cast. 15 min cooldown.
Demonbane: Experience gains from killing Demons increased by 20%.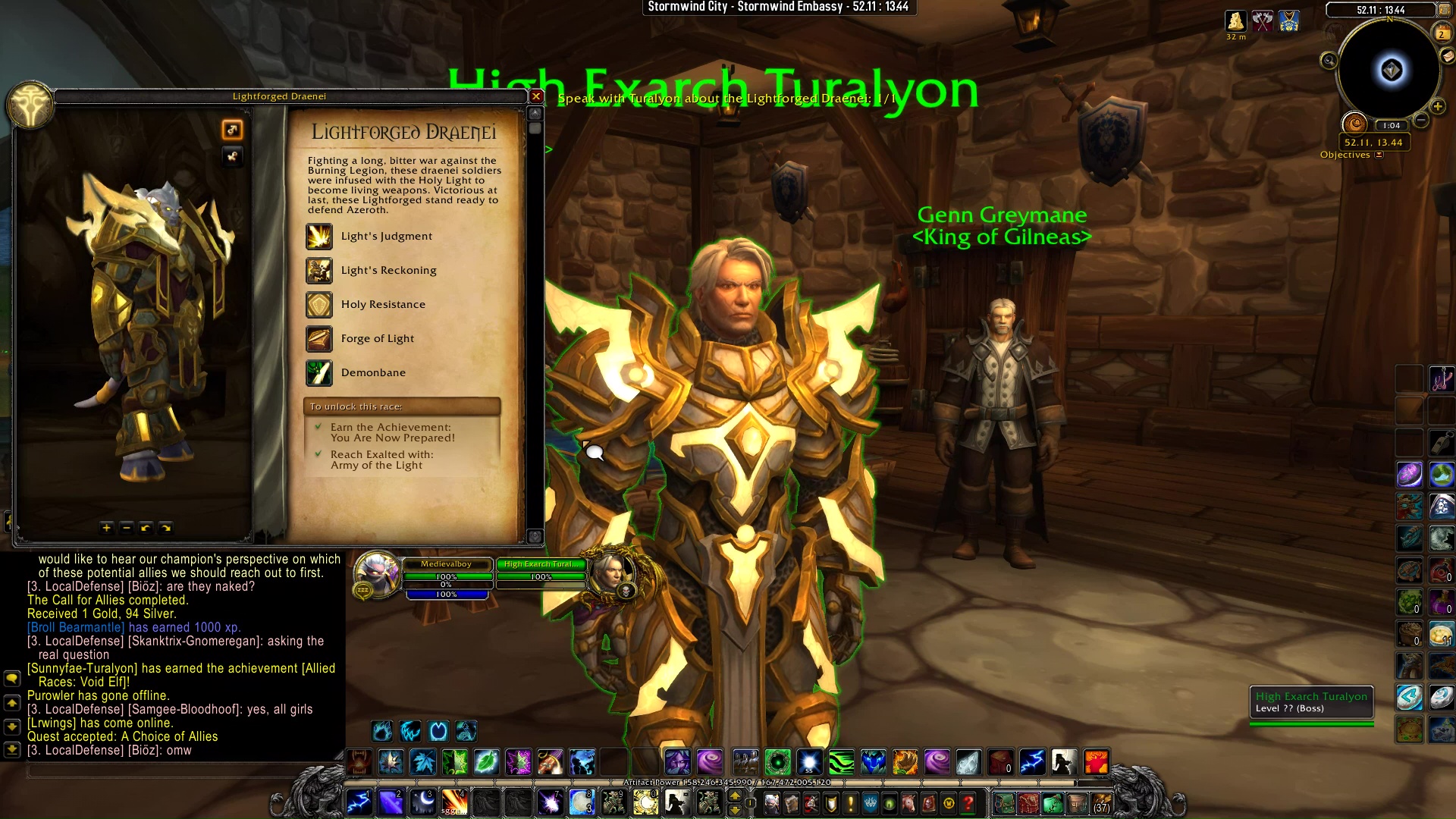 Alleria Windrunner: One day Silvermoon will stand again on the side of the Alliance. I know it.
(What do we know about the void elves?)
Alleria Windrunner: Seeking to harness the corruptive magic of the Void, these outcast elves endured an unexpected transformation. They are determined to master their newfound powers and resist the whispers eager to lure them into madness.
Spatial Rift: Tear a rift in space. Reactivate this ability to teleport through the rift. 3 min cooldown.
Entropic Embrace: Your abilities have a chance to empower you with the essence of the Void.
Preternatural Calm: Your spell casts are not delayed by taking damage.
Ethereal Connection: Reduces the cost of Void Storage and Transmogrification by 50%.
Chill of Night: Reduces Shadow damage taken by 1%.
King Anduin Wrynn: War is coming to Azeroth, (Name), it is time for us to bring in new allies to join our cause.
(I am ready to pursue our next ally.)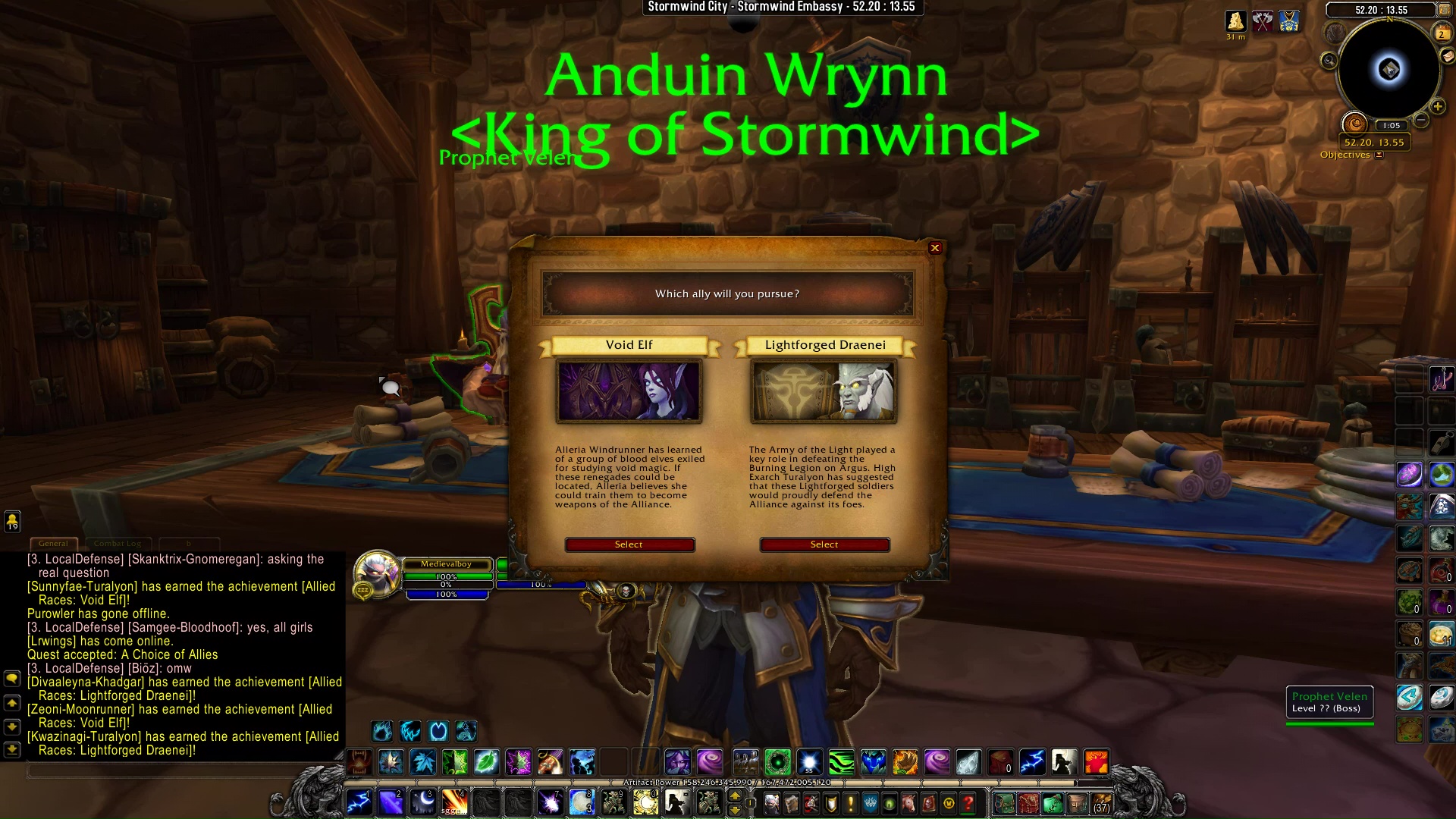 COMPLETION
King Anduin Wrynn: Your wisdom is always appreciated, (Name). The choice you make today will strengthen the Alliance.
A Choice of Allies