Venrik: Someone must have recognized Flynn and ratted him out! A bunch of Irontide thugs dragged him off to the Parley Pit for a "special audience" with Harlan Sweete, their captain. Flynn doesn't like to talk about this, but he used to captain his own crew. With Harlan as his First Mate. The two had a falling out after a messy job and Flynn lost all taste for freebooting. Just disappeared one day. Harlan took the nastiest of the crew and formed the Irontide Raiders. In other words; it's personal.
QUEST OBJECTIVES
Rescue Flynn from The Parley Pit.
Enter the Parley Pit
Untie Flynn
Gamble with Harlan Sweete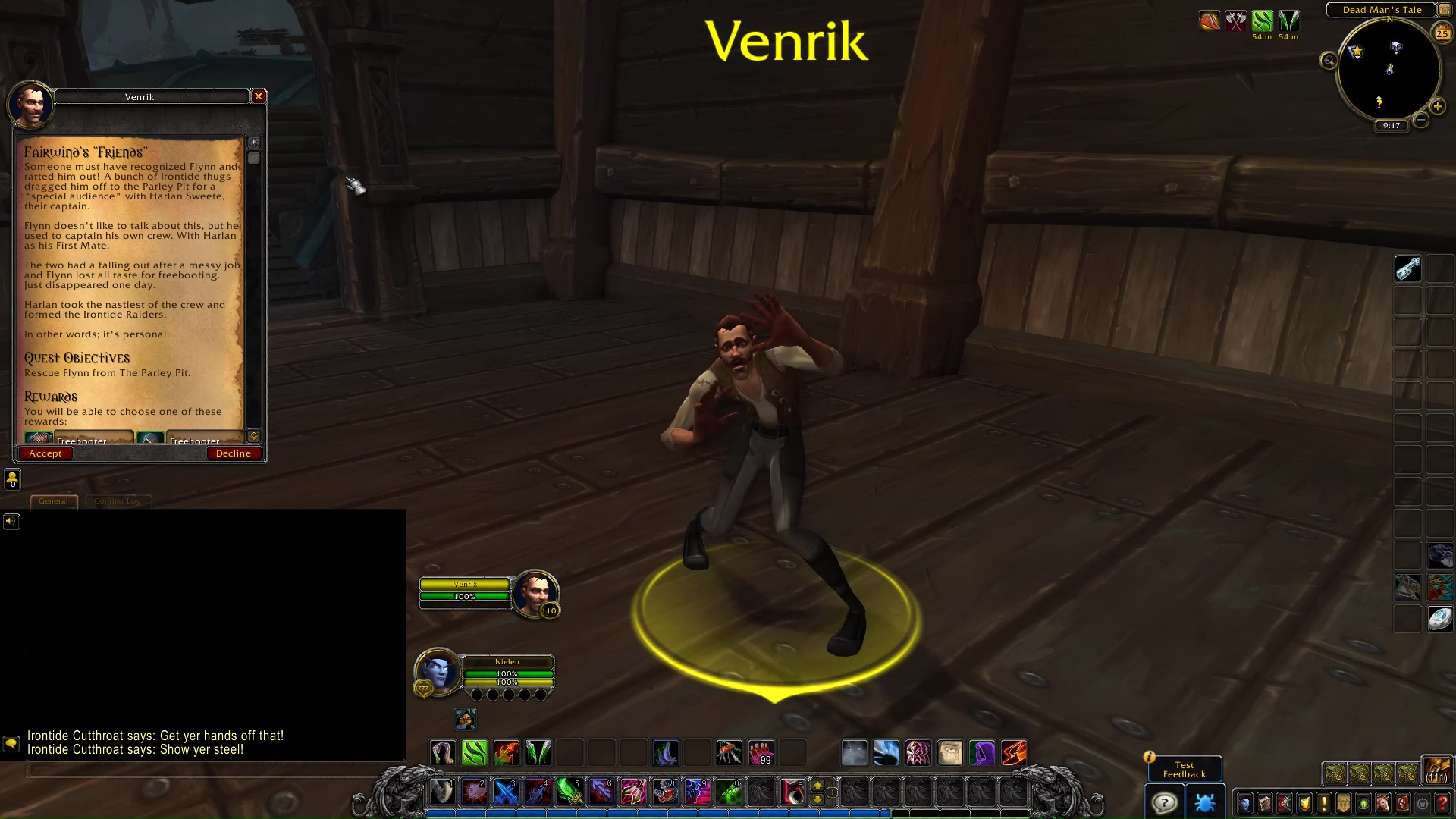 PROGRESS
TIP: Ride straight to the west toward the circle marked in the mini-map (The Parley Pit). Beware: As soon as you enter the pit, all neutral NPCs become enemy and will aggro.
The Parley Pit: 1/1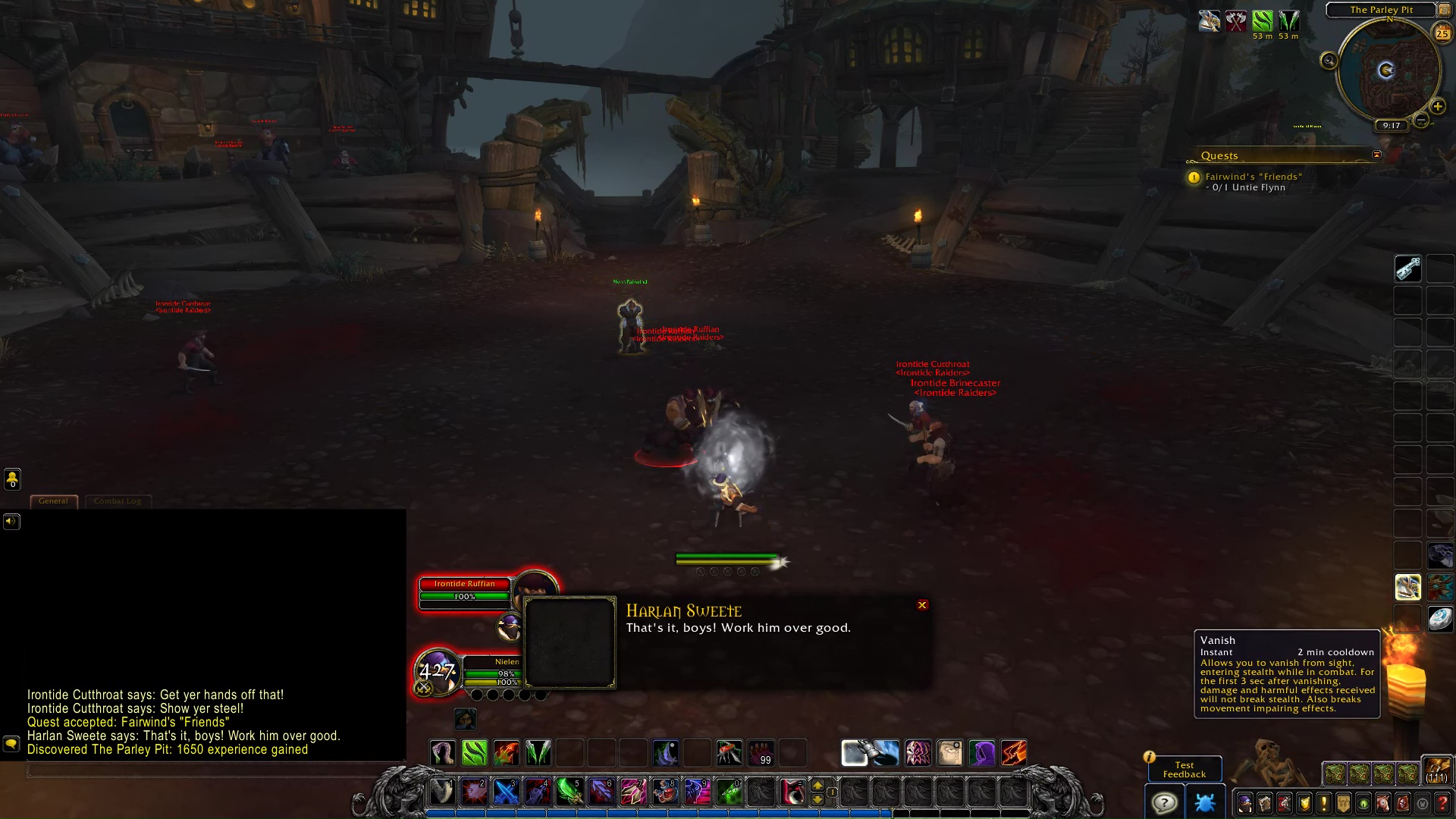 Harlan Sweete: That's it, boys! Work him over good. Things have changed, Flynn. I'm the captain now. And once the Proudmoores are out of the way, we'll be free to plunder all of Kul Tiras!
Flynn Fairwind: Nghh… run…
Harlan Sweete: Oh ho ho! Our newest "recruit" has arrived! This'll be fun!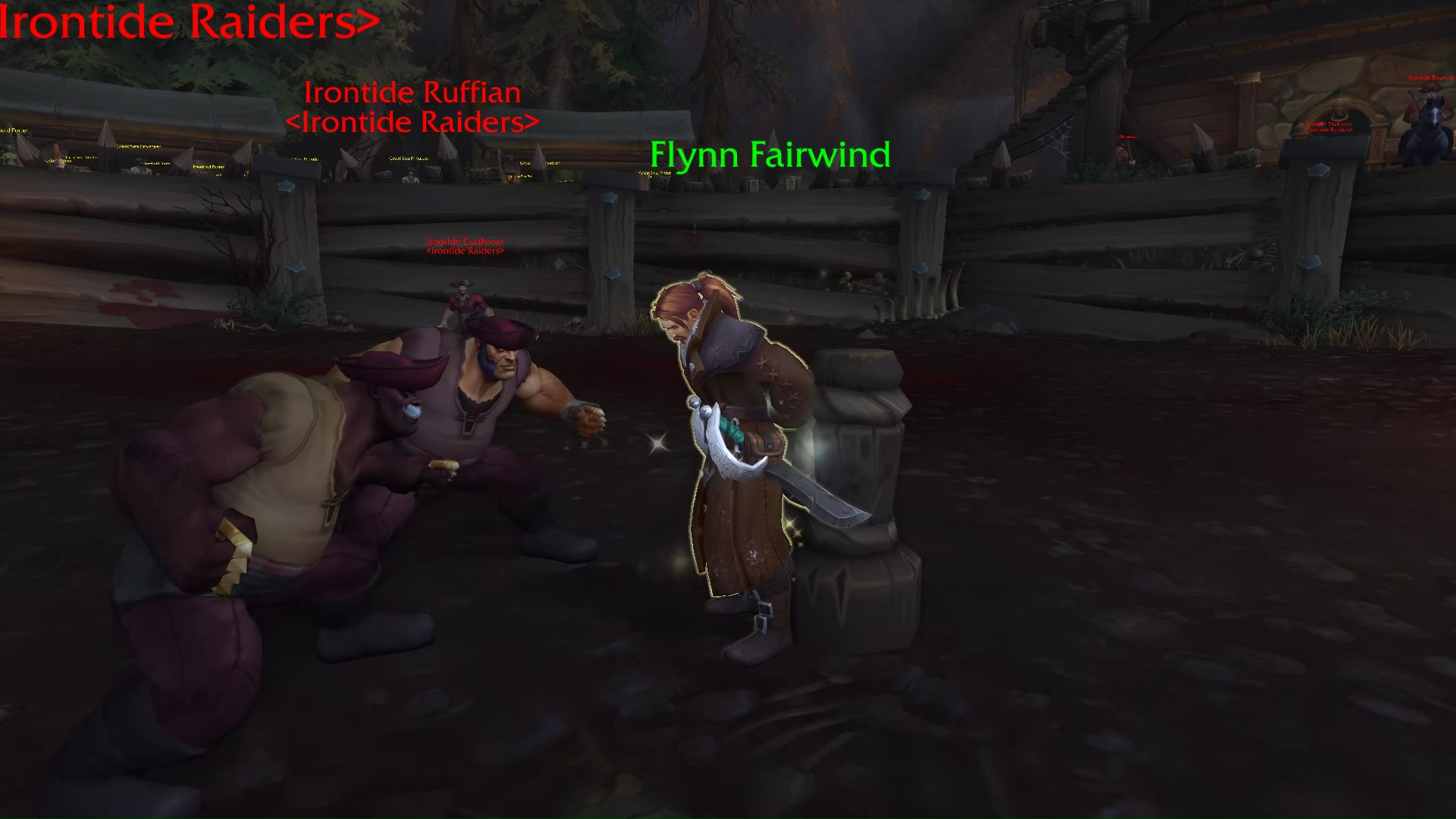 TIP: Four mobs will attack you. You can CC as needed. Afterwards, click Flynn Fairwind to untie him.
Untie Flynn: 1/1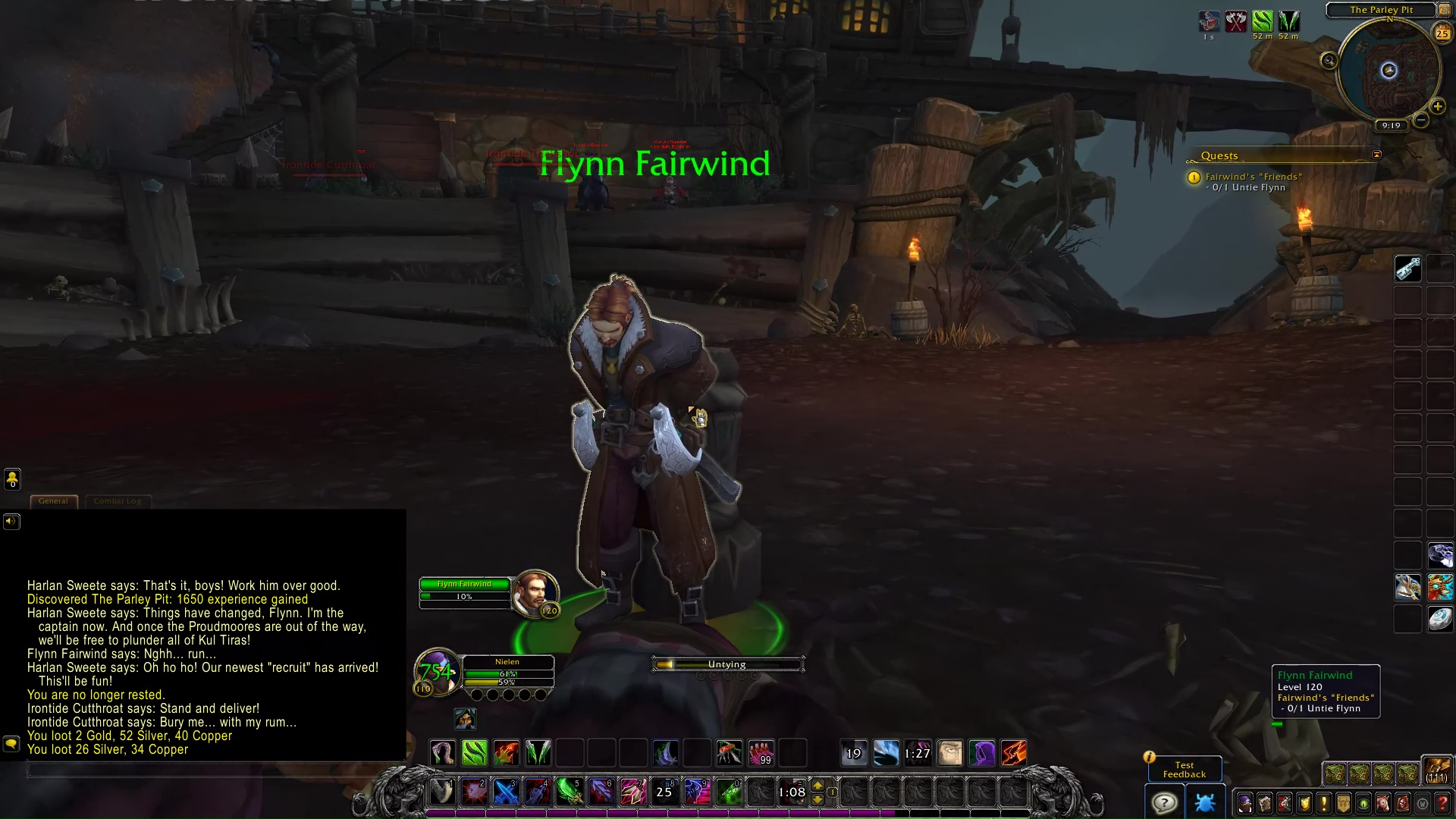 Harlan Sweete: Hmm… What to do with a couple of mutinous rats… Why don't we let the dice decide?!
Harlan rolls triple swords.
Harlan Sweete: Ooooh! Bad luck for you, haha! Carve 'em up!
NOTE: Three pirates spawn to attack you. An Ookin Crewman, Cutwater Duelist, and Irontide Cutthroat. Don't get too close to the building, or mobs upstair will aggro and shoot with their rifles.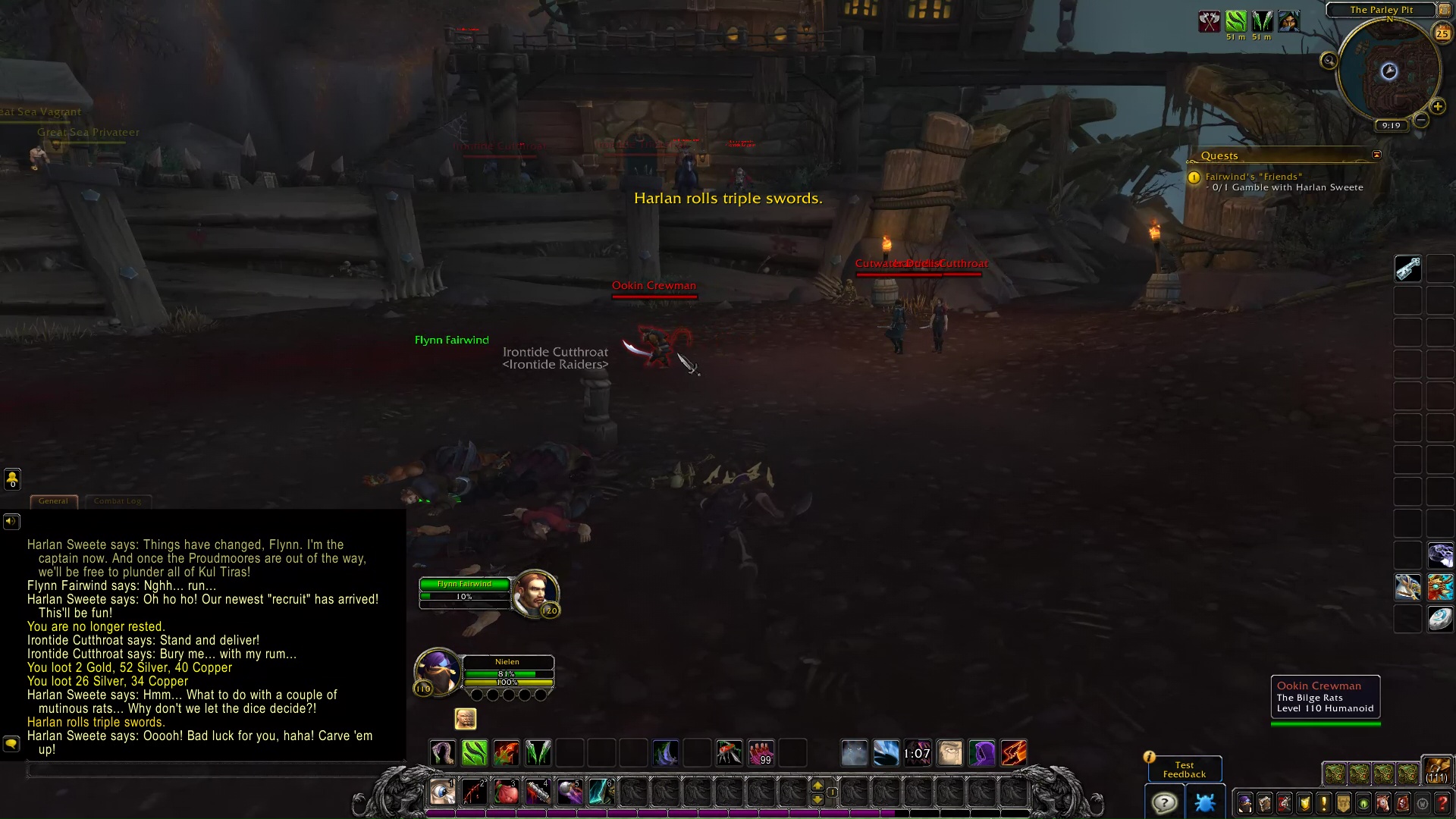 Harlan Sweete: What?! No, no, no. That's all wrong.
Harlan rolls two treasures and a compass. Harlan re-rolls to a cannon and two skulls.
TIP: A mark floats above your head. A Cannon is shooting at you. Red whirlpools are drawn on the ground to mark where the cannonball will land, and the mark follows you as you move. Two pirates spawn as well.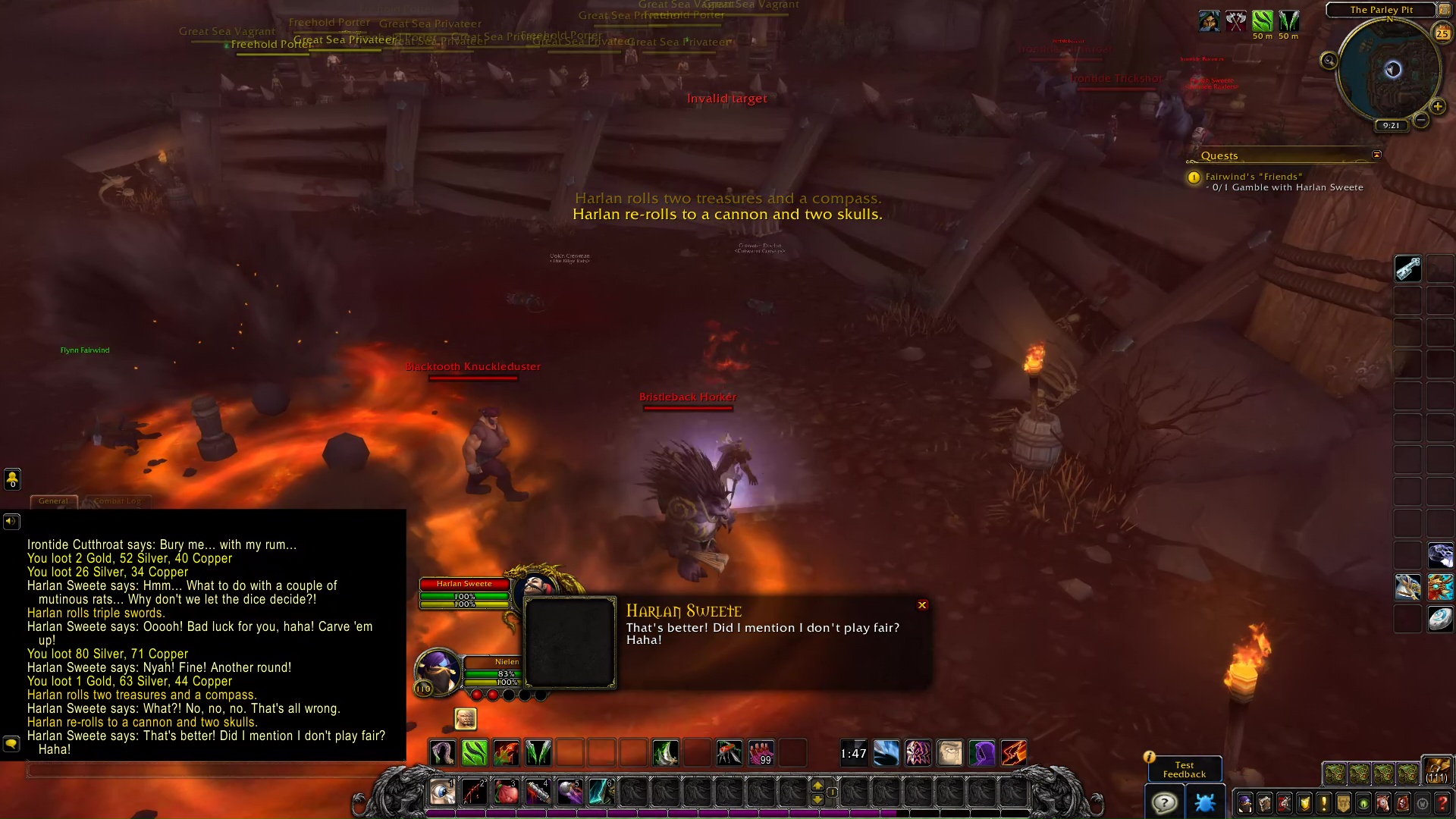 Harlan Sweete: That's better! Did I mention I don't play fair? Haha!
Harlan dumps out an entire bag of dice, revealing mostly treasures.
Harlan Sweete: Gah! These dice are cursed! Just get in there!
TIP: The cannon shoots five cannonballs. Move away because it will follow you. Three pirates spawn this round.
Gamble with Harlan Sweete: 1/1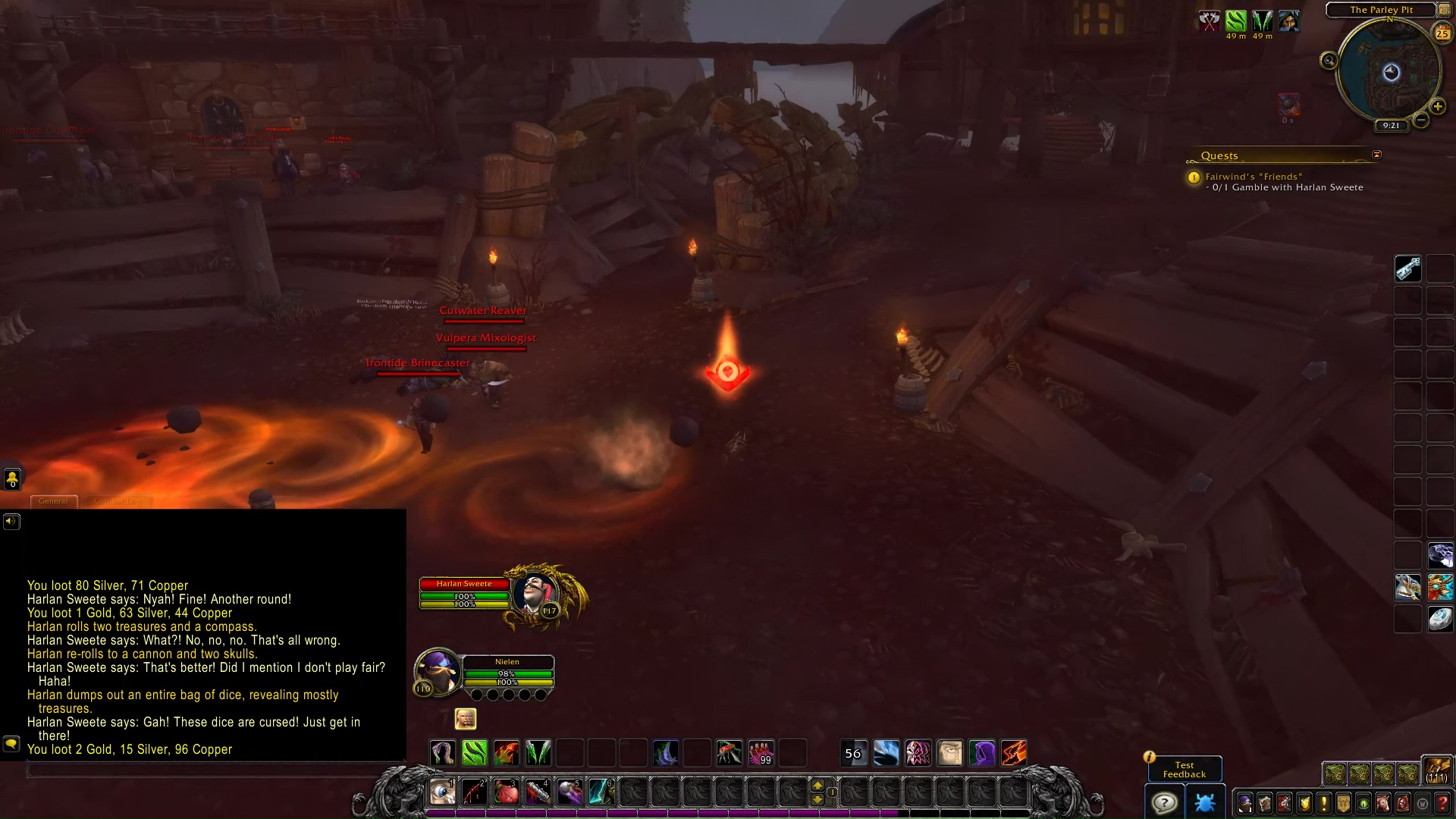 Harlan Sweete: Enough! You're too late, anyway! Our attack on Daelin's Gate has already begun! The Proudmoores are done for! And when Lady Ashvane takes the throne, I'll command her fleet! Ten thousand gold to whoever brings me their heads!
Taelia: Flynn! Hold on!
Harlan Sweete: What?! That's not fair! THAT'S NOT FAIR!
NOTE: Taelia swoops down on a gryphon and grabs Flynn. A second gryphon grabs you and flies you away to safety back to Rodrigo (the Flight Master).
COMPLETION
Taelia: I'm so sorry, (Name). I came as fast as I could!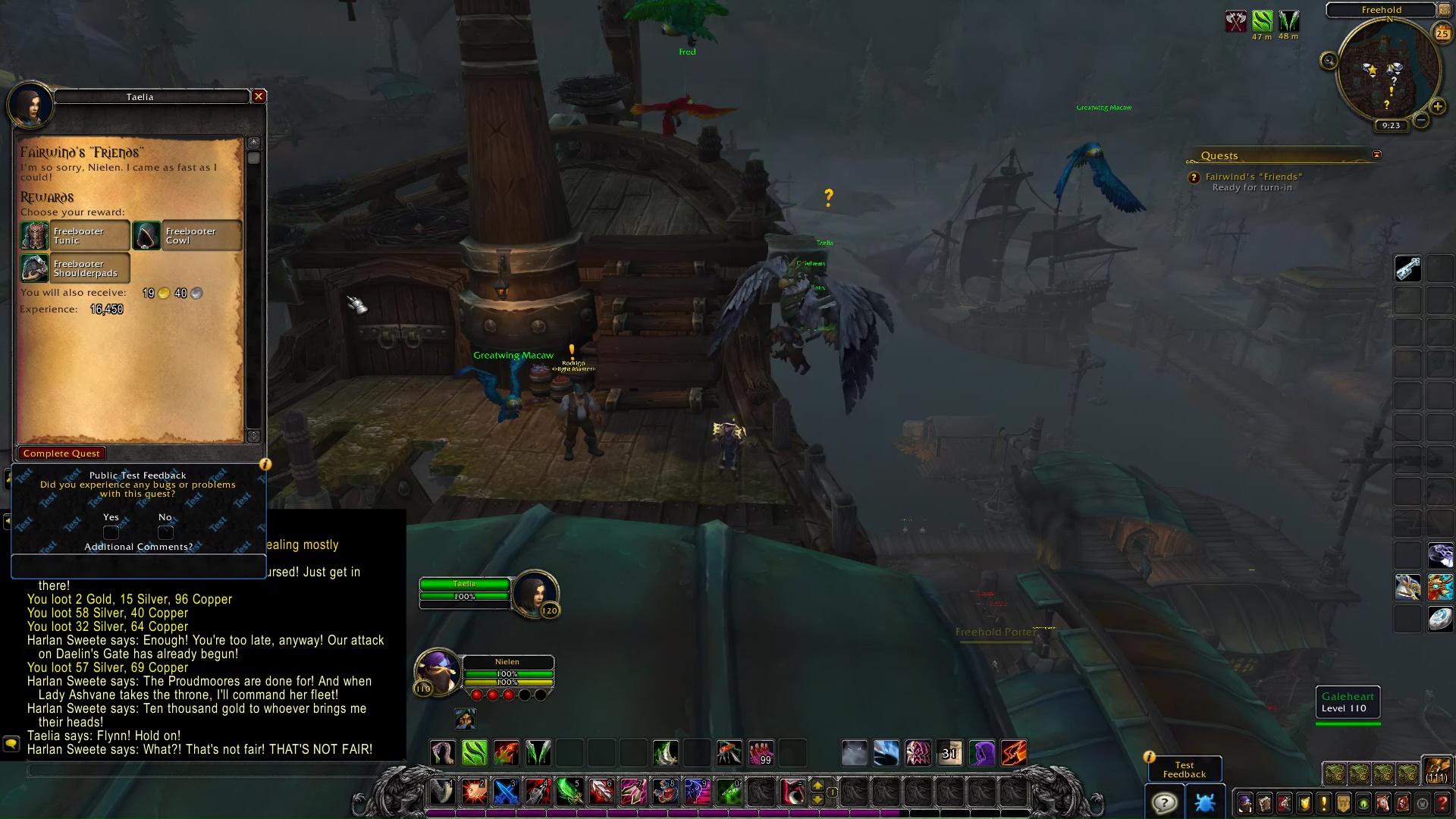 Fairwind's "Friends"