Lord Aldrius Norwington: It looks like you understand the basics. Now it's time to put everything together. Head for the ring. Once you hear the starting pistol, you will have one minute to score as high as possible. Gnolls are worth one point. Run 'em through with the harpoon! If you see a paper zeppelin, bag it with your bolas for fifty points! Leaping fences gives you style. Style gives you more points when you skewer gnolls or down zeppelins. It's super important, so don't forget to keep jumping fences!
QUEST OBJECTIVES
Mount Cooper to begin your show and score at least 150 points.
Mount Cooper
Score 150 Points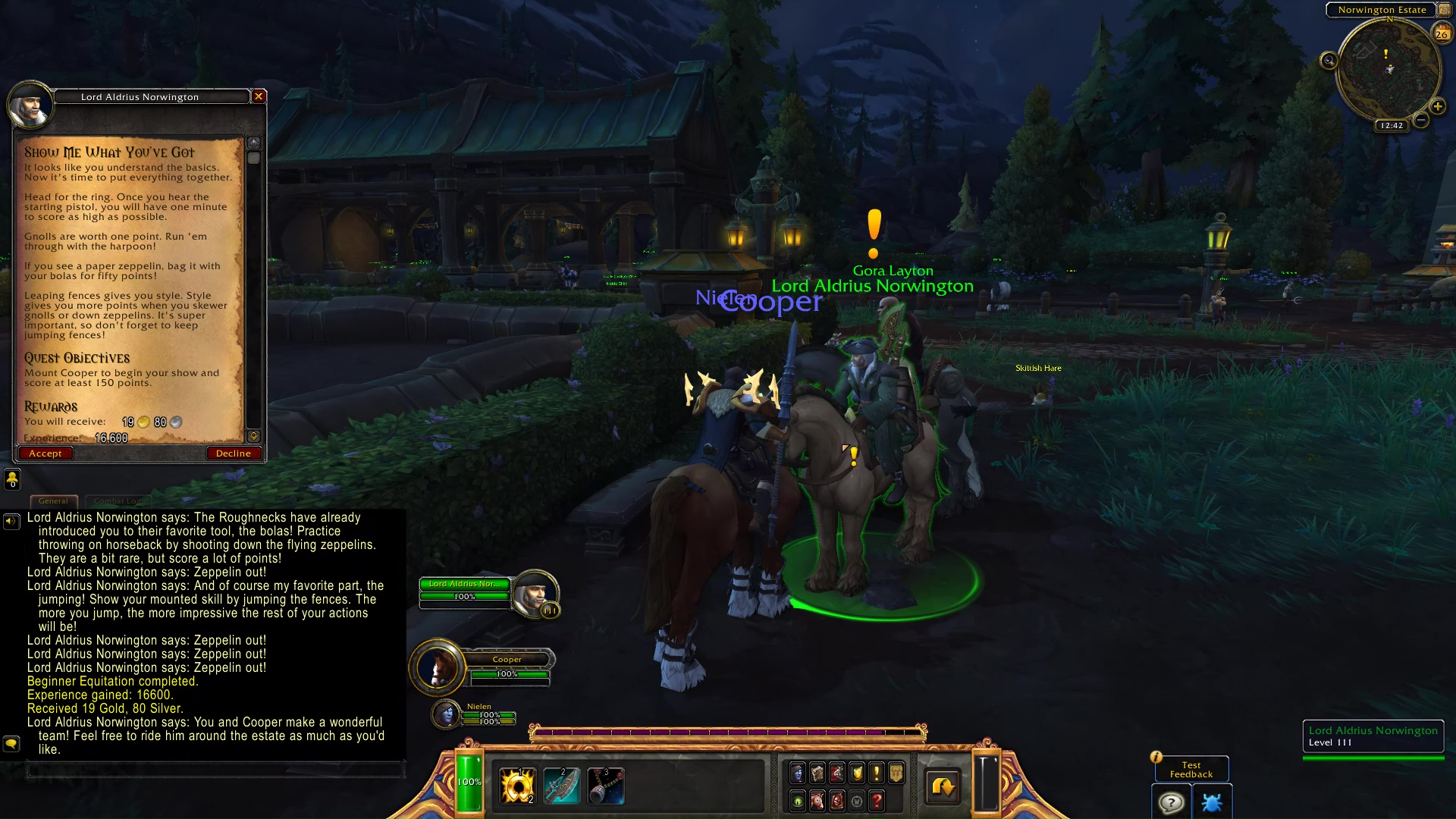 PROGRESS
Lord Aldrius Norwington: Ready? Set… (shoot) Begin!
TIP: Enter the arena, and wait until Aldrius shoots his gun.
When the counter pops onscreen, you have one minute until the counter is disabled or until you get 150 points. First, don't hit any zeppelin or gnoll target. Just press (1) to dash whenever the cooldown is available, and jump the fences until you build up 20 buff stacks. At that point, anything you hit gets a multiplier of points. Gnoll Targets give about 23 points, and Zeppelins give 50 points. Make sure to keep jumping fences to maintain the 20+ buff stacks. Once you reach 150 points go back to Aldrius.
Lord Aldrius Norwington: Haha! Good show! Keep it up!
COMPLETION
Lord Aldrius Norwington: What a showing!
Show Me What You've Got