Darcy Heathrow: I look a right bloody mess, don't I? Barely made it here alive. Listen, my village is in trouble. First, there was strange signs. Wild dogs in tha cemetary, flocks of dead ravens, villagers gone a missin'! Then the other day, we saw soldiers. But there's somethin' ain't right about them!
(Darcy lowers her voice.)
They was dead! But not dead… alive dead! Tha druids 'ave other matters to attend to so we're sittin' ducks out there. Just sayin', we could really use some help.
Early Alpha Build — Theo the Huntsman: Another traveler comin' through, eh? Gave that Jarod bloke directions just a minute ago. He a friend of yours? Anyway, our village sits right down teh road. We've been seein' strange signs lately. Lights in the castle, villagers gone a missin', and the like. Now, we're being attacked by soldiers from the fortress. The Mayor's tryin' to keep a handle on things, but it ain't enough. He's a stubborn fellow, but he might accept your help if yer willin' ta give it.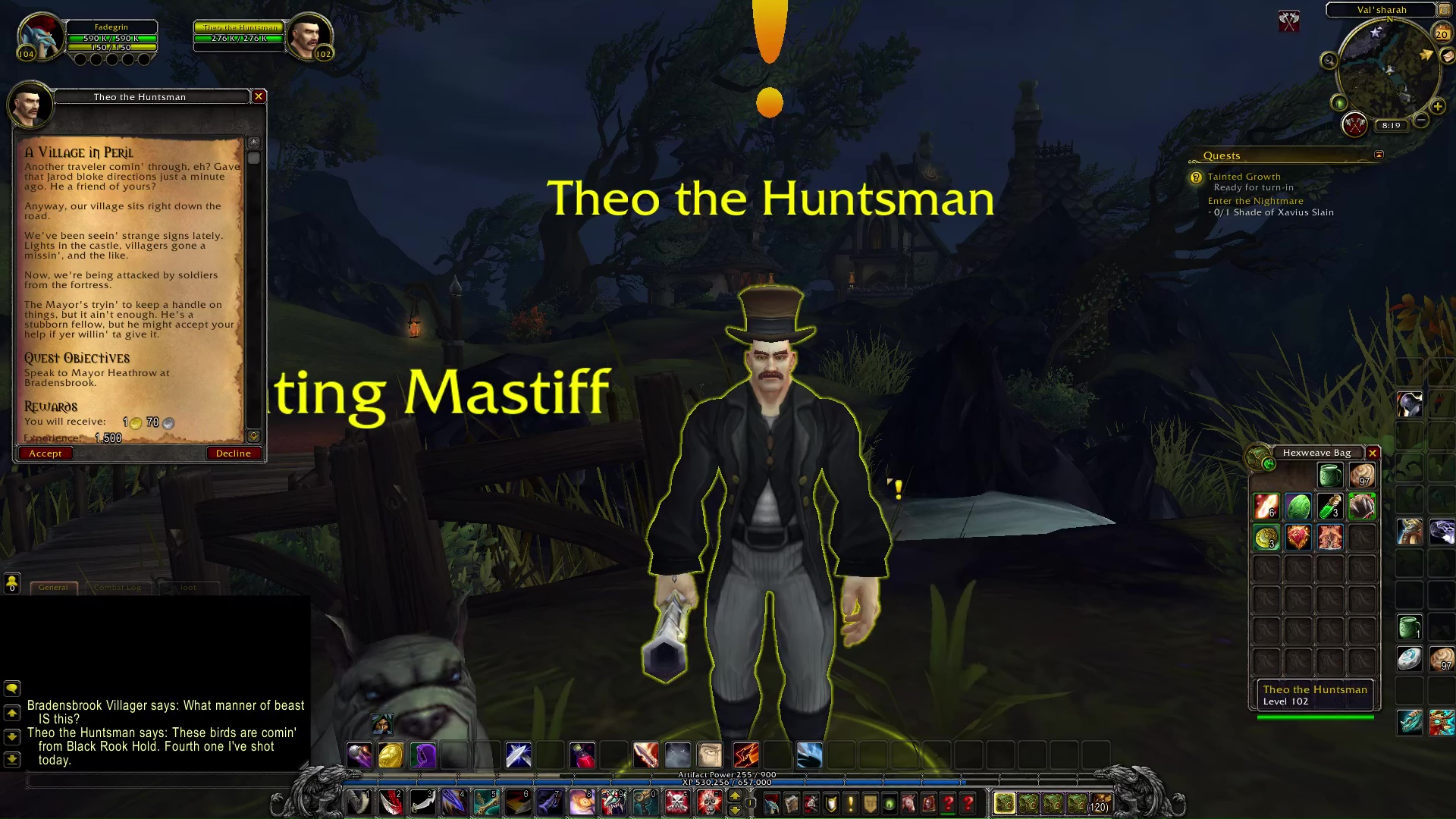 Quest Objectives
Speak to Mayor Heathrow at Bradensbrook.
Intermission
Bradensbrook Villager: What manner of beast IS this?
Theo the Huntsman: These birds are comin' from Black Rook Hold. Fourth one I've shot today.
Commander Jarod Shadowsong: I am not your enemy, Mayor. I came here to find someone within Black Rook Hold.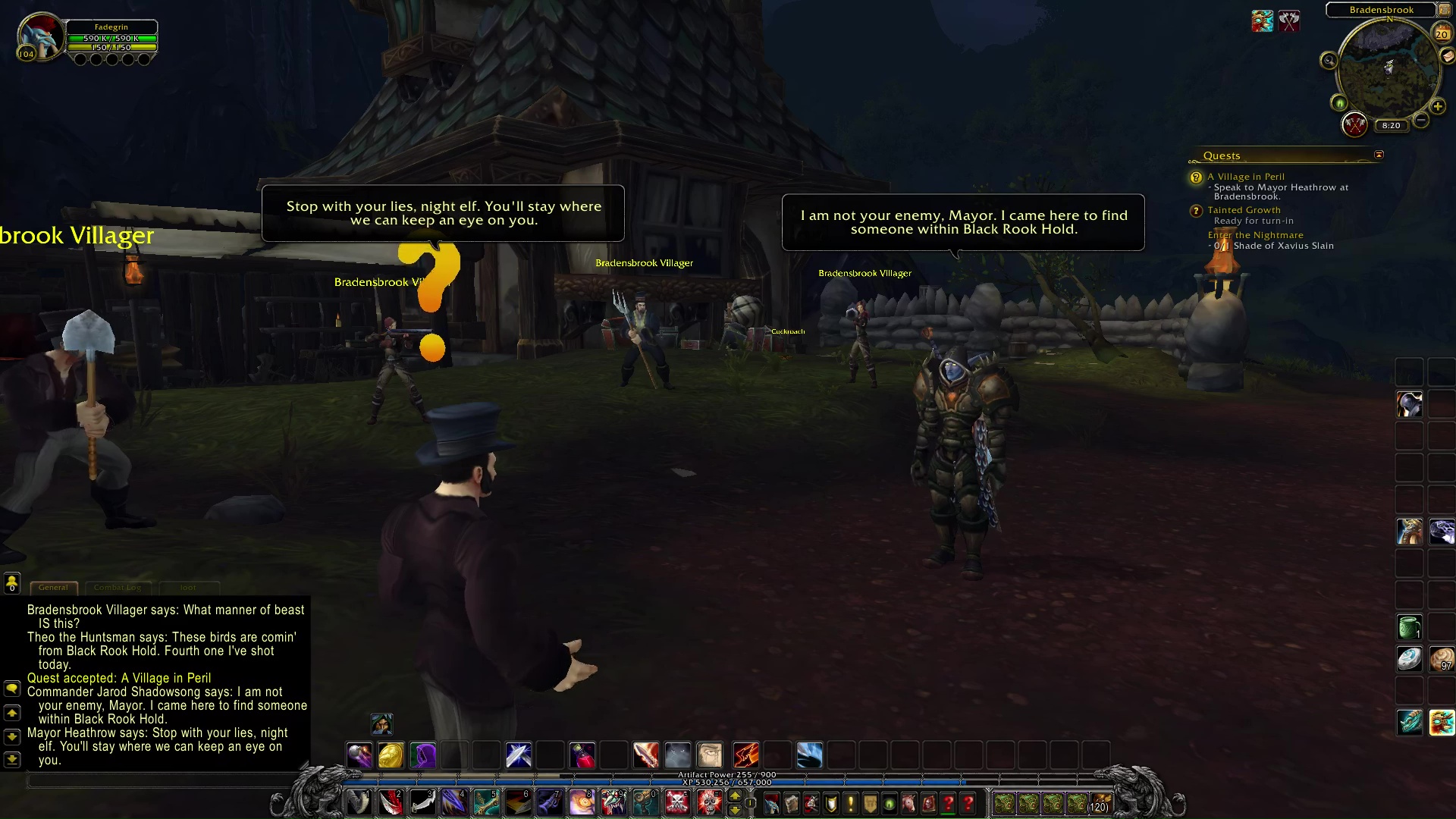 Mayor Heathrow: Stop with your lies, night elf. You'll stay where we can keep an eye on you.
Robin Thackeray: Go on. And this time, stay there.
Mayor Heathrow: What yourself. Make one wrong move and we'll throw you in chains.
(What's happening here?)
Mayor Heathrow: My people have seen too much suffering. It was the Scourge uprising that led us to flee Gilneas many years ago. Now, undead creatures have risen from the fortress to the north. I will defend this village to the bitter end.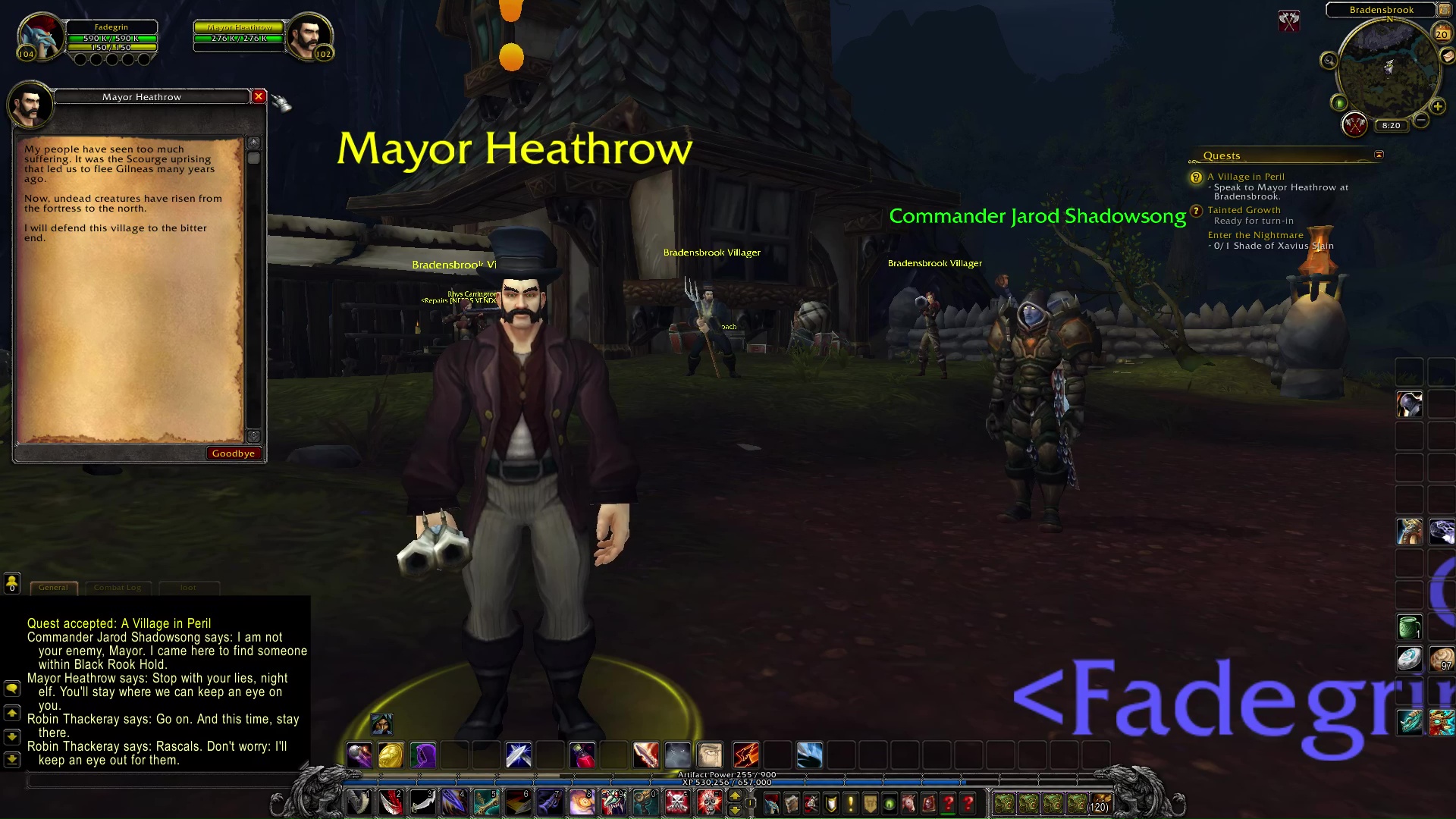 Robin Thackeray: Rascals. Don't worry: I'll keep an eye out for them.
Completion
Mayor Heathrow: We don't need any help, and we don't like strangers wanderin' around on our land.
A Village in Peril
Earlier Alpha Build version: