Archmage Khadgar: I will do what I can to stabilize him, but I will need your help. The small amount of energy he has left is coming from the mana pool he rests in. Follow the whelpings' lead. Dropping ley crystals into the pool gives him a bit of energy – buying him more breaths. They seem to be getting the crystals from inside that cave to the north.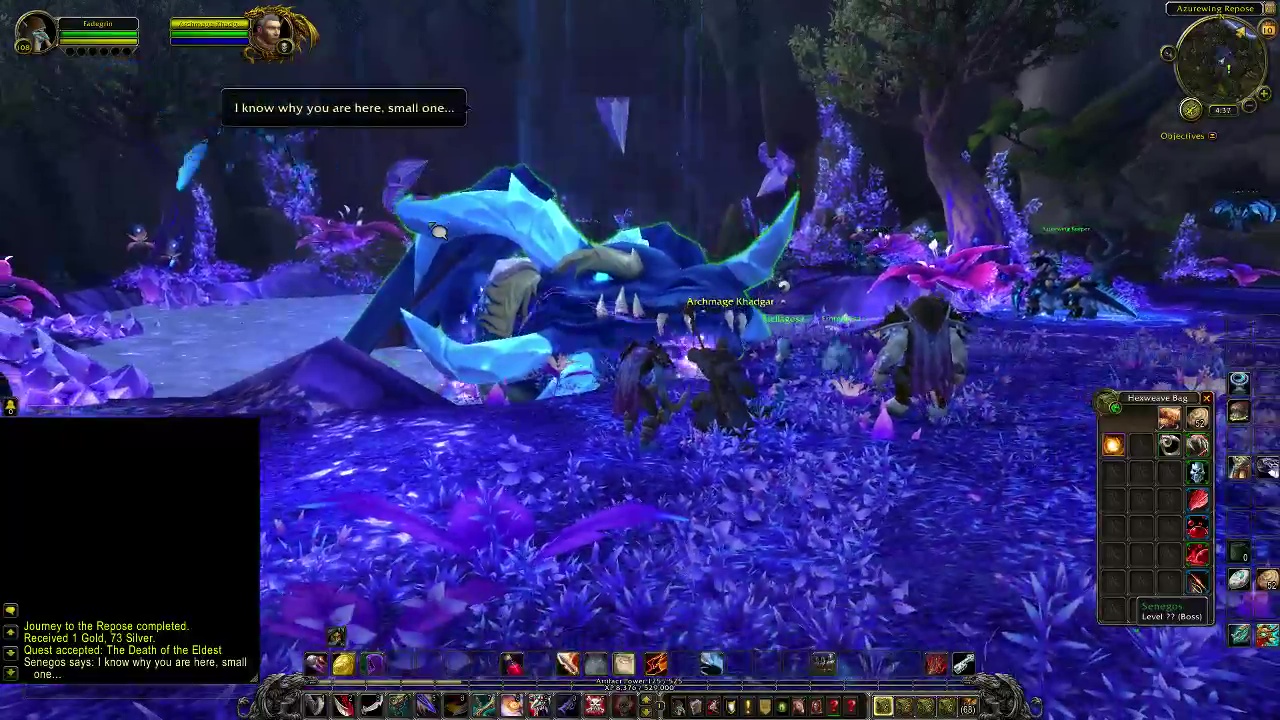 Quest Objectives
Slay Leyworms to obtain 6 Crackling Leyworm Cores, then dro them into Senegos's pool.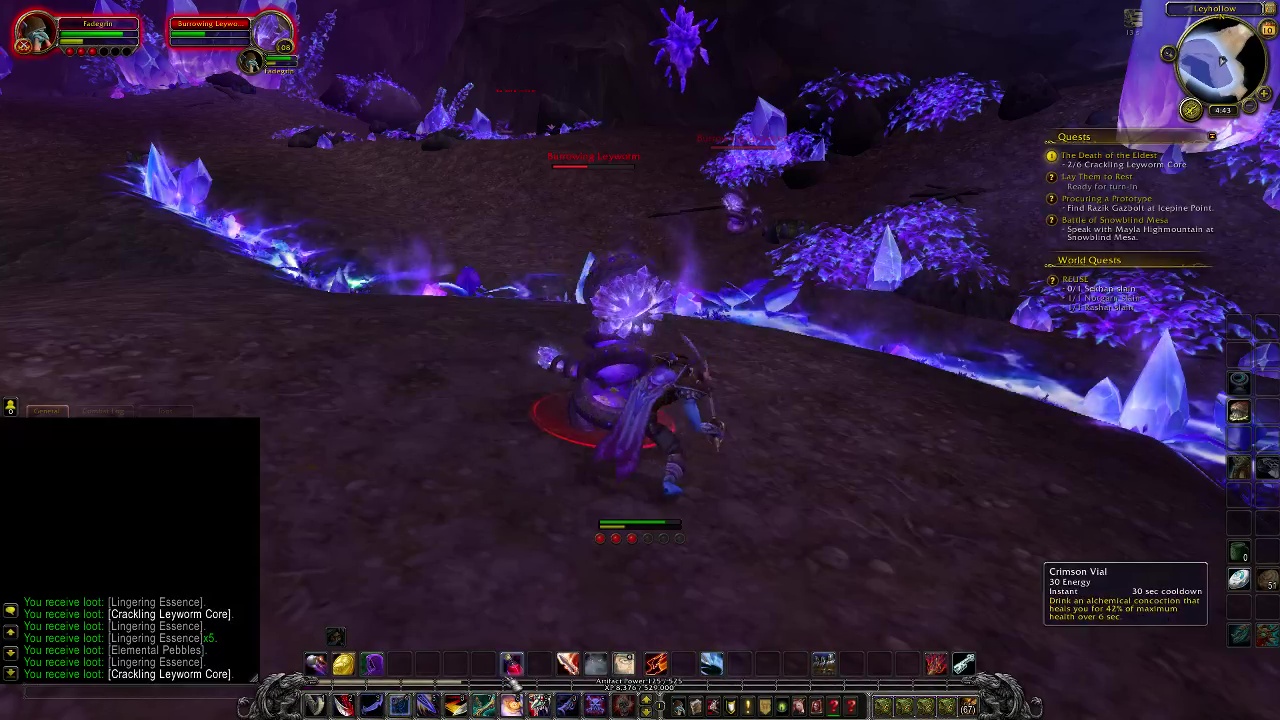 Progression
Senegos: I know why you are here, small one… Please… help…
NOTE: The cave is often patrolled by packs of 3 small rocky crabs. Try to fight outside their perimeter to avoid aggro. Once you are done collecting the cores, head back to the pool by Senegos. A button appears onscreen.
Toss Crystals: Throw the exposed ley crystals into Senegos' pool.
Senegos: Ahhhh…
Completion
Stellagosa: Call me a fool. I'd always just thought that grandfather would be with us forever. Thank you. Your efforts dull his pain.
(She sighs.)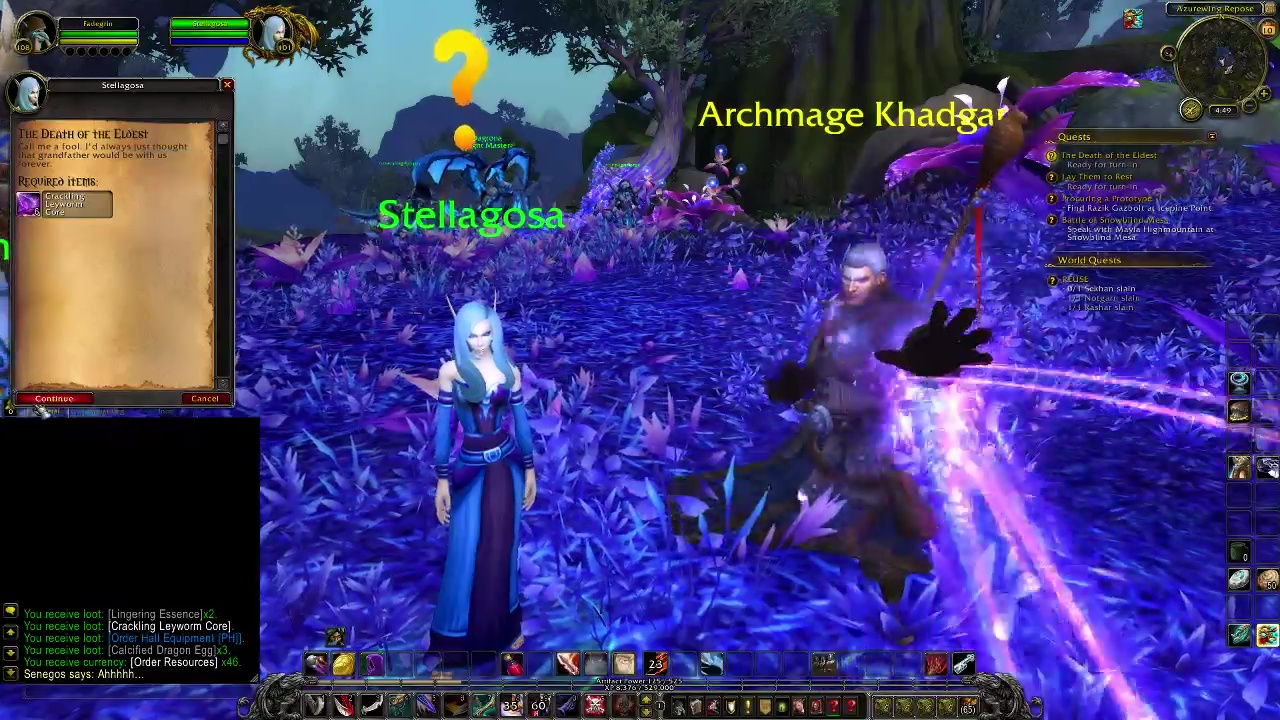 Epilogue
Archmage Khadgar: Senegos, we seek one of the Pillars of Creation. I know it is here on Azsuna.
Senegos: You speak of the Tidestone of Golganneth. It was shattered long ago.
Archmage Khadgar: The Tidestone… shattered? How?
Senegos: I do not know… but I know where the pieces lie.
Stellagosa: Rest now, grandfather! You must save your energy.
Senegos: Don't be so eager to mourn, starlight. Give me one last adventure.
The Death of the Eldest