Kor'vas Bloodthorn: The Burning Legion is sending the most powerful demons in its arsenal against us. They do not intend to lose this third war and they will stop at nothing to see to it that we are all wiped from the face of Azeroth. We will return the favor. My force wiped out the demons' forward base here. But, an imp mother and her brood took the rest of my demon hunters hostage, including Cyana Nightglaive. We need to free the Illidari and destroy the Burning Legion.
Quest Objectives
Free 6 Demon Hunters from Soul Harvesters.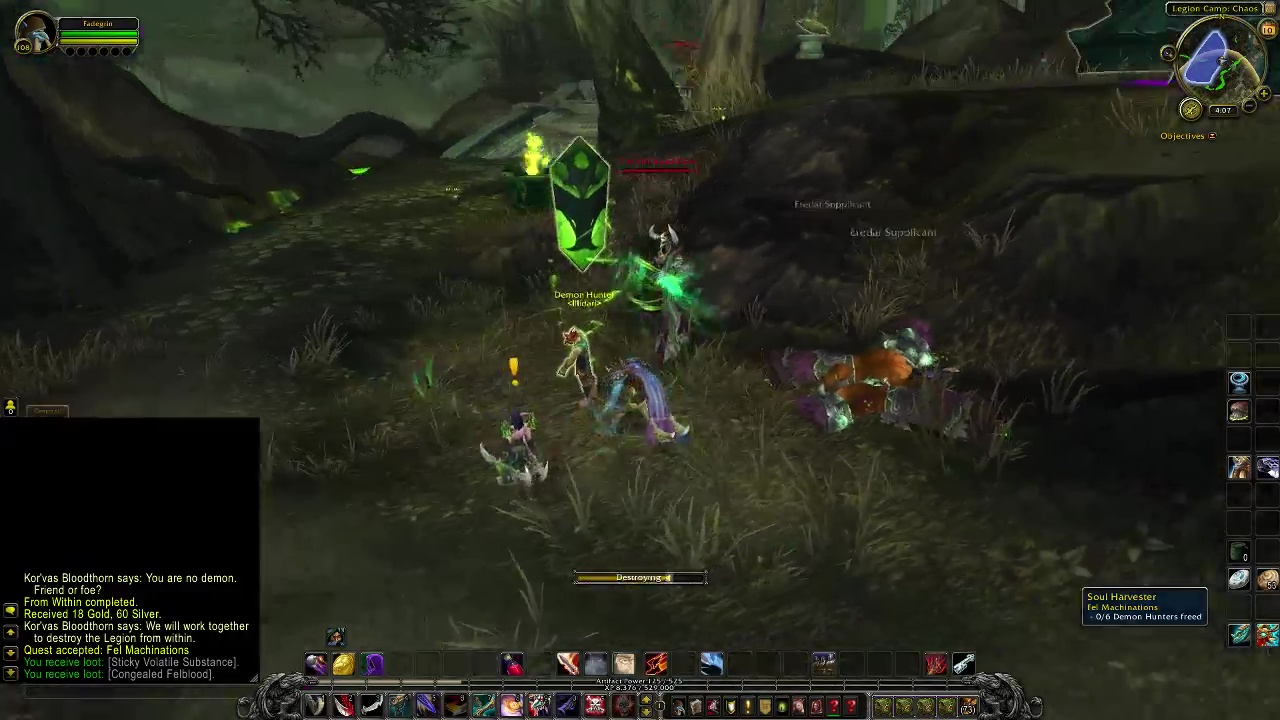 Progression
Kor'vas Bloodthorn: Illidari, what happened here?
Demon Hunter: They did… things… to me.
Kor'vas Bloodthorn: What did they do? What did the demons offer you?
Demon Hunter: The demons promised us unimaginable power.
Burning Hellion: Tasty meats for me to eats.
Kor'vas Bloodthorn: Who did this to you?
Demon Hunter: A warden tried to convince us to turn traitor. I heard screaming.
Kor'vas Bloodthorn: Did anyone give in?
Demon Hunter: Cyana Nightglaive turned traitor. She joined the Legion.
Kor'vas Bloodthorn: Where did Cyana Nightglaive go? I need to find her!
Demon Hunter: Nightglaive went southwest with a warden named Cordana Felsong.
Kor'vas Bloodthorn: A warden working for the Legion? I look forward to killing her.
Completion
Kor'vas Bloodthorn: I've always had my doubts about Cyana. Something was never quite right there. Looks like she cracked and joined the Legion. Still, we are not going to let her, or this Cordana Felsong, get away with it.
Fel Machinations