Seska Seafang: Throm'ka, (class). My name is Seska. I represent a… trading company. As you can see, I've fallen victim to these giants and their naga allies. Three of my associates were also captured while surveying this cove. I'm certain that my employer, Mr. Shackle, would be most grateful if you could procure their release.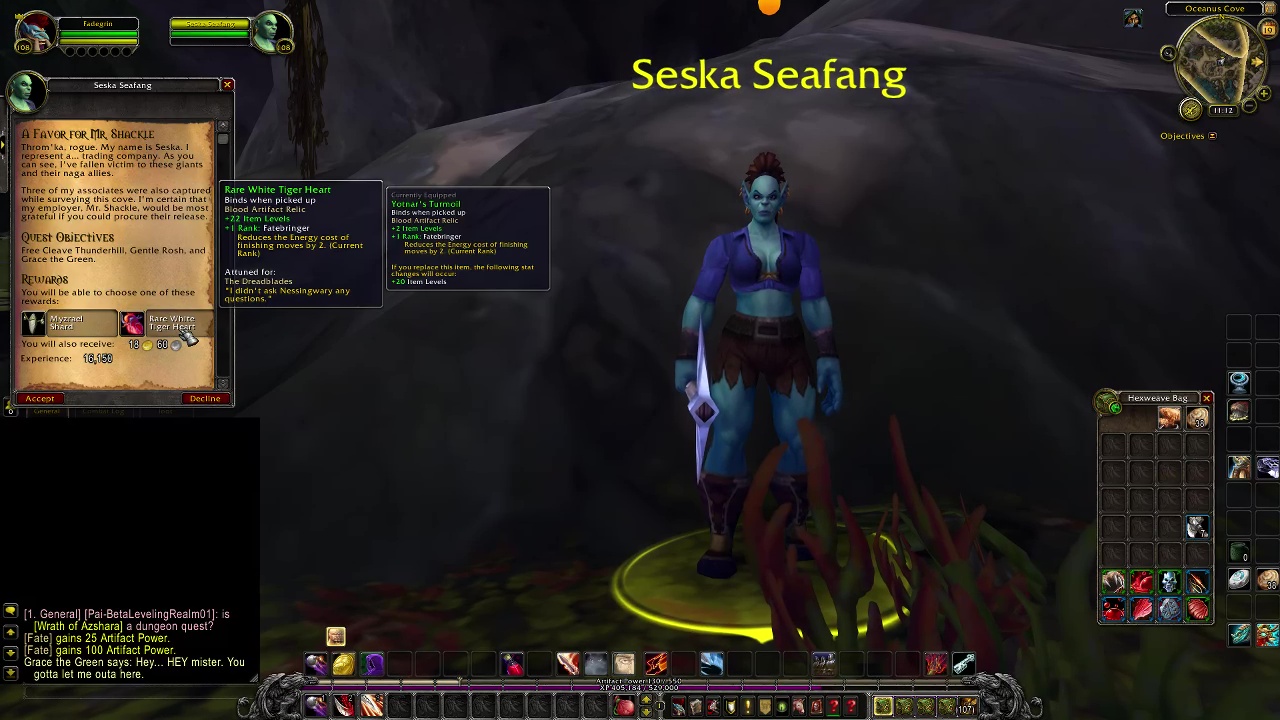 Quest Objectives
Free Cleave Thunderhill, Gentle Rosh, and Grace the Green.
Intermission
Seska Seafang: I'm taking this opportunity to leave. I'll tell Mr. Shackle to expect you.
Grace the Green: I've been in there for days. Thank you, (class). I have got to go, if you know what I mean!
Cleave Thunderhill: I'm right over here. Just watch out for the giant! Heyo! You… YOU! I owe you, I better get out fo here.
Hatecoil Slavemaster: If we didn't want the support of these giants, I'd kill you where you stand.
Gentle Rosh: You come open door. Gentle Rosh not crush you. Gentle Rosh will leave.
Mr. Shackle: Welcome to our humble place of business, traveler. Don't think of us as smugglers. Instead, refer to us as professional salvors. We are salvage experts. We specialize in flotsam, jetsam, lagan, derelicts, and of course, exotic archeological recovery. Oh, and by the way, you might want to steer clear of the temple area to the south. I have my men investigating some salvage opportunities and I wouldn't want you to be confused for a competitor.
NOTE: Completing this quest unlocks a new flightmaster in Azsuna — near Oceanus Cove. The three NPCs you rescue: Grace the Green (new Flightmaster), Cleave Thunderhill (Food, Drink and Trade vendor), and Gentle Rosh (Innkeeper).
Completion
Mr. Shackle: Excellent, my good sir. I cannot thank you enough for the freedom of my people. rosh is especially appreciative. Perhaps you and I can do some more business together.
A Favor for Mr. Shackle